Unmanned aircraft systems, also known as drones, can be seen in many types of jobs and businesses. They have been seen around Godley High School for the past two years, but now students have the opportunity to earn their drone pilot's license. 
GHS teacher Jane Cook's class was able to incorporate a drone into her photography class in 2016 and has expanded the curriculum into another course. 
The eight students taking the course learn how to fly six mini drones, a DJI Mavic Pro, a DJI Phantom III and a DJI Phantom IV.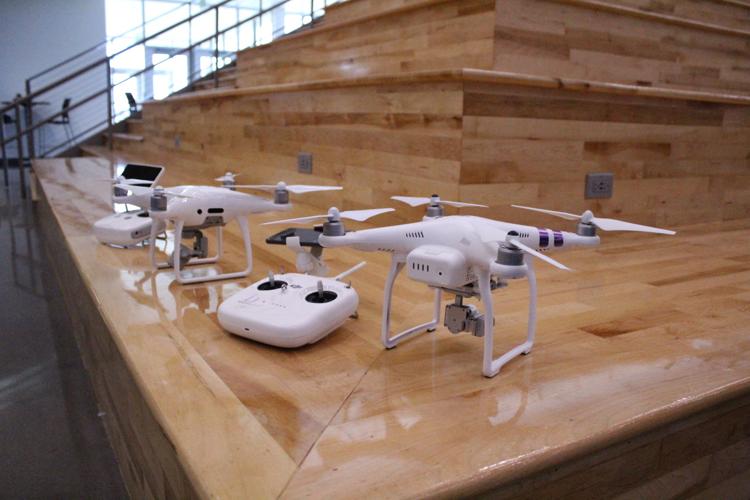 Cook said the students are taught how to fly an array of flight patterns and discuss possible occupations in the workforce that involves drones. Students have to be 16 years old to earn their license, she said.
"People are using drones for races, agriculture, fire fighting and even delivering packages now," she said.
As the new high school was being built over the past two years, she said her students filmed the construction progress. They also film football games and other events all year round, she said.
GHS senior Brandon Hutto said flying drones is one of his hobbies. He took the photography class two years ago and now is in the drone class. 
"Once we finally got the opportunity to have a course on it, I jumped on it because it really interested me," Hutto said. "I've just always liked flying drones. It's a really cool hobby to have. Once you get started, you can use it for jobs and whatnot and for the future."
GHS junior Landon Stevenson said he wanted to join the course so he could learn how to fly a drone.
"When I first saw a drone, I thought it was cool," Stevenson said. "I wanted to learn how to fly it. I like just getting to know the steps on how to fly it and what you can and cannot do."
Cook said they wanted to bring this course to their school because they want to be on the cutting edge of technology. 
"They have a real life opportunity to go to several different careers and use their expertise as a drone pilot," she said. "We thought this was another certification or license that they could have."