The eyes of Texas are upon Johnson County as Godley ISD and Keene ISD were among the first couple schools across the state to start the 2020-21 school year Tuesday in the midst of the COVID-19 pandemic.
While most school districts have either pushed back the start of the school year or will begin the school year with virtual learning only because of COVID-19 concerns, Godley and Keene ISDs welcomed students back to in-person learning Tuesday for the first time since March.
While both school districts are offering online learning, around 80% of students have opted for in-person learning. And the first day of school Tuesday at Keene and Godley ISDs were good starts to an unprecedented school year.
"It was one of our best first days back to school ever," Godley Superintendent Rich Dear said. "We had a lot of happy kids, parents and teachers. They were excited, very excited. Many of our parents have said that their kids were so happy and excited to be back in school that they didn't mind wearing face coverings."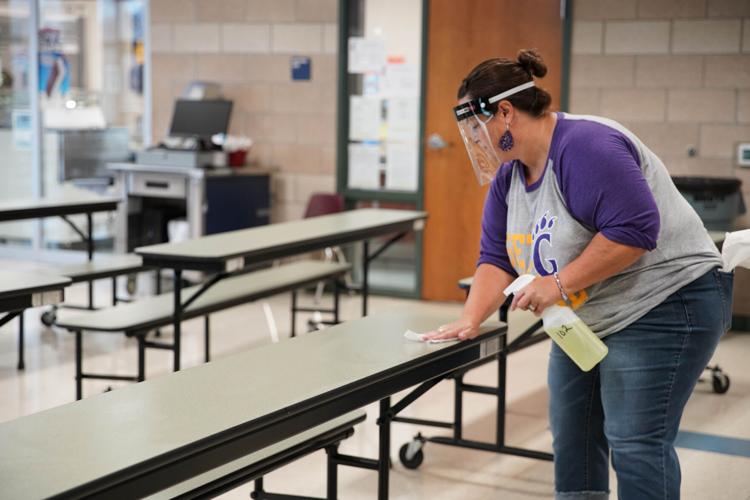 Keene Superintendent Ricky Stephens said the first day of school Tuesday went "as well as anyone could imagine."
"My junior high principal told me [Wednesday] morning that if you would've told me a few weeks ago how well it would actually go, I would've said you were crazy, because it was so smooth," Stephens said. "You could see it in our kids' eyes they were glad to be back. Our parents were commenting on Facebook about how their kids had such a great day and loved being back with their friends at school."
Stephens said while it's of the utmost importance to provide a safe and clean environment, it's also important to Keene ISD that its students get back to a sense of normalcy.
"They said other than masks and hand cleaning it was a normal day," he said. "That was really our goal in the very beginning. We wanted our kids to feel like they were coming back to their same school. One of the main reasons we brought them back was because all of the benefits that come with having them back, mostly mental health. The last thing we wanted to do was bring them in an environment that still feels like quarantine or isolation."
Being one of only a couple schools across the state to open back up at this point, Stephens said he knows districts across the state will be keeping tabs on how things are going at Keene and Godley ISDs.
"I believe a lot of eyes are going to be on us and Godley over the next week to two weeks," Stephens said. "If we have smooth starts, I think a lot of them will feel more comfortable about opening. The big thing is we're going to have COVID cases. We know we're going to have cases but that doesn't mean that's just because we started school. The big thing for us is what are we doing to mitigate that and make it as safe as possible at school?
"We hired two cleaners who come in eight hours a day just walking the campuses wiping and spraying touch points. Teachers created their classrooms where they spread their desks out six feet apart. The big thing isn't just opening school, we want to be able to stay in school. And us staying in school has everything to do with us doing those things that help mitigate the virus."
In the event a student or member of faculty tests positive for COVID-19, Keene ISD has established protocols for how to handle the situation, with information available on the district's website and social media accounts.
After a good first day back, day 2 at Keene ISD felt like a normal day, Stephens said.
"[Wednesday] morning, it looked really normal," he said. "Kids came to school and walked up with masks. Our neck gaiters came in so everyone got a logo neck gaiter. Kids fell in line like it was a normal day of school so it's been really good."
Stephens said even with everyone wearing face coverings, he could still see students were smiling and happy to be back for the first time since March.
"I saw a kindergartner [Tuesday] morning and she's got a mask on," Stephens said. "I'm walking in front of her and her mom and she said, 'Mom, can you see me smiling under here?' You could see it in her eyes that she was smiling. That was pretty cool. That's when you realize that's what we were missing is the human interaction, which is almost impossible to do virtually."
Keene ISD had 728 of its 963 registered students show up for traditional in-person learning for the first day of school Tuesday. And Stephens said he expects and hopes that number to grow over the next week or so.
"Within the first hour of school yesterday, we had four or five parents call and ask if they could just bring their kids to school tomorrow," Stephens said. "I think we'll see more of that once parents see we're doing it right."
One of Keene ISD's biggest concerns leading up to Tuesday was how students would handle wearing masks throughout most of the day. But so far, so good, Stephens said.
"All the way up to the high school, one of our fears was we would struggle with kids complying with the mask rule but everybody's been a team player," he said. "It was almost strange how easily everyone is following the rules."
Stephens said there were a number of factors that went into Keene ISD's decision to start school when it did, adding he's grateful for local control in a state where things are not always a one-size-fits-all answer.
"I believe local control is so important because we are such a big state," Stephens said. "One area could not be the right decision to start up right now while another area could be. So local control is a beautiful thing in Texas. With them telling us there is not a cure or vaccine coming in the next three to four weeks, we saw no reason to put off coming back to school. If it's not going to be different a month from now, we might as well start right now. When our local health authorities told us they felt like we should start, we pulled the trigger on getting started."
Dear said with such low confirmed COVID cases in Johnson County and particularly in Godley, the district felt comfortable moving forward with its Aug. 4 start date.
"Godley has had six confirmed cases, and not many more than that in the county portions of our district," Dear said. "We surveyed our parents this summer and the vast majority favored face-to-face instruction. However, families are more than welcome to choose virtual or a blended instructional delivery model if they aren't comfortable with returning to our campuses.
"We are thankful for the overwhelming patience and support our parents and Godley community have shown us."
Parents on Keene ISD's Facebook page shared several positive comments such as, "So grateful my kids get to attend here!" and, "Thank you for making it about the needs of the kids! Mine were so happy to return to school! I know we are all craving a certain 'normalcy' that has been missing. I'm thankful my second and third graders will be learning in person."