Students who participate in FFA and 4-H brought home big awards over the past couple of weeks at the Fort Worth Stock Show and Rodeo. The show ended on Saturday.
Kristen Clark, Texas AgriLife Extension Service in Johnson County 4-H and youth development agent, said the students brought home some great experiences and prizes at the show.
"This show is the culmination of many months of hard work practicing and preparing their projects," Clark said. "Because of participation in these projects, 4-H and FFA youth have learned many things along the way that will make them better young people
"Along with all the other ag science teachers and extension agents in the county, I am very proud to be working with these students that will be the future of Johnson County."
Johnson County 4-H teams
Several county teams scored big in their respective competitions.
The Johnson County 4-H Dairy Judging Team won Champion Overall Team and Champion 4-H Team, qualifying them to compete this fall at the World Dairy Expo in Madison, Wisconsin with team members Rachel White, Daizie Ebbens, Trent Doty and Seth Wallace. They were coached by Larry Woolley.
They also won first in Holstein, second in brown swiss and first in reasons. Rachel White won high point overall individual and a $500 scholarship, first in Holstein and eighth in reasons; Daizie Ebbens placed ninth overall, third in Brown Swiss, fifth in Holstein and first in reasons; Trent Doty won sixth in Holstein, second in reasons and was also tied for first; and Seth Wallace placed fifth in reasons. 
The Johnson County Plant ID team won fourth and fifth place. Members included Mayce Ball, Danielle Browning, Emma Pool, Kade Davis, Kendall Baxter, Jaxson Mackey, Lee Baker, Trey Schronk and Brecken Shipman.
The Johnson County Meat Judging Team placed third overall. Team members are Elijah Mathis who placed ninth, Alex Poynter who placed 12th, Colt Edrington who placed 17th and Carson Mathis. 
The Johnson County Junior Wildlife ID team placed third with members Ethan Hemsath and Decara Hemsath. Individually, Decara Hemsath placed sixth and Ethan Hemsath placed eighth.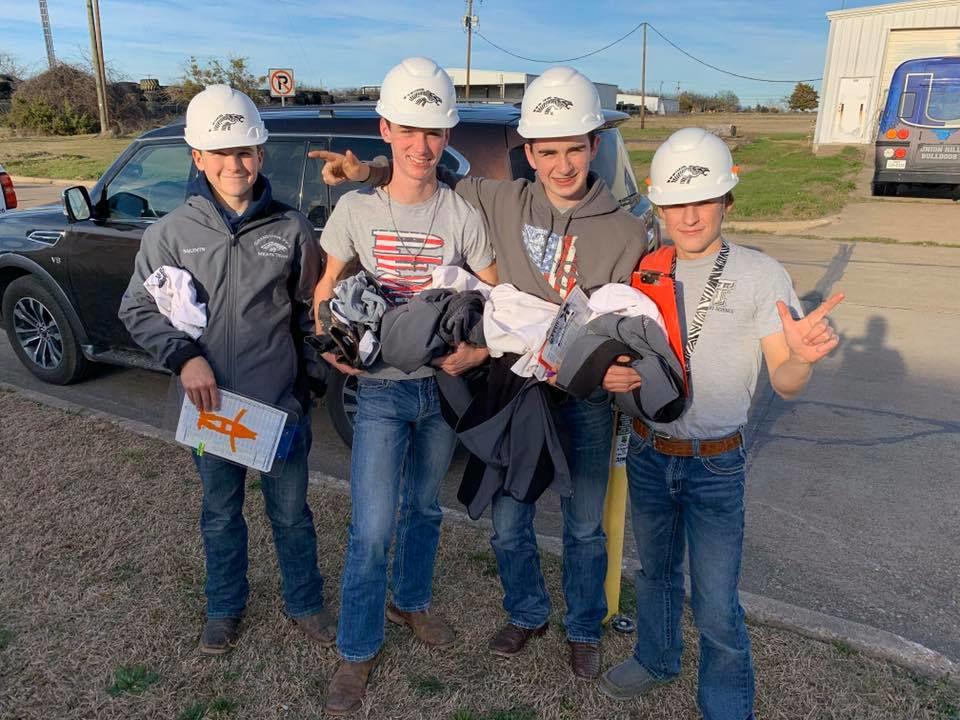 4-H winners
Several Johnson County 4-H members won awards for their animals. 
Rebecca Kennedy of Wild Riders 4-H placed second overall in the Youth Mustang Makeover Challenge.
In Holstein dairy cattle, Seth Wallace placed second; Jacob Bingham placed third and first; Daizie Ebbens placed 12th; Ashleigh Fullerton placed 11th; and Lilly Wallace placed fourth. 
In heifers, Ryli Bivens won Reserve Division Shorthorn, Trent Doty placed first with his Maine Anjou, Harlie Groom placed third with her Charolais, Claire Baker placed third with her Charolais, Madison Metzler placed first with her Charolais, Kaylee Martinez placed second with her Hereford, Brecken Shipman won Reserve Champion Angus. Callie Welty won Reserve Division Brahman, Bodie Shipman won Champion Simmental and Kaleb Snoddy placed first in the Other Registered Breeds category. 
In goats, Brandon White placed seventh and Josh Hawkins placed third. 
In barrows, Tatum Byrd placed seventh with his Black OPB. Karlie Spoon placed 10th with her Hampshire, Weston Montgomery placed sixth with his Cross. Mason Grady won Reserve Champion Cross  and made the sale and Kenton Watson placed ninth with his Cross.
In steers, Claire Baker Polled Hereford placed 11th, Madison Metzler placed 10th with her Shorthorn and made the sale, Brecken Shipman placed second with his Cross and made the sale, Mason Metzler placed 12th with his Cross, Bodie Shipman placed 17th with his Cross and Mason Grady placed eighth with his Cross and made the sale. 
Andi Burks of Godley FFA and Skylar Johnson of Venus FFA caught a calf during the show's Calf Scramble, earning a $500 purchase certificate for a show heifer and the chance for up to $16,000 in scholarship awards
Alvarado FFA
Alvarado FFA winners included:
• Kaylee Faulkner placed sixth with her Angus Heifer.
• Jonathan Hendrick placed second with his barbecue smoker ag mechanics project. Also in ag mechnics, Kade Zink, Braden Karnes, Jayden Stevens, Andi Burks, David Burks and Cody Miser all received blue ribbons.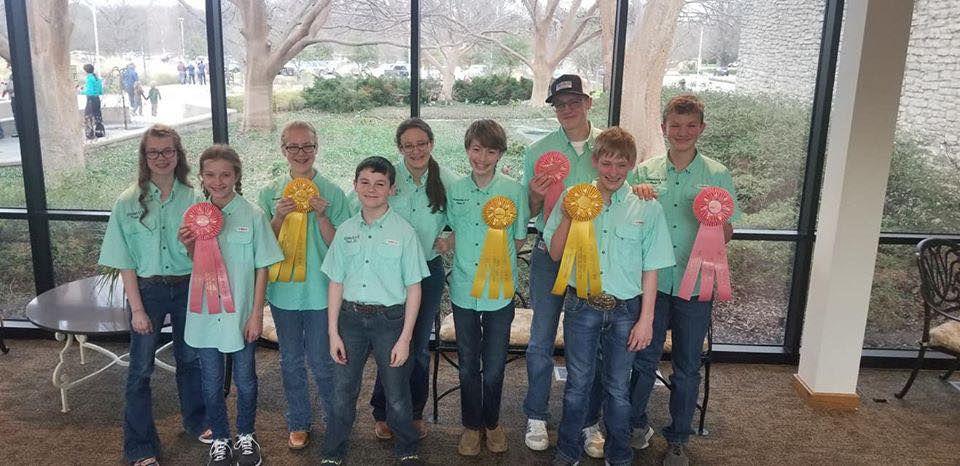 Burleson Centennial FFA
In the specialty rabbit show, Colton Spruce placed third with his black junior doe, fourth with his Broken Sr. buck, first with his senior broken doe and BOV Broken (second pick for BOB) second with his broken junior buck and second with his broken junior does.
In the rabbit fur show, Allison Baca placed first with her English lop doe and second with her English lop buck; Kale Ward placed ninth; Sydney Graham placed ninth; and  Colton Spruce placed fifth. 
In the junior rabbit show: 
• Sydney Graham placed first with her mini Rex black and Sr. buck.
• Aliyah Hernandez placed third with their Flemish giant and second with their Flemish giant doe.
• Jordyn Buckner placed fifth with their mini Rex Sr. buck black.
• Allison Baca won Best of Breed English lop doe, placed first in variety and first in variety broken buck English Lop.
• Colton Spruce- placed first in Californian, second in Californian, won Reserve Grand Champion Californian, first in Jr. broken doe mini Rex, second in Sr. broken doe mini Rex, second in Jr. broken doe and first in mini Rex broken Jr. buck.
• Brooklin Burgess placed fifth with her Jr. Broken Mini Rex.
• Huston Cain placed eighth with their mini Rex Sr. buck otter.
• Kailey Corrigan placed fourth with her Holland lop.
• Kale Ward placed second with their Holland lop broken Sr. doe.
• Payton Halterman placed ninth with their holland lop broken senior doe.
• Tyler tooley placed third with his Jersey wooley Jr. buck.
• Kolbi Redden placed third with his Jersey wooley Sr. buck.
• Riley Redden placed third with their Jersey wooley Sr. doe.
• Tristen Carney placed first with their mini Rex Jr. blue buck.
Other awards included:
• Lauren Duke placed fifth with her Yorkshire gilt and seventh with her Duroc gilt. 
• Allison Baca won Reserve Grand Champion with her Santa Gertrudis Heifer.
• Cooper Cowan placed sixth with his goat.
Cleburne FFA
Cleburne FFA winners included Amy Wallen placing fourth with her White OPB barrow.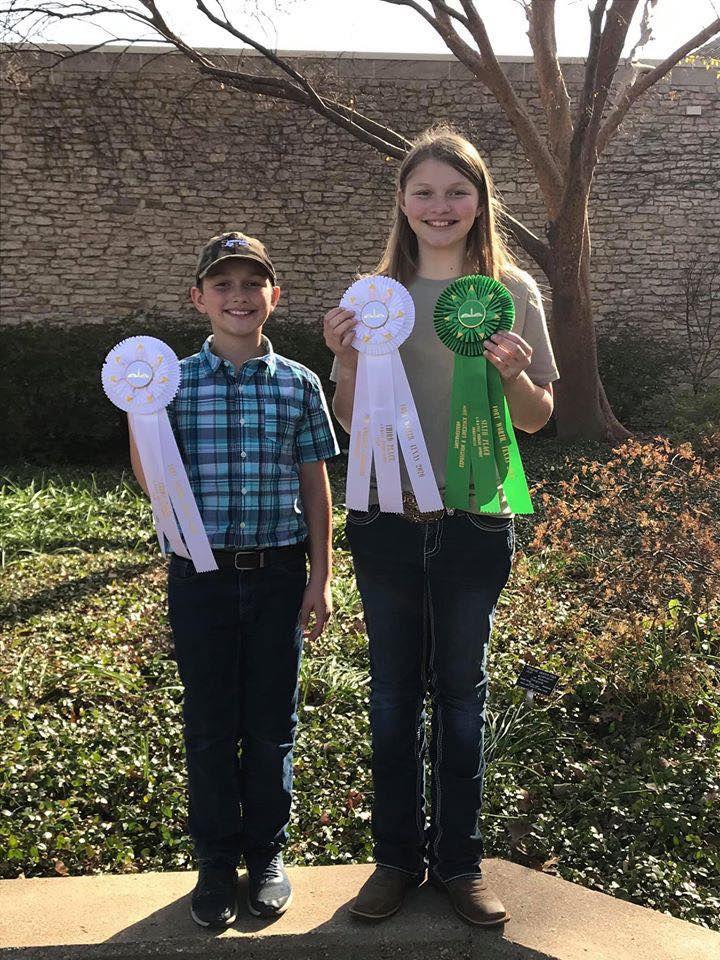 Godley FFA
The Godley FFA Floriculture Career Development Event Team placed second, with Cale Walden winning second place individually and receiving a $2,000 scholarship and Tanna Tidwell placing fifth individually. 
In market goats, Cody Smith placed 11th, Braeden Gregg placed 15th and Andi Burks placed 12th. In breeding rabbits, Klara Pinkerton placed first twice and second as well, Dakota Monfort placed fifth and Pecos Akridge placed second. 
In heifers, Madison Landers placed 10th with her Angus, Kayliegh Bailes placed third with her Main Anjou and Pedro Ramierz placed high with his Polled Hereford. 
Other awards included: 
• Cole Miller won Reserve Champion Southdown Ram in breeding sheep show.
• Mattie Kennedy placed second and third with his Chester gilt.
• Reagan Maxwell placed second with their Spot and Berk gilts.
• Ryanne Maxwell placed fourth with their Duroc gilt.
• Preston Maxwell placed second with his Chester gilt.
• Alex Duran placed sixth with their Spot gilt.
• Katie Kirby placed second with her Spot gilt.
• Tyler Kirby placed fourth with his Chester and fifth with his cross gilts.
Grandview FFA
Colt Edrington and Alex Poynter received blue ribbons for with ag mechanics projects. 
In the goat show, Wyatt Key placed first, Leiah Ishmael placed sixth, Kendall Baxter placed 10th, Selah Tye placed 12th, Lynlee Locker placed 12th and Sydney Eakin placed 15th. 
In the sheep show, Jhett Davis placed 10th finewool and Mackenna Dooley placed 12th finewool.  
In the pig show, Lauren Brasher won Light Weight Champion Crossbred gilt and third place with her Duroc gilt; Hayven Newcomb placed first with her crossbred gilt, Levi Hollingsworth placed sixth with their crossbred gilt, Brendan Gross placed third with his barrow and Trent Doty placed fifth with his barrow.
Other results included: 
• Jaselyn Davis placed second with their Maine Anjou heifer. 
• Cali Bennet won Reserve Champion Intermediate Division Shorthorn Heifer.
• Brendon Gross placed fourth with his steer and made the sale. 
Joshua FFA
Joshua FFA winners included:
• Ashleigh Duke placed fifth with her Black OPB barrow.
• Emery Jarrel placed 10th with their Hamp barrow.
• Emily Smythe placed second with her Hamp barrow.
• Tyler Stone placed fourth this his Cross barrow.
• Grant Cox placed second with his shorthorn and Reserve Division heifer.
• Mayson Campbell placed second with his beefmaster heifer.
• Morgan Hepler placed third with their Beefmaster heifer.
• Macy Hix placed second with her Santa Gertrudis heifer.
• Kennedy Easter placed 10th with their polled Hereford heifer.
• John Michael Perez placed third with this goat.
Venus FFA
Venus FFA winners included:
• Diego Aguilar  placed first with his outdoor & recreation ag mechanics project.
• Lane Salmans placed third with their buck at the breeding goat show.