Gerard Elementary School fifth-grader Jackson Moring and his father will team up this weekend to raise funds for Cook Children's Medical Center, in what has become a family tradition.
Starting at 8 a.m. today, Jackson and his father, Matt, an information technology systems administrator with Cleburne ISD, will be in game mode as participants in the Extra Life 24-hour fundraising and gaming marathon to support Children's Miracle Network Hospitals. 
This has been something the Moring men have done together since Jackson was 5 years old. Raising funds for Cook Children's is something very important to their family. Jackson spent the first 98 days of his life in the neonatal intensive care unit at the Fort Worth children's pediatric facility following his pre-mature birth at 24 weeks. Jackson weighed 1 pound, 6 ounces. His twin brother, Riley, was barely more than a pound. 
Minutes after they were born, the babies were moved to Cook Children's to receive the critical care needed for their fragile conditions. Six days after his arrival, Riley passed away. Three months later, Jackson had gained the weight and the strength to go home with his mom and dad. Since those weeks in NICU, Jackson has returned to Cook's for doctor visits only.
But the care felt by the Moring family in so many ways has kept them affiliated with the children's hospital.
"Cook Children's will always be special to us," Emily Moring said. "They were there for us at a crucial time. They took care of Jackson and took care of us as a family as we grieved for the loss of Riley. Cook Children's empowered us as parents in how to take care of Jackson as we prepared to take him home."
Emily Moring, who teaches at Gerard, has served on Cook Children's Family Advisory Council. She credits Matt for the family's involvement in the annual Extra Life event.
"This is Matt's endeavor — he believes so strongly in it," she said. "He sought it out and has chosen to be a part of it from that first experience. It's a great weekend for Matt and Jackson. They hang out together, as partners in a cause that is very meaningful to our family. Jackson always looks forward to this weekend. 
"He enjoys it and every year seems a little more involved in it. He understands why we do this, in not only remembering our family's experience at Cook Children's, but to also remember the children and their families who are there now."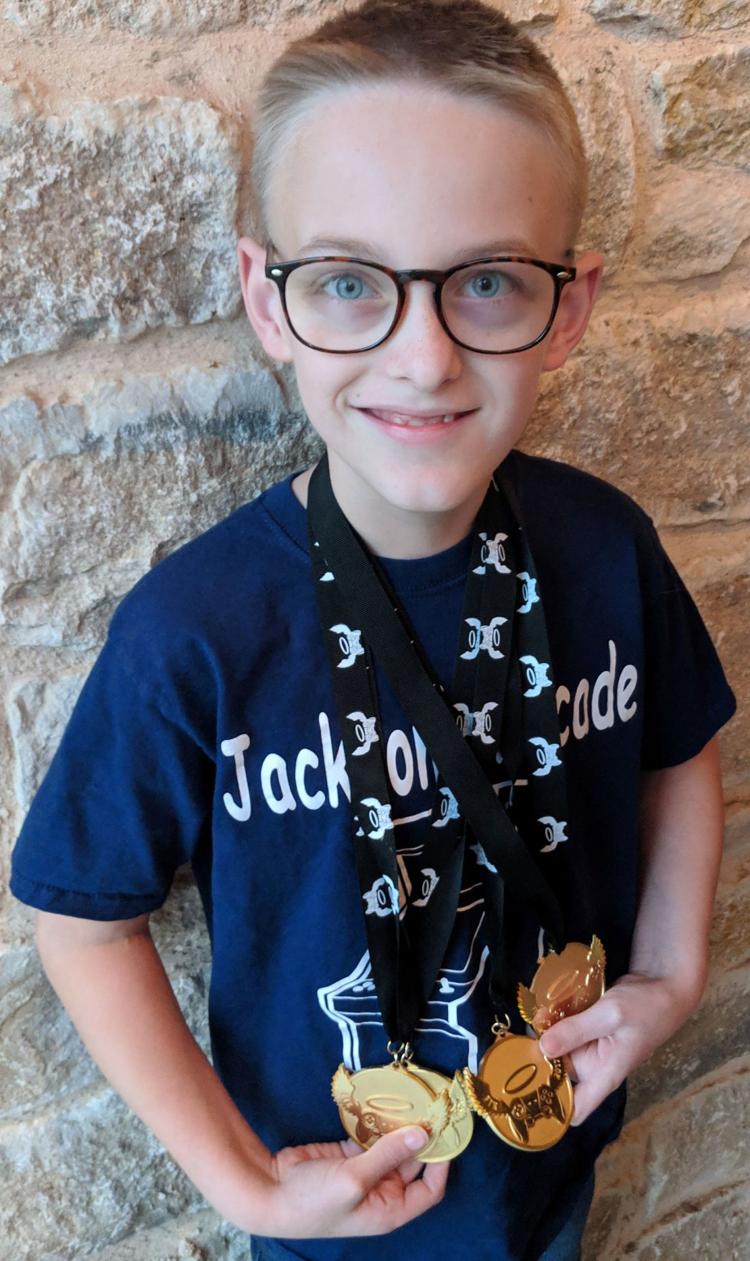 Since their first year of participation in the Extra Life event, Jackson and his dad have raised more than $7,000. Jackson, whose birthday was in September, requested donations be made to Cook Children's through the Extra Life initiative, rather than birthday presents. He also saves up for his annual donation to the cause.
"I like helping the kids — and spending time with my dad," Jackson said. "I told my family to give donations to Cook Children's this year because that was what I wanted for my birthday. I always know when it is and I'm excited that it's this weekend. Some of my friends know I do this, and one of them is coming over to play with my dad and me."
Both Jackson and his dad are gamers, with the Mine Craft and Fort Nite at the top of their lists. In addition to their team goal of raising $2,000 this year through their Extra Life participation, the Moring's also plan is to finish the Mine Craft model of Cook Children's they began in 2017.
"It's a big job, you build one block at a time," Matt Moring said. "We both like that game. You let your imagination run free—you can build any kind of crazy building you want. Jackson has a great eye for design and comes up with some very creative structures—some reality, some fantasy."
While the games will begin this morning, with father and son playing together, Jackson's shift will end at 8 p.m. today. Matt Moring will continue through the night, putting down the controls at 8 a.m. Sunday.
"It's not fair — they make me go to bed," Jackson said. "I know I will continue to do this, so some day I will get to stay up all night like my dad. Cook Children's is a hospital that gives kids what they need to survive, like oxygen and medicine. They help kids like me to get well and go home to their families. I'm glad we do this."
In the first years of Jackson's life, the family participated in the March of Dimes March for Babies. From the start, it's been about raising funds for the care of children.
"Extra Life is based on video games, which is of interest to Jackson and me," Matt Moring said. "The fact that it could raise money for Cook Children's makes it a great fit for us. It's special for Jackson and me to share time involved in a hobby we both enjoy. Giving back to make a difference in the lives of special kids means a lot to us — to Jackson and me, too."
Matt Moring said they began their initiative with some social media posts, and the word spread from there.
"People were kind enough to share our posts," Matt Moring said. "We also send out emails and we've baked cookies and treats that I've brought to work to help raise funds. We've raised donations from friends we haven't seen in years. Some of the nurses from Jackson's months in NICU make donations."
In addition to the memories, Jackson has a display of medals in his room, one for every $1,000 raised through the years. He's very hopeful to add to that display.
"The donations are collected and processed by the Children's Miracle Network," Matt Moring said. "One hundred percent of the donations we raise go directly to help kids at Cook Children's. I visited the hospital two years back and met with the Child Life Specialists. I saw specific examples of how the funds were being used to help the kids and their families. I saw how special this really is."
Since Extra Life was launched in 2008, more than $40 million has been raised for sick and injured children. Jackson and his dad hope to add to that figure as they sit down Saturday morning, which will begin with Jackson's favorite brown sugar cinnamon and chocolate Pop Tarts. 
"We don't want to take any credit for this," Matt Moring said. "We organize our donation campaign, but the generosity of donors is what makes all this possible. Every donation helps and we are grateful for the support we have received through the years. Cook's is such a special place and has touched the lives of so many people we know."
While the Extra Life event is this weekend, donations can be accepted through Dec. 31. To access Jackson's donation page: extra-life.org/participant/jacksonmoring.
"We're lucky to have Cook Children's so close," Emily Moring said. "They have a staff of world class physicians and nurses that provide care for the whole child — and family. They call it family-centered care, and that is true. There's not any place like it, to me."