The rain swept in fast and temps dropped quicker but that hardly prevented Thursday morning from being a special day, Johnson County Historical Foundation Chairman David Murdoch said.
Recent renovations — the Chisholm Trail Outdoor Museum's formerly open air pavilion has now been closed in on the east side — ensured the ceremony proceeded under somewhat cosy circumstances for the 20 or so attending.
A stone fireplace occupies the center of the new wall while large picture windows feature on each side to offer picturesque views of Lake Pat Cleburne.
"We just finished closing that side in this week," Murdoch said. "Otherwise we wouldn't be doing this in here this morning with that wind coming off the lake. The windows were donated to us about three years ago and Henson Lumber donated the lumber. We used to hang a tarp on this back side but when it gets cold and windy like this it'll about blow you out of here. Eventually we're going to close in the front side too and put a sliding barn door type entrance in."
The pavilion renovations are one of several ongoing at the outdoor museum, the other major one being the near completion of the Terry House, a two-story double dog run building which will house offices for Terry's Texas Rangers in one side and a museum dedicated to the Texas Rangers and other Texas law enforcement agencies in the other.
Since it opened in 2003, the museum has grown from Johnson County's original courthouse and a few teepees to the addition of more than $2.25 million worth of additional buildings and exhibits, and has since been named among the Top 10 outdoor museums in Texas.
In addition to the courthouse, the museum includes and old school house known as the Nolan River School, a jail, a stagecoach station, the Big Bear Native American Museum and more.
The purpose of Thursday's gathering was to thank and honor Jeff England Motor Company and local historian Randolph Garner.
Murdoch and other museum officials named Jeff England Motor Company as a lifetime sponsor of the museum, making the company one of only three so named. Museum officials in September named Zimmerer Kubota and Whitney Printing as lifetime sponsors as well.
"These are companies or people who have supported us all along since we've been here," Murdoch said in explaining the requirements for the honor. "They've supported us in many ways, but also through contributing to us through the years. We're a volunteer organization and we work on donations. Without people like these three stepping up to the plate we simply couldn't be here and that's all there is to it.
"But as to Jeff England, he does so many things behind the scenes for people, and not just us, that we wanted to have a chance to celebrate him here today."
The Jeff England Motor Co. sign will soon join the Zimmerer Kubota and Whitney Printing signs already displayed near the museum's entrance.
Jeff England, owner of Jeff England Motor Company, said it's more about what the museum offers Cleburne and Johnson County than it is about him or his company.
"For me the attraction of the museum is that it's something no one else has," England said when asked why he supports the museum. "It's amazing we have a place like this in Cleburne and a shame that it hasn't been recognized more than it has. That's starting to change fortunately and the museum is getting there recognition wise.."
More than that, CTOM represents a huge asset to Cleburne and the area, England said.
"It fosters carrying on our traditions, history and past," England said. "And it's teaching everyone, but especially our kids about all three. On top of that, it's just really cool to have a place like this in Cleburne."
The recognition of Garner came as a surprise to him, which, Murdoch said, was the plan.
"This is something that has been needed to be done for a long time," Murdoch said.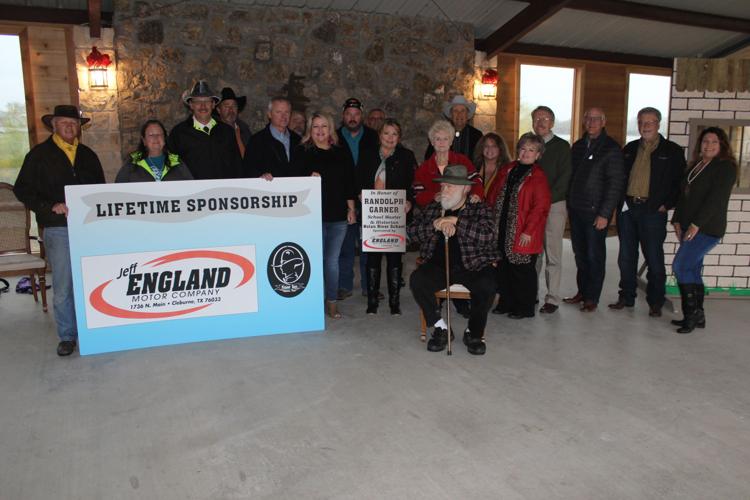 Murdoch and CTOM On-Site Director Carrie Reynolds presented Garner with a sign recognizing him as school master and historian of the Nolan River School. Jeff England Motor Company paid for the sign, which will be affixed to the school house.
"You know, it's been fun to watch the museum grow over the years," England seen. "But it's also been fun to watch [Garner's] part of all that. He's such a wealth of history and knowledge. It's amazing the things he studies and knows."
A retired school superintendant, Garner still teaches classes in the Nolan River School building similar to the type of classes students would've have received in 1868, Murdoch said.
"The old blue back spellers, learning how to write cursive," Murdoch said. "Boys sitting on one side, girls on the other. He may come in dressed as a banker one time,  a general the next. You never know what you're going to get. But he teaches those kids a lot."
Murdoch also praised Reynolds.
"In the three months she's been here I don't think I've seen as much enthusiasm from anyone else," Murdoch said.
Such is Reynold's productivity, Murdoch said, that he consulted with former Cleburne ISD teacher Ben Oefinger for help in how best to translate "Git 'er done" into Latin.
"Ben told me it doesn't translate exactly but we got it as close as we could and I put that phrase on her letterhead," Murdoch said.
Reynolds in turn said that she, for the longest time, drove by the museum admiring it but thinking it was someone's private property.
"This is just such an incredible place with so much history behind it," Reynolds said. "And that's so important for our kids. Too many of them sit behind their computers or phones and don't know the history of the cattle drives, the Chisholm Trail or who Pat Cleburne was and why this lake behind us is named after him."
Reynolds was otherwise more interested in talking about Garner.
"Randolph, I could sit and listen to your stories forever," Reynolds said. 
Cleburne Economic Development Manager Grady Easdon admired the new additions to the pavilion while calling the CTOM a gem.
"Personally, I love coming out here," Easdon said. "With the buildings and everything out here it's such a hands-on, sensory experience, not like going to an indoor museum where everything is behind glass. But aside from all the history here it's just that cool feeling of literally stepping back in time when you come here."