While making your way around town to visit one of the homes featured on Save Old Cleburne's 42nd annual Candlewalk Tour of Homes on Dec. 7, be sure to stop at one of several downtown businesses participating in the tour.
The Candlewalk Tour of Historic Homes is from 1-8 p.m. Dec. 7. 
Tickets are available at the Layland Museum, Heritage Home Vintage Inspired Living, Cleburne Chamber of Commerce and online at eventbrite.com.
Advance tickets are $12 for adults and $8 for children under 12.
Day of tour tickets are $15 and $10, respectively.
Save Old Cleburne is a nonprofit organization. The Candlewalk Tour of Homes is the organization's main fundraiser for the year. 
Meetings are the second Monday of each month. For information, visit their Facebook page, Save Old Cleburne.
Trovato Street 106 E. Henderson St.
Trovato is the Italian word for "discover" as in "find." Trovato Street is the brainchild of Jim and Teresa Ferens, owners of the Wilson Building in downtown Cleburne. 
The Ferens put the building on last year's Save Old Cleburne's Candlewalk Tour of Homes showing their newly restored loft space on the top floor of the building.
The Ferens wanted to offer something innovative and new to downtown without competing with other merchants nearby. They welcome you to a comfortable place to sit and relax, taking a break from shopping. Comfortable furniture, no wi-fi, no coffee. Sit a spell and visit. The store is equipped with nostalgic candy, uncommon sodas and single packaged ice cream.
Candy from yesteryear, all-day suckers, candy cigarettes, salt water taffy of all flavors, Cherry Mash, hard candy, you are sure to find something you like. 
Store manager, Linda Worlow, will fix you candy tins, baskets or bouquets to order. Come by and fill up your Christmas stockings. The candy store opened Halloween night and business has been booming.
The International Market is a constantly changing showcase of goods not available in the local stores. For now, there is a Venetian display with elaborate feathered masks celebrating the Italian culture.
German Nutcrackers and hand blown mercury glass ornaments are in other spaces. All these offer unique gifts.
The Layland Museum also has a space to showcase Museum finds.
The International Market is at its beginning stages and will be changing out every two weeks, offering different countries as well as domestic artesian items.
The Ferens want your experience to be different every time you come in. The store will change as the seasons change, more ice cream will be offered in the summer. They are open to ideas of what people would like to have in Cleburne.
Come discover Trovato Street and International Market. See what unexpected finds await you. There will always be a friendly face and a place to sit.
Trovato Street is open from 11 a.m. to 6 p.m. Tuesday and Wednesday, from 11 a.m. to 8 p.m. Thursday through Saturday and noon to 5 p.m. Sunday.
Thrift to Gift 209 E. Henderson St.
"Our store actually started by picking up discarded tables and chairs from the side of the road and redoing them."
Jason and Amber Jewett are the owners of Thrift to Gift. Jason drove by an empty store on Mill Street, inquired about it and they opened up the first Thrift to Gift in January 2019. The store featured repurposed furniture as well as home decor accent pieces, clothing and gift items. They built up a nice business with a good customer base.
Tom Burkett, owner of nine buildings downtown, came by one day and asked Amber if she would be interested in moving downtown. While trying to express her concerns about not being able to afford it, Tom said "Come look."
Jason and Amber got the keys Oct. 15 and opened four days later at their new location!.
They are located next door to The Depot in the former Action Signs office entrance. Behind the office was a two-bedroom apartment Tom had for visiting musicians performing at 'Songbird Live!' across the street. The Jewetts removed all the doors to the apartment to provide a smooth flow for shoppers.
The larger space allowed them to bring in venders offering a broader variety of items. Cowhide rugs, refurbished furniture, children's clothing, ladies boutique clothing, baby nursery gifts, home decor, Holiday decor, canvas prints, purses, duffle bags and much more.
Business has been outstanding, The Jewetts are excited to be part of booming downtown Cleburne. Thrift to Gift is open from 10 a.m. to 5 p.m. Tuesday through Saturday and 10 a.m. to 8 p.m. the first Thursday of each month.
The CO-OP 209 S. Main St.
The CO-OP at 209 S. Main St. offers Cleburne creations by local artists with a mix of vintage.
The collaboration started when Cindy Fowler and Stephanie Rush eyed a dresser for sale at the same time. They decided they would both paint it and sell it at Antique Alley. They soon started an online business called "Salvaged Sisters. This led to having a large booth in Granbury, where they teamed with two talented ladies — Rachel Hall and Linda Ostrander. 
Wanting to be closer to home, they started looking for storefronts in Cleburne. The four co-owners opened the CO-OP in April.
Jewelry, hand-painted mid-century modern furniture, tightly woven handbags and baskets, soy wax melts, hair bows, hats and Christmas ornaments are all made from talented artisans. 
Dedicated to supporting local artists, they do not buy new items, preferring everything to be creative and locally sourced or made. The artists only pay commissions on sold items.
Mixed with much loved vintage items, old books and vinyl records, you will find metal TV trays, vintage Christmas decorations, retro toys and bikes. 
The CO-OP offers hand painting furniture classes, custom furniture painting and custom hat embroidery.
The store is festive and bursting with Christmas, and open from 10 a.m. to 6 p.m. Tuesday through Saturday, and from 10 a.m. to 8 p.m.the first Thursday of every month. 
There will be gift drawings and complimentary snacks during the Candlewalk Tour.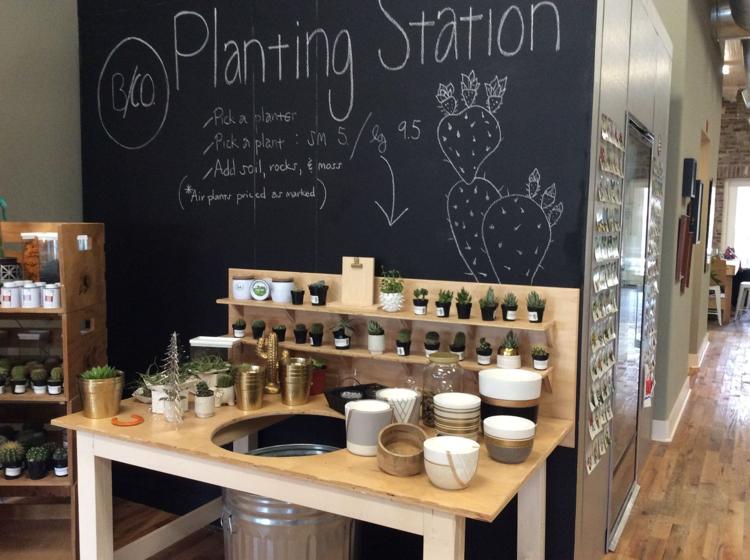 Breck & Co. Floral Boutique and Mercantile 214 E. Chambers St.
Breck Kiel grew up in her mothers floral shop watching her design beautiful arrangements for all occasions. After college and traveling around the world in fashion marketing, Breck wanted to move back to Cleburne to have her own full service floral business with a fresh innovative spin.
Not only can you have floral creations for your wedding, baby showers and birthday parties, you can also have the party here. 
The back of the shop has room for your friends and family to celebrate. Large double doors open to a back patio. She recently had a 6-year-old's birthday party where the kids had so much fun making their own arrangements.
Once a month, Breck hosts floral workshops; November's class made their own cornucopia. December's class will be making fresh Christmas wreaths. In 2020, Breck plans to be adding a monthly yoga class to the schedule.
The store features a succulent plant station, a line of plant-based skincare, bath soaps, even toothpaste. Coconut oil-based perfumes, clean burning candles and jewelry made from Texas artists. Breck carries products carefully selected from Etsy.
"Cozy Staycation," "Happiest Hour" and "Desert Child" are her themed Christmas gifts displayed in the front of the store.
Breck & Co. offers a menu to chose from. 
"Never Forget " is three arrangements a year are automatically delivered so you don't miss those important days. "Seasonal Delivery," "Monthly Delivery" and "Shower Package" are other menu choices.
Breck & Co. Floral Boutique and Mercantile is a beautifully designed full service florist plus more. Come in and visit.
Store hours are 10 a.m. to 5:30 p.m. Tuesday through Friday and 10 a.m. to 3 p.m. Saturday.
Day of Candlewalk Tour the store will be open until 8 p.m.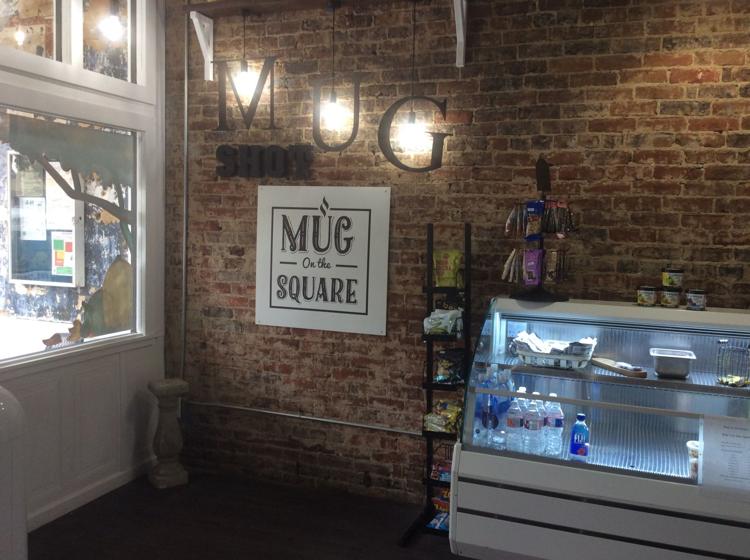 Mug on the Square 6 E. Chambers St.
Tammy Gowin, daughter Shala Louis and daughter in law Jessica Gowin are the owners of newly opened Mug on the Square, adding more flavor and ambiance to our booming downtown Cleburne.
Relocating from California, Texas attracted them with its job opportunities, people and culture. They loved Cleburne because of its size, older home architecture and home town feel.
They bought the two-story solid masonry building on the south side of the courthouse on 6 E. Chambers St. 
Built in 1884, earliest records show it was R.J. Shelley Dry Goods in 1912. Through the years it has been the home of Little Furniture Co. owned by J.W.Floore , Ballas Dry Goods 1928-38, Tom Dickey Curlee Clothes in 1938, more recent years Dr. W. Jones Optometrist/TSO, Shelly Fowler Law Office, Sargentics and now Mug on the Square.
They quickly gutted the building, carefully preserving all the doors and windows, keeping the original ceilings and floors. 
Turn of the century doors and frames were moved from upstairs to use downstairs. A large original wood piece is now the serving counter. Stripped to is brick walls and shiplap staircase, it provides a cozy atmosphere for your coffee experience.
Mug on the Square specializes in crafted beverages, espresso drinks, hot tea, Italian sodas and frosts. Kona cakes, brownies, cake pops, muffins and breads are brought in daily from local bakers.
Designed to meet your needs, there is comfortable seating, a business center space to work, a play area for kids and indoor/outdoor cafe seating. 
A private conference room will soon be available and plans are in the works for grab and go lunches.
Tammie, Shala and Jessica want to open the upstairs area and are interested in what their customers would like to see in this space. 
Mug on the Square opened in September, it's inception promises more to come. Decorated for Christmas, stop by and take a break from your holiday shopping.
Hours open are 7 a.m. to 6 p.m. Monday through Wednesday, 7 a.m. to 8 p.m. Thursday and Friday and from 8 a.m. to 8 p.m.