A Waxahachie woman who threw her wedding ring in the trash by mistake on Friday is rejoicing after a crew with Waste Connections found it hours later in an Alvarado landfill. 
Earlier that day, Nelly Cabeen was tidying up her home when she threw away what she thought was an empty envelope.
"My husband has been wanting to buy me a new wedding ring, but I did not want a new ring," she said. "I love the ring he gave me when we got engaged, so he said, 'Why don't we use those stones and add them to a ring I want to have made for you.' I loved that idea so he took it to a jeweler to get some ideas for what he could do."
When he brought the ring home — the jeweler had placed it in a manila envelope — he placed it on the kitchen counter.
"I pressed my hand down on the envelope and it felt empty," Cabeen said. "So, I threw it away. Later I asked my husband what he did with my ring and he said it was in the envelope. He asked me what I did with the envelope and I told him I threw it in the trash."
Realizing what she had done, Cabeen said she called her city's trash department who directed her to Waste Connections.
Special Waste Coordinator Karen Fuller answered the call at Turkey Creek Landfill in Alvarado when Cabeen called about 1:30 p.m.
"I actually did not think her ring would/could be found," Fuller said. "With as much trash that comes into the landfill, it would be impossible to find it."
Every day, crews with Waste Connections collect more than 2,500 tons of trash from all over North Texas and transfer it to the Alvarado landfill.
From curbside pickup to being dumped at the landfill, Fuller explained the trash collection process to Cabeen.
"She was telling me that they compact the trash as they are picking it up," Cabeen said. "The waterworks were happening and I knew I was not going to see this ring. Karen said it would be like finding a needle in a haystack."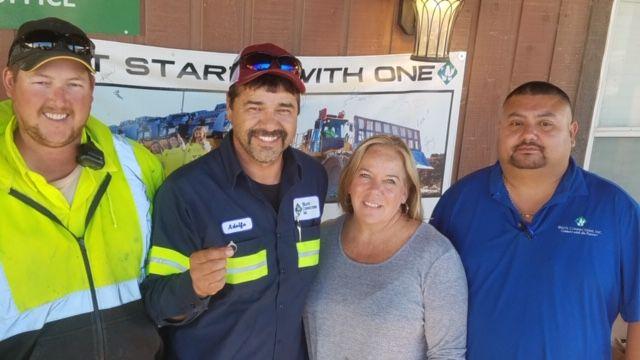 Even knowing the odds, Fuller began communicating with crews to locate the truck that picked up that bag of trash.
"I know how important my wedding ring/engagement ring is for me and the sentiment that it holds," she said. "Nelly was so emotional on the phone with me about the loss of her ring that it just touched my heart. I knew we had to at least make an effort to locate it."
Landfill District Manager Gary Bartels said by the time Cabeen called, the truck on her route has usually dumped its load twice.
"Karen found out the truck had not dumped at all yet," Bartels said. "Once we found that out we knew there was a little bit of a chance."
Bartels had the truck driver dump the load in a secluded area of the landfill, while Fuller followed up with Cabeen to ask her what color the trash bag was and what her ring looked like.
"Each truck has between 8-10 tons of trash, and we were looking for something that is 3-10 ounces," Bartels said. 
The team — specifically Joseph Soto, Adolfo Calleja, Tyler Harwood and Ray Hobbs — began searching for a grey industrial-size trash bag that had a white bag with orange drawstrings inside.
"Adolfo saw a grey bag and opened it up and found bunny ears from what appeared to be from a Halloween costume," Bartels said. "He went to discard the bag and out of the corner of his eye noticed something shiny on one of the ears."
Sure enough, it was Cabeen's ring.
"It was covered in all kinds of goo and gunk, so they cleaned it up and sent a picture of it to Nelly," Bartels said. "She texted back, "OMG, that's my ring!"
Fuller said she was in disbelief.
"I could not believe that the guys found her ring in the tons of trash that came in that truck," she said. "I was elated and I knew it was a miracle that the ring was found."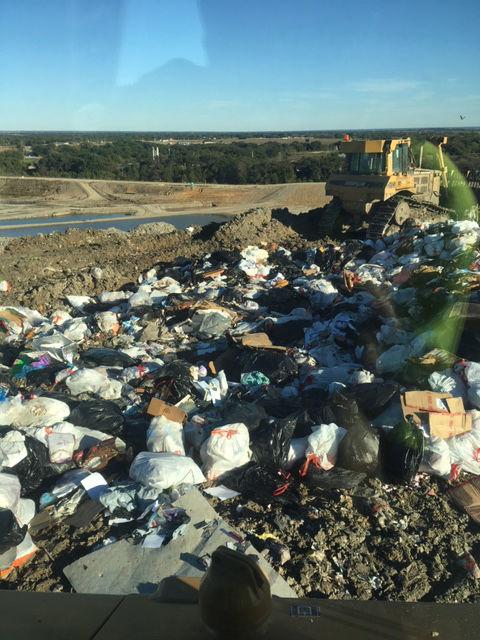 Cabeen said it was nothing short of a miracle and she is so thankful the company took the time to find her ring, knowing it was nearly impossible.
"They were sorting through all of this trash to help me even though they didn't know who I was," she said. "In a world right now full of hatred and wrong, having people like that going far beyond what needs to happen just proves there are still great people like that around."
On Saturday, Cabeen made the trip to the landfill to retrieve her ring and meet the crew who found it.
"I brought them some goodies and a gift card so they could get lunch together as a team," she said. "That is just a small token of my appreciation for them, but my appreciation is definitely worth a lot more."
Bartels said his crew's actions exemplify Waste Connections' no. 2 value of integrity — "Doing the right thing, at the right time, for the right reason."
"Everyone saw the importance of what a wedding ring means to a person and they literally strapped on their boots to try to find it for her," he said. "The odds of finding something like that are probably less than winning the lottery. This is a day that anybody involved will never forget."
Bartels said the landfill never gets calls about items accidentally thrown away, but coincidentally it was the second call they received that day.
"A gentlemen from India called earlier in the day, telling us that all of his immigration papers he'd accumulated over the past 8-10 years had been tossed in the trash," he said. "According to him, the process to acquire the documents to gain status towards becoming a U.S. citizen had been a long, painstaking and difficult task.  
"Without hard copies of these papers, he feared he would be set back years in the process. He was beside himself with the loss and doing everything he could to get them back. He said he knew what truck collected his trash and requested assistance retrieving the briefcase they were in. Fortunately, the Turkey Creek landfill operations team was able to assist and reunite him with all of his immigration papers."