It's a good thing that her mother, Maxine Birdwell, knew how to sew, Birdwell's daughter, Estelle Stepherson said.
"She had to make her own uniforms during her time at the Cleburne Police Department," Stepherson said. "Because they didn't have any for women; they were all cut for men."
But for a friend, Birdwell may never have worked for CPD, her daughter Gay Turner said.
"She went with a friend of hers who applied because her friend had heard they were hiring at the police department," Turner said. "Mom's friend turned out to be too short for the job but the officer there saw mom and told her she should apply for the job. Mom told them she wasn't interested in working for the police department but she agreed to go ahead and take the civil service exam. After she scored 100 on it they really wanted her."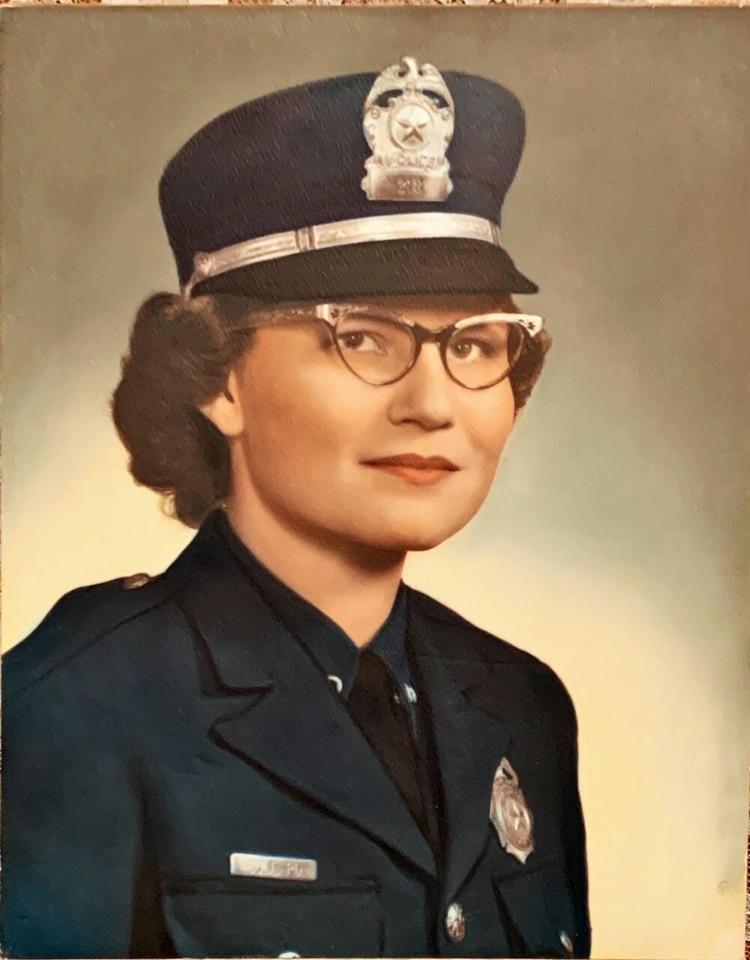 Birdwell soon after became CPD's first female officer and went on to serve the department from October 1961 to July 1976.
Birdwell passed away July 15 at the age of 85. Cleburne Police Chief Rob Severance on Monday read a proclamation during Birdwell's funeral service signed by Mayor Scott Cain declaring Monday as Officer Maxine Birdwell Day.
"Because of her courage to dare to transcend preconceived expectations, barriers were broken and generations of women knew their gender was no obstacle to what they could accomplish," Birdwell's proclamation reads.
CPD now has six female officers on staff.
"And, of course, we've had quite a few others since Officer Birdwell led the way," Severance said. "And those officers have served in a number of duties. Amy Knoll, for example, who recently retired, served many positions including interim chief for a time and was an assistant chief when she retired."
Severance said he and assistant chiefs Linn Goodman and Craig Huskey visited Birdwell earlier this year.
"Before all the COVID-19 stuff hit we were able to spend time with her," Severance said. "She showed us her photo albums and talked about her and her husband. I'd hoped to spend more time with her but then, unfortunately, we heard that she had passed away."
The visit meant so much to her mother, Stepherson said.
"Mom was so thrilled and honored that Chief Severance and the others took the time to visit her and their interest in her story," Stepherson said. "It absolutely made her day and she was telling everyone she could about their visit. And it means a lot to our family because I'm not sure the importance of her and those other early [female officers] was fully recognized and appreciated in those days."
Turner said she was 5 when her mother began with CPD.
"We lived in Burleson at that time but had to move back into Cleburne because mom needed to live in city limits to meet the qualifications to work for the department," Turner said.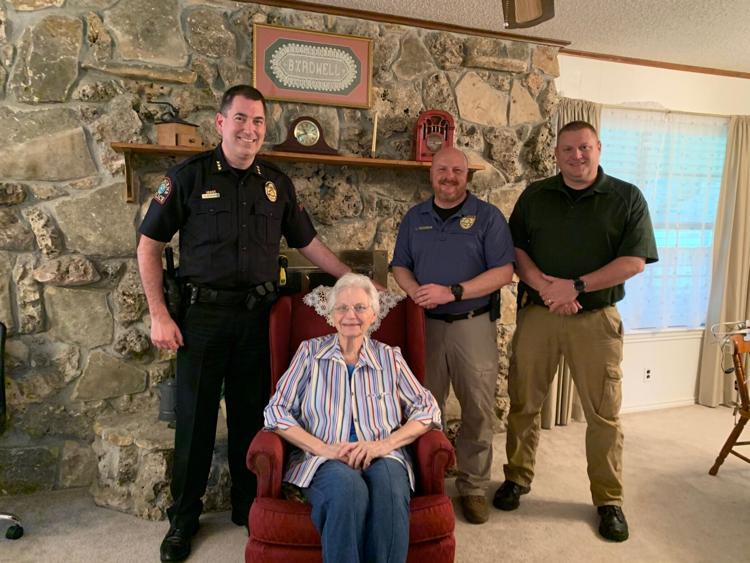 Birdwell, at that time, was married to William Bullard, Turner's father, but later married Trittes Birdwell, who was CPD's assistant chief at the time.
"Dad had to go work for [the Johnson County Sheriff's Office] at that time, Stepherson said. "Because they couldn't both work at CPD being related."
From what they've been told, Turner and Stepherson said their mother seems to have gotten on well at CPD.
"She always said she enjoyed her time there," Turner said. "Plus she grew up in Cleburne so she would have known a lot of the other officers from school or just around town."
It was a full-time job, both said.
"Any time they had an offense involving a female with alcohol or behavioral health issues they'd call mom since she was the only female officer. So she got called in the middle of the night a lot. It truly was a 24-hour job for her. If someone needed to go to a mental health facility mom would have to drive them to Terrell because that was the closest place back then."
Birdwell had four other children: Joy Hoekstra, Samuel Bullard, Robert Allen Bullard and Randy Birdwell.
Former Cleburne Councilman Sonny Russell conducted Birdwell's service.
"Just a good lady, all of her family is," Russell said. "And she was a good friend to our family. She attended Landmark Baptist where I pastored and she just, what I call working with serving the Lord. Any projects, anything that needed to be done she was always eager to help out and volunteer. I first met Mrs. Birdwell in 2006 and I'll always remember how she and some of her friends would always meet at McDonald's every Thursday for coffee and company."
Sheriff Adam King said he's honored to have met Birdwell several times.
"I actually didn't know she had been a police officer at first and didn't find out about that until several years ago," King said. "At first I just thought of her as this nice, friendly outgoing lady that everyone in town seemed to know."
King said he credit's Birdwell's courage and ambition.
"She's definitely one of the pioneers who paved the way for women in law enforcement, especially in the Johnson County area," King said. "I'm sure they probably put up with a lot back in those days. But, I'll tell you, we have 13 female deputies and a female crime technician and the reality is that women do a wonderful job in law enforcement."
Severance agreed.
"I think we've been successful in recruiting female officers to the department, but we'd like to recruit more," Severance said. "Certainly Officer Birdwell and those other earlier officers represent role models and inspiration to women that there is opportunity available to them in law enforcement careers."
King on Monday swore in JCSO's newest female deputy, Ellen Kyle.
"When I heard about Maxine Birdwell being Cleburne's first female officer I got to wondering who JCSO's first was," King said. "At first I thought it was Debbie Lockhart  but [retired CPD Assistant Chief N.H. Laseman] said he thinks it was a lady named Sue Ford. But now other people are saying it may have been a lady named Marie Richardson. The unfortunate thing is that a lot of the old county records aren't that good so we have to rely on people's memories on some of that stuff."
Lockhart, who worked for the sheriff's office from 1990 to 2005, said she's the second female deputy as  far as she knows.
"I know I was the first female detective and first training officer," Lockhart said. "And I was also involved with the Crime Stoppers, Crime Prevention program back then."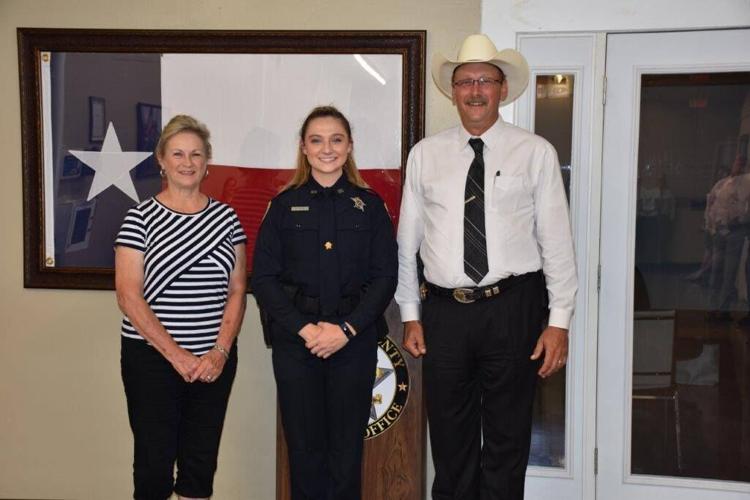 Lockhart said she remembers hearing of Ford but didn't know her and doesn't know when she worked for the sheriff's office.
"I know it was before me and I don't think she was there very long, but don't know for how long," Lockhart said.
Lockhart said she endured her share of ribbing early on.
"I had to pull my own and make sure they knew I could do the work," Lockhart said. "One thing that helped is that I had worked for the sheriff's office in Taylor County before coming to Johnson County so I wasn't just fresh off the street."
King invited Lockhart to attend Kyle's swearing in ceremony and also requested a copy of Birdwell's Cleburne proclamation to give to Kyle.
"I was glad to have Debbie there to visit with Deputy Kyle and share her stories and tips and advice with her," King said. "And I wanted to give [Kyle] a copy of [Birdwell's proclamation] as a keepsake and inspiration and in a way too to honor Maxine Bridewell and all the other female law enforcement officers who came before."