Whether fascination with all things Cousin Eddie waxes or wanes after the new year remains to be seen, but one thing's for sure.
A lot of Cleburne cars and trucks will still be sporting Find Cousin Eddie decals long after the infamous Eddie heist of Christmas 2019 has passed into hazy memory.
"Brought roughly 200 decals out today," Cleburne resident Sharon Hudson said. "We've been here about an hour and already given a lot away. I don't think they're going to last till 6 p.m. But we've got donations to buy more vinyl so I'll be making more until everyone who wants one gets one."
As Hudson took inventory of the remaining decals her husband, Aaron Hudson, assisted Cleburne resident Deb Roberts by affixing one of the now iconic decals to the back window of her car.
"Absolutely wanted to come out and get a sticker to show my support," Roberts said while admiring her new decal. "It's something fun."
Low-hanging clouds of dull gray slate hue threatened and at times delivered downpour but failed to deter area Eddiemaniacs from gathering Saturday in Cleburne's Tractor Supply Co. parking lot for the hastily organized inaugural Cousin Eddie Fest. A steady stream — some solo, others with families or friends in tow — cycled through to pick up T-shirts and decals, visit with 95.9 The Ranch personalities and commiserate over Cousin Eddie's unknown fate.
Eddie awareness surpassed fever pitch last week to the delight of many and exasperation of others. Either way, Eddie's owners remain shocked, albeit heartened, by the response to Eddie's theft.
Eddie, more accurately a mannequin version of Eddie, went missing  around 11 p.m. Dec. 22 from Cleburne resident Cody Long's front yard. Long took to Facebook giving the perpetrators until nightfall the next day to return Eddie no questions asked never imagining the magnitude to which the theft of his Christmas decoration would soon capture Cleburne's collective attention. 
"When I posted that Monday it was more of a rant, kind of just frustration over having something stolen and getting it off my chest," Long said on Saturday. "Somehow it's completely blown up to where Cousin Eddie now has his own Facebook page, his own Twitter handle and now we've got Cousin Eddie Fest."
Even before Cousin Eddie's untimely disappearance the mannequin had attained Cleburne Christmas tradition status akin to Save Old Cleburne's Candlewalk Tour of Homes and Hulen Park's Whistlestop Christmas.
Former Cleburne police officer Sandy Blunck crafted the mannequin about three years ago recreating the famous scene from "National Lampoon's Christmas Vacation" capturing Cousin Eddie draining the sewage tank from his RV while enjoying a cold one. Eddie became an immediate must see attraction for all driving around to take in holiday decorations and a participant in many family Yuletide selfies. 
Blunck, when he moved earlier this year, gave Eddie to his next door neighbor and friend Long to ensure the continuation of the Eddie tradition.
Eddie has yet to surface, but Long's post garnered support, and Eddie memories, aplenty. Cleburne resident Sharon Hudson, after reading a suggestion from one Facebook poster, took it upon herself to create the now ubiquitous Find Cousin Eddie shirts and decals. WFAA broadcast an interview with Long and Blunck on Christmas night and 95.9 The Ranch interviewed Long on air. The case of the missing cousin story quickly spread throughout Texas and America with word of it reaching Denmark over the weekend.
Plans for Eddie Fest sprang up just as quickly while Hudson and her daughter worked two days straight preparing decals.
95.9 The Ranch morning show host Heather Anderson and others were on hand Saturday as well.
"I've been a fan of Cousin Eddie and "Vacation" forever," Anderson said. "I used to work at a radio station in Illinois just outside Chicago and we had a musical festival every year called Eddie Fest that was a big, crazy block party that kind of kicked off the summer. People would come dressed as Cousin Eddie and it's a big thing that's been going on about 20 years.
"So when I got tipped off by a friend about Cleburne's Cousin Eddie we reached out and knew we wanted to get the radio station out here for support. So I'm a huge fan and hope they find him or whoever took him brings him back."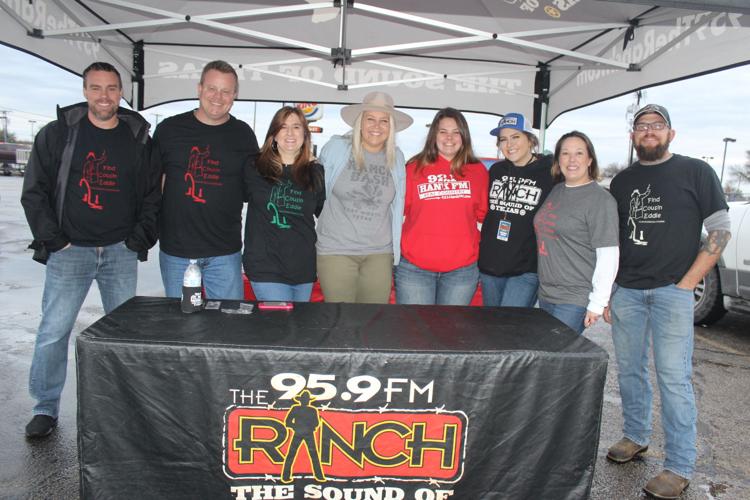 Many Cleburne residents were equally elated over Eddie.
"Every Christmas we looked forward to driving by and seeing Cousin Eddie," Cleburne resident Kaleigh Moss said. "It's our favorite Christmas thing in Cleburne. We had a family friend move here this year and told her about Eddie but then saw the Facebook post that he had been stolen. My family and friends are all so sad that Eddie's gone. It's like a big thing."
Hudson and her husband distributed Eddie shirts and decals free of charge during Cousin Eddie Fest but accepted donations to cover costs and help bring Eddie back next year. Hudson, who runs Two Ducks and a Dane, a printing business, out of her home also created a koozie bearing the legend Make Eddie Great Again 2020. More are on the way and will soon be for sale.
"When we heard about Eddie Fest my whole family was like, 'Oh, we're going and getting shirts,'" Moss said.
Cleburne resident Robert Carroll said he's been following Eddie's saga through his kids.
"I actually forgot about Cousin Eddie Fest but was out here to get dog food," Carroll said. "I saw all this out here and remembered and wanted to come get some decals."
Cleburne resident Torrey Bishop said he's sad he never got to encounter Eddie.
"My wife passes him taking our daughter to school," Bishop said. "We were going to drive around looking at Christmas lights and she was going to show me but then I saw that morning on Facebook he'd been stolen."
Cleburne Attorney Bill Conover joked that he had to explain the entire "Vacation" movie series and Cousin Eddie character to his mother.
"She said, 'Well, if that's the biggest crime you have in Cleburne you all live in a safe place,'" Conover said.
Long joked that several times he's had to clarify to people that it was a mannequin, not Randy Quaid, the actor who played Cousin Eddie, stolen from his yard.
Cleburne resident Autumn Bias marveled that "Cousin Eddie's putting Cleburne on the map," while her friend Piper Lanford quipped that "We all have a little Cousin Eddie in us."
Theories on Eddie's whereabouts abounded with someone suggesting dragging Lake Pat.
As always occurs with such fads of the moment, the drum beats of disgruntlement were already rumbling through cyberspace well before Saturday's festivities commenced with several exclaiming enough is enough while others voiced frustration that their causes don't receive Eddie sized attention. Perhaps they have a point, though, as one post-holiday reveler firmly in the Eddie camp mused, "Hey, if you don't like something just pass it on by and let the people who do have fun with it."
Long concurred that it's all a bit much but also looked on the bright side.
"I never would've imagined any of this two weeks ago," Long said. "The greatest part for me is how so many in the community have banded together over it. I mean the Cleburnites Talking Facebook page is notorious for having a lot of negativity and people complaining about this that or the other. It's been good to see a change of pace on there. I love it."
Cleburne businessman Chuck Bailey, on hand to pick up a shirt, agreed.
"I loved seeing the Cousin Eddie mannequin out there the last few Christmases," Bailey said. "What's so great is the fact that somebody stole it and yet everybody pulled together and turned it into a positive thing. Cleburne's getting better all the time. It truly is."
Aaron Hudson went glass half full as well.
"It's phenomenal that we can take something as small as a mannequin being stolen by somebody who didn't care or was joking around or whatever and turn that into something so positive and something the whole community can get on top of and roll with," Hudson said. "That's what the world needs these days is more fun and positivity anyway. I know it sounds cliche but everyone needs to not listen to the negative and instead go out and be the positive, be the change you want to make."
Or, as Blunck said, "It's funny what will bring a community together."
Bigger and better is the theme for next year with Blunck and Long vowing to bring Eddie back to Cleburne, and Burleson, for next Christmas as well as several other "Vacation" characters.
Those on hand Saturday were already hashing out plans for Cousin Eddie Fest II.