The Cleburne City Council approved purchase of several items previously budgeted and/or called for in the current year's budget during their Tuesday meeting.
Council members also approved a rezoning request and dates for the upcoming council elections.
The council voted to hire Brinkley Sargent Wiginton Architects to conduct facility assessments and conceptual planning at a cost not to exceed $91,720.
The project will assess aging city facilities and provide future needs and organization plans, City Manager Steve Polasek said.
The project will focus on the "spatial requirements and facility needs assessments" of the police department, fire administration, municipal court and library.
"The current facilities consist of aged structures that have been retrofitted throughout the years and offer little opportunity for future growth," Polasek said.
Brinkley Sargent brings more than 80 years experience to the table, Polasek said, including experience in planning and design aspects of public safety facilities.
The project should take about 18 months to complete and will include:
• A summary providing a narrative of the final direction of action as established by the city.
• Departmental space needs for 15 to 30 years.
• Departmental parking needs.
• Conceptual site plans of multiple options.
Council also agreed to hire Freese and Nichols to assist with updating the city's zoning ordinances at a cost not to exceed $200,000.
A comprehensive plan adopted by the city in 2014 recommended updating the code, which was last updated in 1996, in toto.
The projects is slated to begin next month with a proposed 12-month time line.
The scope includes a detailed analysis of current zoning ordinances with an additional report outlining problems and issues, Cleburne Director of Community Development Shane Pace said. 
It will also consist of an entire rewrite of the zoning ordinance and an update of the city's zoning map. 
Freese and Nichols has been in business for 126 years with more than 50 years experience in urban planning and a specialization in small to mid-sized cities, Pace said.
The process will include a steering committee and open house for public information and comment.
Council members also approved purchase of three 2020 Chevrolet 1500 pickups from Caldwell Country for $146,173. The trucks will be used by the Cleburne Fire Department's command staff. Their current trucks will be sold at auction.
Council members approved James Wright's request to rezone .50 acres at South Douglas and West Chambers streets from general business district and multiple-family housing district to C3 commercial district.
The section is part of a adjacent land owned by Wright and he wishes to have the entire lot uniformly zoned for possible future commercial development.
Mathias Haubert, a representative for Wright, did not discuss what such possible uses might be.
One resident of the area said that while she understands the commercial nature of the area she is also not pleased with the parking lot layout and other issues of a nearby existing restaurant.
Council, and Haubert, noted that Tuesday's request was simply for a zoning changes and involved no plans as of yet to develop the properties in question.
Pace noted that Wright would have to present site plans and obtain building permits — which would require, absence grant of a variance, adherence to current city codes — before anything could be built on the site. Officials also noted that the current restaurant in question was built more than 50 years ago long before many of the city's current codes came into existence.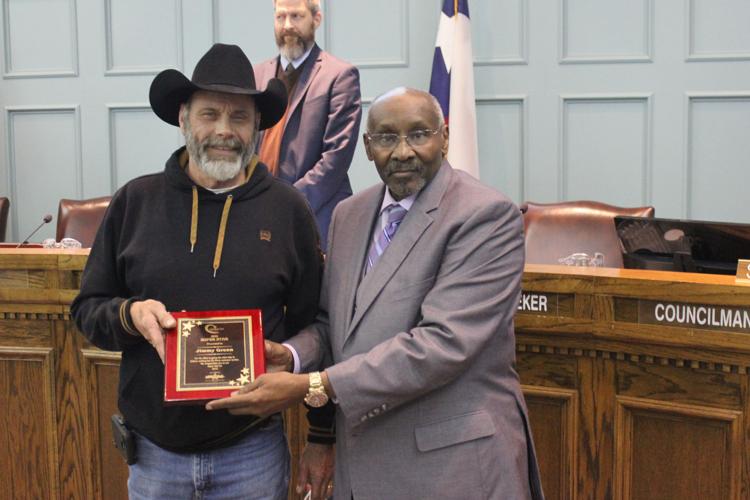 Three up for election
Council approved an ordinance calling for the May 2 city council elections and, if necessary, a June 13 runoff election. Neither may be necessary at this point given the three races remain unopposed. Candidates, however, have until Friday to file.
As it stands now, Mayor Scott Cain and Single Member District 4 Councilman John Warren have filed for re-election. Candidate Derek Weathers filed for the SMD 1 seat with Councilman Bob Kelly as yet not having filed for re-election.
Cleburne Sanitation Department worker James "Jimmy" Green received the city's 2019 Super Star Award. Green last year received the city's monthly All STAR Award, awarded to those employees who go above and beyond duty's call. One out of the 12 monthly winners is chosen as the super star each year. Green's dedication to exceptional customer service throughout last year made him the obvious choice, Personnel Director Debra Powledge said.
Cleburne Police Chief Rob Severance presented Craig Huskey who was recently promoted from corporal to assistant chief. Huskey, a long time officer of the Cleburne Police Department, replaces former Assistant Chief Amy Knoll, who recently retired.