U.S. Rep. Roger Williams, R-Austin, paid a Wednesday visit to the Cleburne Lions Club to discuss current political issues and field questions.
Lions, Williams said, are close to his heart.
"Daddy was a member of Westside Lions in Fort Worth," Williams said. "Growing up I played for Westside Lions little league, football and their basketball tournaments. Dad, back when you could still do that, used to come get me out of school and take me to Lions. He wanted me to meet grown ups and learn to look them in the eye when I shook their hands."
Williams also credited the Cleburne Lions for their support of Meals on Wheels of Johnson and Ellis Counties.
"My father had the Chevrolet dealership in Fort Worth back when Meals on Wheels was getting started," Williams said. "He supplied the first cars so people could make the deliveries."
Williams joked that he takes his job, if not himself, seriously.
"My background is as a business person," Williams said. "I'd been selected for several things but I never ran for office before this. Never in my life did I say, 'Hey, I want to be a congressman.'"
Disenchantment over the divide of what's said versus what's done prompted Williams to make a run in 2012.
"People would say, 'I'm going to going to do this if elected and I need your support,'" Williams said. "And then they got there and never did any of the things they said they were going to do. It drove me nuts."
Williams said he ran and won on a pro-business stance, an entrepreneurial message and a smile on his face.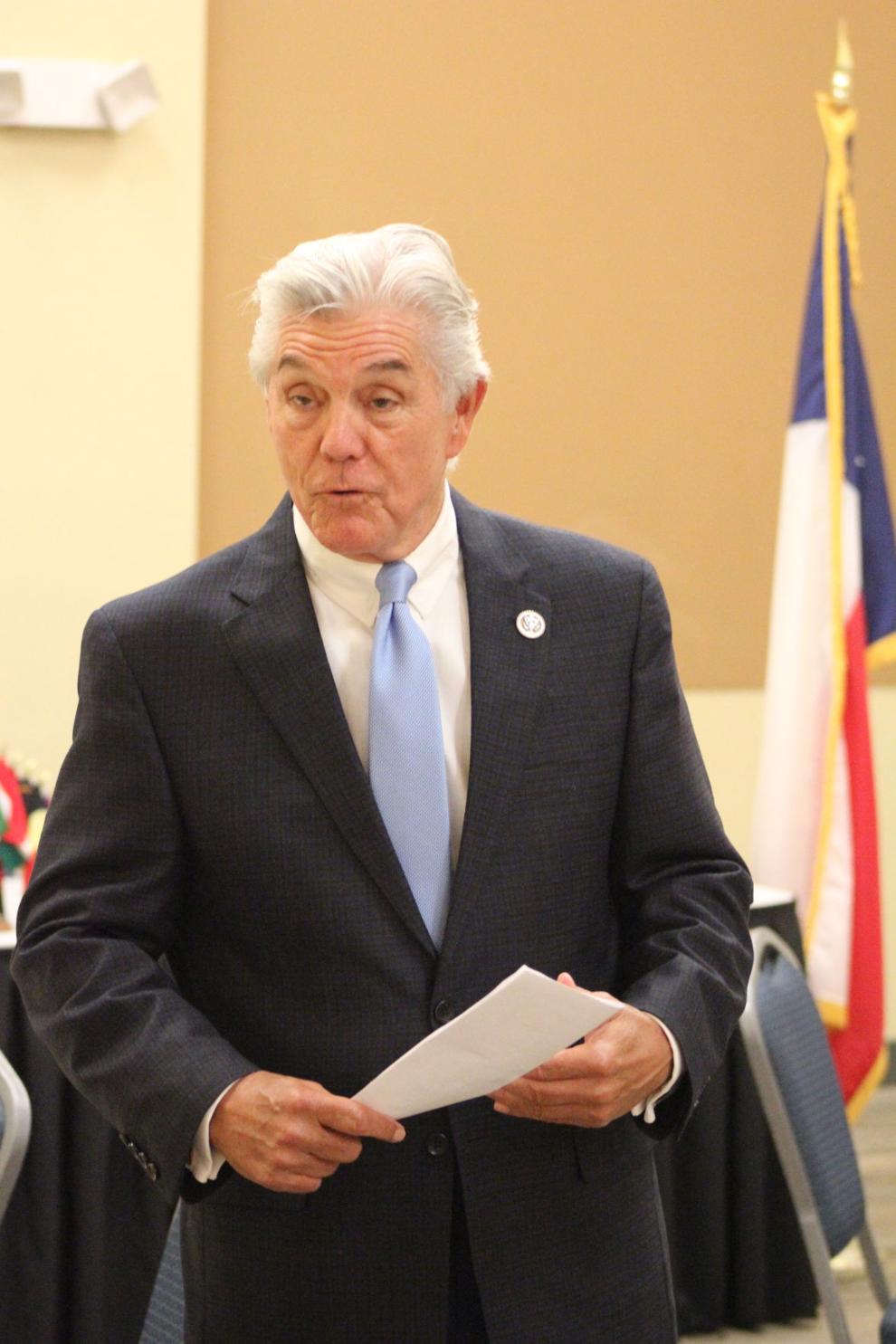 Chief among his goals if elected was to tackle taxes, Williams said, adding that taxes were choking America's economy.
"We had the highest tax rates in America in the world," Williams said. "And we were wondering why jobs were leaving here and we couldn't create more jobs.
"Well, fast forward and I'm here to report and gladly report that we've passed the largest tax cut in the history of our country and let me tell you, it's working."
The cuts, Williams said, have resulted in more jobs being created and the lowest unemployment numbers in years not to mention robust GDP growth predictions going forward. Another round of tax cuts is in the works, Williams said, adding that it's important to make the cuts from last year permanent.
Regulations on business also "literally choked the life out of Main Street," Williams said.
Reductions in such regulations since Donald Trump became president has worked wonders, he said.
"Now we're beginning to see people get back to doing business again," Williams said. "If you want to be in business you can. You can be aggressive and be on your toes instead of your heels."
Williams said that while he's proud to serve all of Congressional District 25 he's most proud of serving Fort Hood, or as he calls it, 342 square miles of "Bring It On."
Military cuts under former President Obama's administration left the military largely gutted, Williams said, resulting in drastic reductions in troop numbers as well as available tanks and planes.
"At the current rate we're going, by Christmas, we're going to have a fleet of Naval vessels the same size as we had in 1917," Williams said.
Even at Fort Hood certain barracks sit condemned, hangars leak and potholes fill the runways, he said.
"That's the bad news," Williams said. "The good news is we just received $61 million to rebuild those barracks and we've got $146 million coming to help fix those runways and hangars. We need to build our military back up and we're starting to do it. We're not going to be anywhere where we need to be. But I believe this is the way to go. 
"Because if America is not the superpower militarily, the world's going to implode."
Williams also discussed his recent visit to Iraq and Kuwait.
"I was totally humbled to be around those 19 and 20 year old kids," Williams said. "130 degrees and dust storms everyday. Kind of reminded me of Lubbock, Texas. The kids work at night because it's too hot to work during the day. But they have smiles on their faces. They love their country and they love serving. 
"We're always talking about the world's greatest generation of World War II. You start talking to these guys and gals and you realize they're the world's next greatest generation."
Williams spoke of the tragedy of students dropping out of high school at a high rate and called upon Lions and other community leaders to mentor and encourage children to finish school and seek job training and/or a higher degree.
"We have 100,000 kids in Texas dropping out in the ninth grade and giving up hope," Williams said. "That should never happen in America and certainly not in Texas."
On the illegal immigration front, Williams called for more boots on the border.
"We've got to secure our borders," Williams said. "There's a lot of people coming over our borders that's not coming over to get a job. They're coming over to kill us. There's terrorists coming over and the drug wars down there are just unbelievable."
One plus, Williams said, is that border patrol agents can now guard the actual border.
"Under the previous administration they were not allowed to be on the border and had to be 45 miles within the border," Williams said. "So the bad guys had a 45 mile running start."
As for DACA residents, Williams said he supports a bill that would allow them to remain on work visas provided they find jobs and pay taxes. The visas would have to be renewed every three years.
The bill also eliminates chain migration, visa lotteries, funding for sanctuary cities and designates English as the official language.
Border crossing are down since Trump's election, Williams said, and America is doing a better job.
Asked about Russia and China, Williams said we should be aware of but not afraid of Russia who he described as a country run by a bully with an economy down the tubes.
"China doesn't want to go to war with us," Williams said. "They want to beat us economically and this president understands that."
Williams said that while he agrees with Trump on many fronts he doesn't agree with his tariff policy. All the same, Williams said Trump is a good listener who's on track to do what needs to be done concerning China and fair trade.
Williams faces Democratic challenger Julie Oliver and independent challenger Martin Luecke in his November re-election bid. 
"Washington is a mess I don't care what party you're in," Williams said. "Both parties are circular firing squads in many cases.
"I'm running for re-election and I'm energized. I don't know how much longer I'm going to serve because I'm a term limits kind of guy. 
"But as long as I'm there I'm going to work as hard as I can and you're going to be able to count on me to fight for the values I think we all stand for. I try to keep it simple and get results."