It's hard to believe, Johnson County Commissioner Rick Bailey said during Tuesday's Johnson County Commissioners Court meeting, that 18 years have passed since that "sad day."
Commissioner Larry Woolley and County Judge Roger Harmon agreed.
"We were talking about that during Sunday School at church yesterday," Harmon said. "It's one of those moments that you'll always remember exactly where you were when you heard about it."
Commissioners joined local first responders and officials from area veterans organizations to remember the lives lost and the heroism displayed during the Sept. 11, 2001, terrorist attacks on America.
"I remember feeling that the way they attacked our country that day, they were cowards," Harmon said. "Our first responders that day were heros, and they're heros everyday."
Commissioners also delivered proclamations marking National POW/MIA Recognition Days and this month's upcoming centennial celebration of the Cleburne's American Legion Post 50.
A POW/MIA table set up in front of the commissioner's dais drove home the point.
American Legion District 6 Chaplain Ronald Shultz placed several items including an inverted glass, Bible and American flag on the table at 6th Sons of the American Legion Commander Ken Peters Jr. explained their significance. 
Harmon thanked them and others who helped organize the ceremony.
"Thank you," Harmon said. "That was a beautiful ceremony. If that doesn't get to your heart I don't know what will."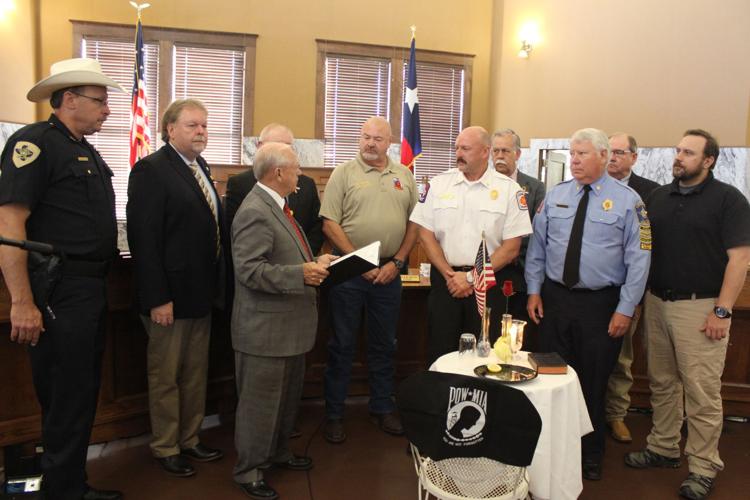 American Legion Auxiliary Past Texas President Marty Peters encouraged residents to attend a POW/MIA Remembrance ceremony tentatively to be held at 6 p.m. Sept. 20 at Post 50, 313 W. Chambers St. in Cleburne.
"That also takes place during the celebrations of our post's 100th birthday," Peters said. "The American Legion as an organization began in March 1919. Post 50 began on Sept. 19 of that same year."
In addition to addressing issues affecting veterans, Post 50 participates in a number of community and youth projects.
Given that the remains of soldiers from as far back as World War II continue to be located and sent home, POW/MIA Remembrance Day continues to resonate, Marty Peters said, both for its importance and the fact that families are still receiving closure for their loved ones.
"With that, the anniversary of Sept. 11 and the 100th anniversary of our post this year we have a lot of veteran's related events happening all together," Peters said. "All three are worth their own recognition.
A Sept. 11 ceremony will be held at noon Wednesday at Yellow Jacket Stadium, 1201 W. Henderson St. A steel beam from one of the towers of the World Trade Center will be displayed throughout the day with the Cleburne Fire Department's Pipe and Drum Band scheduled to perform "Amazing Grace" at the times each of the four hijacked planes went down that day.
Harmon also commended first responders throughout Johnson County and Veteran's Services Officer Katherine Fasci.
"We live in a county of people who serve and we have a great team in Johnson County," Harmon said.
Johnson County Emergency Services District No. 1 Executive Director Tom Foster said it's an honor to serve and thanked the commissioners and county residents for their support of first responders.
Shultz agreed and said the three things he's always been sure of in his life were his decision to accept Jesus as his lord and saviour, the decision to marry his high school sweetheart and his decision to serve in the military.
Several days of celebration are also in the planning for Post 50's centennial. For information, call 817-645-6053.
Slow down
Commissioners reduced the speed limit from 40 mph to 30 mph on Westover Hills Drive from Farm-to-Market Road 916 to the end of Westover Hills Drive. The road, which dead ends, will in time become a horseshoe feeding back into FM 916, Bailey said.
"People out there asked for this," Bailey said. "They built 60 homes out there and there are plans to build another 60. There are already families and kids in that neighborhood. Plus you have people going out there to look at houses to buy and some of them maybe driving a little faster than they should be so we thought it was a good idea to lower the speed limit and make it safer out there."
Harmon announced that a public hearing will be held on the proposed budget for the county's upcoming fiscal year at 9 a.m. Sept. 23 at the Johnson County Courthouse, 2 Main St. in Cleburne. After the public hearing commissioners will vote on the proposed budget and property tax rate. The proposed rate for the upcoming year is lower than the current year's rate. The county's new budget year begins Oct. 1.