Upon finding the paper published on his birthday while flipping through several 1969 Times-Reviews bound in a book, Cleburne Fire Chief Scott Lail expressed mock shock that his arrival to the world failed to warrant a front-page headline. Lail's effort was not totally without compensation. 
A front-page photo and accompanying cutline note that Windy City weather of late continues to vex Chicago firefighters by causing their fire hoses to freeze. A portend of Lail's destiny? Maybe, maybe not. 
Either way, Lail was well chuffed to run across mention of a fire department on the day of his debut. Lail said he was equally excited by the argosy of Times-Reviews he and fellow Cleburne firefighters helped deliver to Marti Enterprises on July 11.
"[Cleburne Public Library Manager Tina Dunham] asked if we could help move and unload them here," Lail said. "We were absolutely happy to help move this treasure trove of Cleburne history."
Cleburne Assistant Fire Chief Keith Scarbrough agreed.
"I'm looking forward to when they get these online because I'm wanting to look through them," Scarbrough said. "I wish they had it done already."
The treasure trove Lail spoke of consists of a fairly  complete Times-Review set of bound editions from 1927 through 1973. Included as well, several hundred copies of the Times-Review published 1934 Johnson County Centennial edition and 1967 Cleburne Centennial edition, both of which will soon be offered for sale to raise funding for the newspaper project.
The papers and binders though yellowed and dusty remain surprisingly ship shape for the most part. Once deposited at Marti, volunteers and city officials spent several days inspecting and, as much as possible, cleaning the bonanza find before it was sent off to the University of North Texas.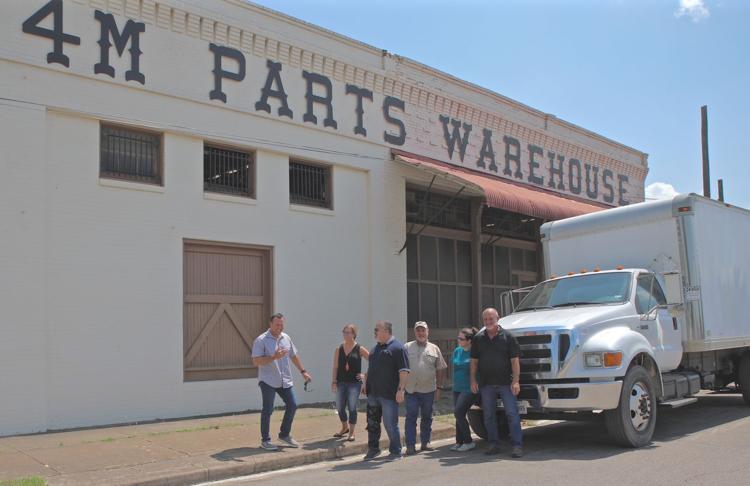 Cleburne historian Mollie Mims spearheaded the projects joined by the Layland Museum, Cleburne Public Library, Johnson County Courthouse Museum, Johnson County Genealogical Society and other groups and volunteers. The papers came from 4M Parts Wholesale Auto Parts, a Cleburne building that dates to circa 1904.
"It's always been some kind of warehouse as far as I've been able to determine," Mims said. "McCord-Collins Wholesale Grocers were the first ones in there from the research I've done so far."
Former Times-Review Owner and Publisher William M. Rawland later owned the building, which is how the papers came to be there. The current owners, the Martindale family, purchased the building in 1982.
"Actually, I was interested in looking into the history of the building," Mims said. "So I talked to Lanny Martindale one day at Rotary and he told me they had all these papers of history in the building, which they figured were worth saving and now they've decided to donate them to the Layland."
Layland and the museum already had several copies of the Times-Review and other historic Cleburne and Johnson County newspapers and the Times-Review has bound copies dating back to 2000. Copies of the Times-Review are also available at the library on microfilm. 
"That's great to have," Dunham said. "The problem is the film is getting to such a brittle state and many pages of those papers were filmed poorly to begin with and are blurry to read. There's going to come a time when that film will be obsolete. And then what? So this project needed to begin and thank goodness for Mollie."
The project involves the Texas Digital Newspaper Program, which is overseen by the Portal To Texas History housed at UNT.
"The TDNP partners with communities, publishers, and institutions to promote standards-based digitization of Texas newspapers and to make them freely accessible via The Portal to Texas History," according to the Portal of Texas History's website.
Once digitized, people will be able to wade through old issues of the Times-Review free of charge and from the comfort of their home or office.
"The other wonderful thing is that it will be searchable by date or name," Dunham said. "We get requests all the time for obituaries or someone researching their family or looking for some past Cleburne event. But right now, with the microfilm, you have to know the date or spend hours and hours searching though the film trying to find it."
The so called "Portal People" at UNT will take the binders apart, clean the papers, scan each page and digitize it. After which the binders will be reconstructed, placed in acid-free boxes and shipped to the Layland.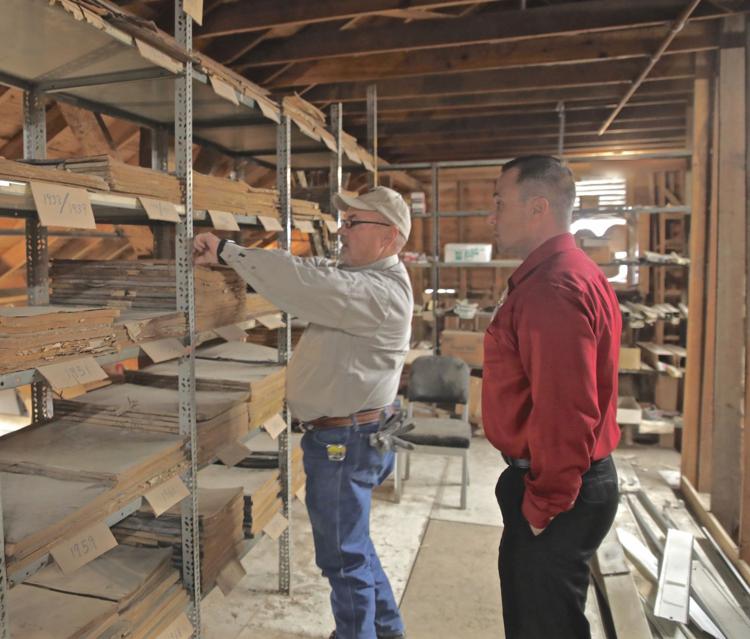 The original papers, once returned, will not be available for public inspection, Layland Manager Stephanie Montero said. 
"Old newspapers are incredibly delicate," Montero said. "Even though they're kept in temperature-controlled storage they still degrade over time. That's why it's so important we get these scanned and onto the portal."
Montero said it's an honor that the Layland will in time serve as a repository for the original papers. 
"Having digital availability on such a prominent site as the Portal to Texas History will raise our visibility with students and researchers across Texas and beyond."
The old papers offer fascination aplenty for historians and casual readers alike.
The May 23, 1934, edition, for example, announces that "Clyde and Bonnie are shot to death," the appellation Bonnie and Clyde apparently having yet to catch on. The same issue reports that a father and son died in a duel and that "Doctor and Mrs. H.O. Bell of Alvarado spent Sunday in Kingfisher, Oklahoma visiting her mother."
The page 3 A&P Grocery ad offers bacon at 16 cents a pound and T-bone steaks at 25 cents. 
"It's just so fun to read through these old papers and see the old ads and stories and the way they wrote and reported back then," Mims said.
And a blessing.
"It really is," Dunham said. "We're so fortunate to have this many of the old papers still around. So many towns, especially in the smaller towns, nobody thought to save their old newspapers and so they're just gone now."
Although all involved hanker to see the papers digitized and on the portal yesterday, the project faces a pesky $131,000 challenge.
"It's expensive," Mims said. "We estimate there's about 131,000 pages altogether and it costs about $1.03 per page to process and digitize.
Which is where Dunham and the library play in.
"We're going to help them try to secure funding that the Portal offers and I'm also working to write and secure other grants," Dunham said. "We have no grants or funding now but a grant we're applying for in spring could bring $25,000 for three years."
As to the rest, the participants plan to sell copies of the centennial editions at a price yet to be determined, and otherwise explore fundraising options.
The breadth of the collection should help secure grant funding. That's the hope at least.
Cleburne Parks and Recreation Director Aaron Dobson wished the group success.
"It's great to see so many local groups, and individuals too, work together to make this newspaper project happen," Dobson said. "This in one more way to show the world what Cleburne has to offer, both past and present."