Dozens of works by two local artists are on display and for sale in downtown Cleburne through Sunday. Dubbed the East Meets West Pop Up Art Exhibition, the temporary gallery is at 205 E. Henderson St., site of the former Thrift To Gift Shop.
Hours are 10 a.m. to 6 p.m. today and noon to 5 p.m. Sunday.
Representing the west is Cleburne artist Tim Goss while Burleson by way of Joshua artist Yuri Trushin represents the east.
Downtown property magnate Tom Burkett, owner of Songbird Live, the Red Horse Antique Mall and other ventures, said he has long hoped to see an art gallery downtown, preferably in one of his several buildings.
"But it takes money and I understand that," Burkett said. "With this building being vacant right now though it seemed the perfect opportunity to have a pop up art show, something I'd like to do more of."
Goss specializes in western-themed art focusing mainly on Texas and works in the graphic pencil medium. Several of his works are displayed, and for sale, at Red Horse.
"I do anything rural about Texas," Goss said. "Wildflowers, birds, barns, cowboys, horses and people."
Goss came about creating his richly-detailed creations in a roundabout way.
"I was a sheriff's deputy in Montana for seven years," Goss said. "They have so few law enforcement — the whole state has less people than Tarrant County — and it's the fourth largest state, that you may only have one police officer for every 70 square miles or whatever at any given time. 
"So we had a system where, if they had a prison riot, they would draw like two sheriff's deputies from this department and three from that and they would all rush to the prison. Well, I was a sniper so I didn't have to go in the prison. They had one of those raised police unit things like you see in shopping mall parking lots. So, during one of the riots, I just sat outside in that with my rifle."
Fortunately, it was nice out as opposed to the middle of Montana winter.
A traumatic brain injury about 10 years ago left Goss with bad palsy in his right hand.
"My sister is an occupational therapist specializing in hands," Goss said. "She worked at the Parkland Hospital burn unit. She told me drawing would help my muscle memory through the repetitive motion, kind of like, 'Wax on, wax off' in 'Karate Kid' I suppose."
Goss said he couldn't remember drawing anything since elementary school but figured why not.
He started off drawing pictures of John Wayne from a magazine.
"I've been a fan of John Wayne since I was a little kid," Goss said. "Some of the first movies I ever remember seeing were John Wayne movies. And, I don't know, I've just always loved cowboys, the old west, all that iconic stuff."
Goss' aptitude for drawing soon caught other's notice. He began selling pieces to his parent's friends and it spread from there.
"It's funny because I stored some of my stuff at my parent's house," Goss said. "When I went to pick it up, my dad was like, 'I thought you gave these to us.' I was like, 'No, just ran out of room and stored them here.'"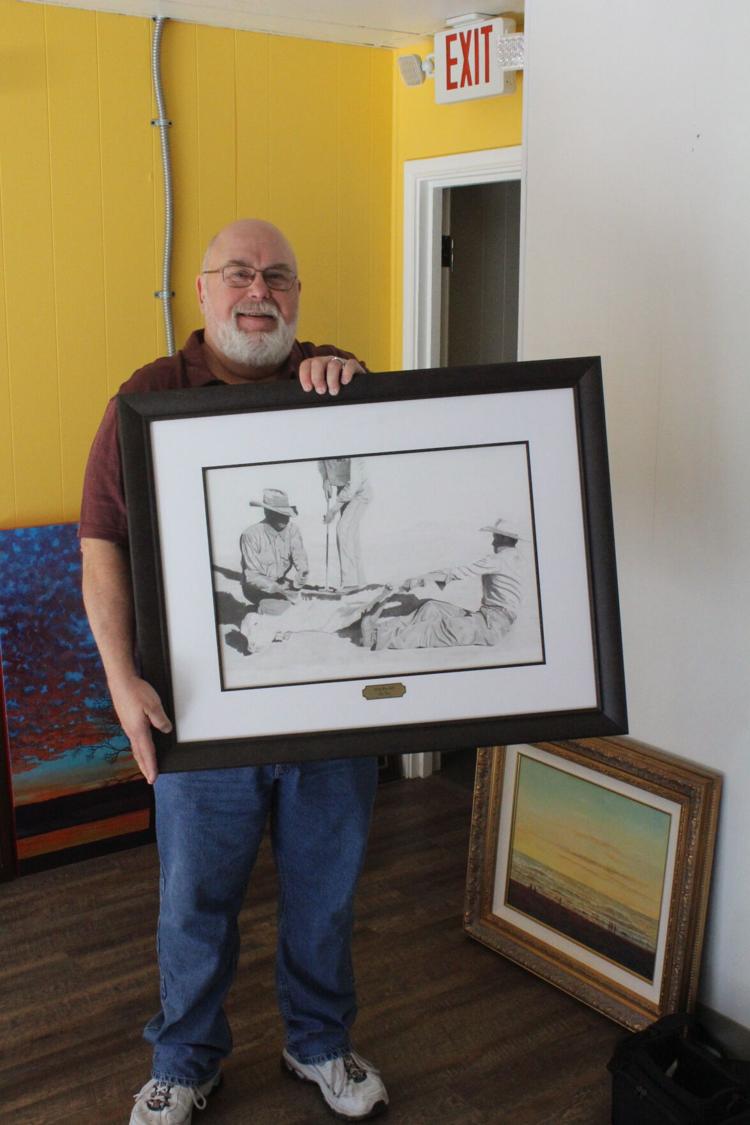 After his initial bout of learning by trial and error Goss sought out a professional art teacher.
"But she told me, 'Look, you're on to something. At this stage in your development a teacher might inadvertently stunt your growth because you've got a style that doesn't look like anybody else's,'" Goss said.
Sales, accolades and gallery showings followed including Goss being named emerging artist of the year during a 2018 international art show in Cincinnati.
"I knew Tom and told him I wanted to do a pop up art show," Goss said. "He said, 'Let's do it,' and told me he needed to introduce me to this other artist named Yuri. 
"That was about three or four weeks ago and we just literally put this together on the fly. But that's kind of the whole appeal of these pop up shows. They don't take a huge amount of planning and they're literally just sort of pop up out of the ground type things."
Russian native Trushin, himself the recipient of accolades and gallery showings galore, said he's been an artist all his life.
"But, like my uncle always says, he has a professional artist's education where I was an artist by my heart, by my soul," Trushin said. "I didn't go to special art school. I have a master's degree in history from Moscow State University, specialized in oriental languages and studies then worked as an international journalist for four or five years in the '80s and for Moscow Radio World Service.
Trushin, Burkett said, also plays a mean accordion and holds black belts in several martial arts disciplines.
Trushin, upon hearing Goss' story about his law enforcement days in Montana, replied that temps were generally well below zero during his stint as a border patrol guard between Russia and Finland.
Finland, Trushin joked, wasn't the problem.
"No, Finland is OK," Trushin said. "Russia is problem because they had a whole bunch of prisons in that area with worst criminals, who tried to escape. So basically our border patrol protected Finland from our criminals."
Trushin joked that he had no idea what Johnson County was in those days let alone that he would one day call it home.
"Very interesting thing," Trushin said. "At the time I wasn't thinking about Texas, America. It was Soviet Union. And we had this saying in the border patrol, which was that border patrol guards should shoot like a cowboy and run like his horse. 
"So I remembered that when I came here and was like, 'Yeah, now I'm a cowboy. Now I'm in Texas.'"
From drawings, to acrylics, oils and watercolors, Trushin's works run the gamut medium wise, display a deft command of chiaroscuro and capture scenes from the world over including a painting of Notre-Dame de Paris completed about a year before the cathedral burned down. 
Both said they hope to host future pop up shows and perhaps add additional artists.