The idea that information contained in historic Cleburne newspapers may soon be of aid to someone local or even say El Paso, College Station or the world is hardly far fetched, Johnson County Genealogical Society member Marsha Bruckner said.
"A lady a while back sent the society a request on a member of her family," Bruckner said. "According to her family history, he was killed during the Civil War days and the day after he got married. Some guys apparently rode up and shot him and she wanted to find any information we might have on that."
Unfortunately, Bruckner said, Cleburne didn't have its first newspaper until about 1868.
"But, a month or so later, I was looking for something unrelated on the [Portal to Texas History] from the same time period. I typed in Johnson County and it pulled up a Hempstead newspaper article. It was a lengthy article about how the sheriff of Waller County and his deputies got word that a man wanted for murder in Johnson County had been located at a house in Hempstead. They went out there, had a shootout and killed the guys. The sheriff got wounded. But the story had the name of the man who was wanted on the Johnson County murder warrant."
Such are not isolated incidents, Buckner said.
"It's amazing the things you can find on the portal about Cleburne," Buckner said. "When Buchanan was the county seat of Johnson County a major tornado came through that destroyed almost all the buildings in town. Did you know that? Nobody knew it in Johnson County. There was a story in a Galveston newspaper about it on the portal. They picked the information up about it for some reason. So yes, it's great fun looking through all the old newspapers if you like history or are doing research."
A few Cleburne newspapers are available on the Portal to Texas History but the site may soon host hundreds more. For that to happen, however, donations are needed. The preservation project, estimated at $131,000, won't come cheap.
The portal project, located at the University of North Texas, provides searchable collections of Texas newspapers available free of charge and accessible from anywhere.
"It is part of the Texas Digital Newspaper Program, which we've been running through the UNT library system for about a dozen years," Associate Dean of UNT Digital Library Services Mark Phillips said. We work with over 400 different institutions around the state to make their content available freely to anyone who's interested. We have over 7 million pages of Texas newspapers on our site and the collection is constantly growing. Also photographs, maps, letters and anything you could want related to Texas history, genealogy and research."
Phillips and UNT Meta Data Coordinator Tim Gieringer arrived in Cleburne Friday morning to fill two vehicles with copies of the Times-Review and other Cleburne newspapers some of which date to the 1800s.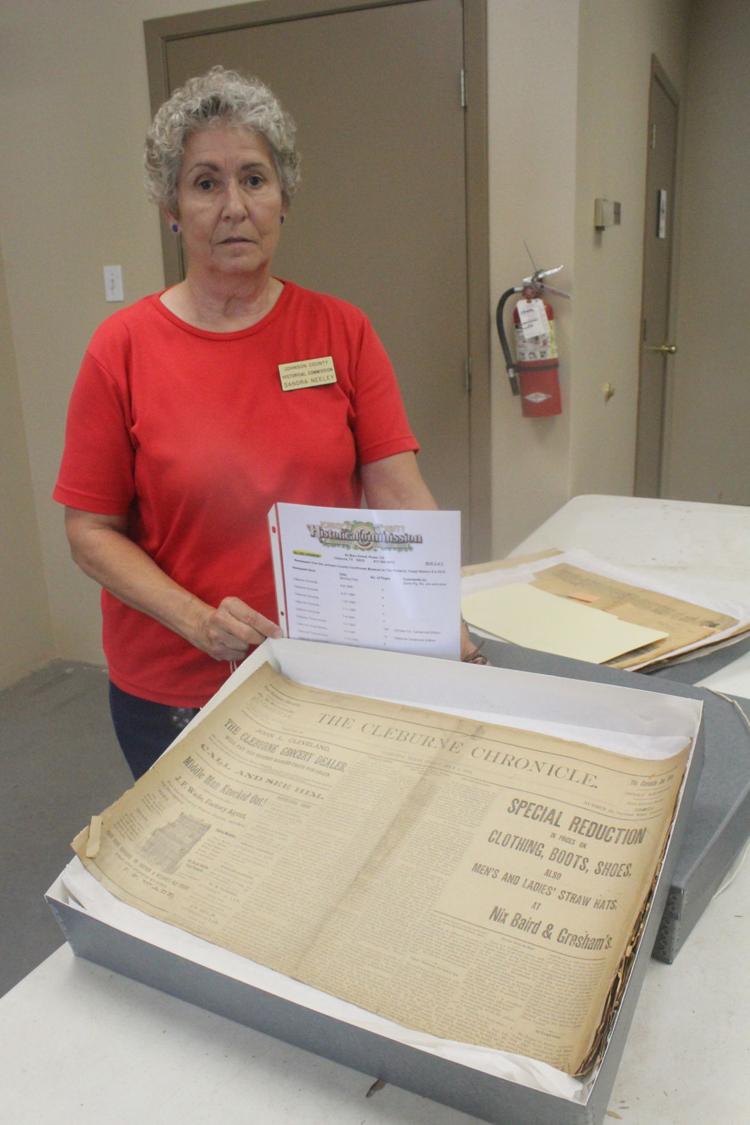 The yellowed, brittle papers may soon receive new life.
"We're transporting them back to UNT to be processed, digitized and incorporated into the Portal to Texas History," Phillips said.
The bulk of the papers come courtesy a bumper crop find from 4M Parts Wholesale Auto Parts, a Cleburne building that dates to circa 1904.
"It's always been some kind of warehouse as far as I've been able to determine," Cleburne historian Mollie Mims said. "McCord-Collins Wholesale Grocers were the first ones in there from the research I've done so far."
Former Times-Review Owner and Publisher William M. Rawland later owned the building, which is how the papers came to be there. The current owners, the Martindale family, purchased the building in 1982.
"Actually, I was interested in looking into the history of the building," Mims said. "So I talked to Lanny Martindale one day at Rotary and he told me they had all these papers of history in the building, which they figured were worth saving and now they've decided to donate them to the Layland."
That collection of bound editions of the Times-Review, which stretches from about 1927 to 1973, were transported to Marti Enterprises for safekeeping where Mims and other volunteers dusted and sorted them.
An amazing find, Phillips said, and a boon for local and Texas history.
"It's always amazing to me," Phillips said. "Some newspaper collections are well known and have been looked over and cared for by curators. Then there are other situations where one person just could not throw them away and they kept getting moved from location to location until someone realizes how important they are. 
"We've found collections in barns, backs of buildings, old press rooms, all over. It just shows there's still a ton of content in the state of Texas that's still hidden for us to discover."
Additional Cleburne papers have since been added.
"We're sending two boxes of issues of the Cleburne Chronicle, which is something that's unique to the Johnson County Courthouse Museum and haven't even been put on microfilm," said Grandview resident Sandra Neeley, a member of the Johnson County Historical Commission. "These are all from the 1800s so they predate the Times-Review by quite a few years."
The July 4, 1890 edition of the Cleburne Chronicle lists the subscription rate as $2 per annum.
"The Layland Museum and Johnson County Courthouse Museum are also sending some of the Times-Reviews they have to help fill in spots missing in our collection," Mims said. "I'm not sure if they have any Times-Reviews previous to 1920 but I know they have several of the other papers that used to exist in Cleburne. The microfilm from the Cleburne Public Library will be sent to be digitized too eventually. For now though it will stay in the library because people still use it."
Phillips commended the several local volunteers and various organizations that came together to push for the project.
Cleburne Library Manager Tina Dunham is working on a grant that — volunteers and officials hope — will offset a large chunk of the restorations and digitization costs.
Several boxes of Times-Review centennial editions for Johnson County in 1954 and Cleburne in 1967 were among the papers found at 4M.
"Starting Monday we're going to begin selling those at $5 for each edition to raise money for the project," Mims said. "We have limited amounts of the county edition but a good number of the Cleburne editions. They will be available at the Layland Museum, the Cleburne Public Library and the Johnson County Courthouse Museum. And, of course, we'll take any donations anyone cares to make over that. Tina's finishing up the grant applications, but we're still going to need some private donations to get this done."
To look through Cleburne papers already up and/or other Texas newspapers, visit the Portal to Texas History at texashistory.unt.edu.