"I can really see with my heart rather than my eyes."
That's what Chad Duncan of Burleson said to the Cleburne Lions Club on Wednesday when he discussed how he received his guide dog, Perry, from its Leader Dogs for the Blind. 
He lost his sight in 2011 but said that hasn't stopped him from living his life. Perry is an 8-year-old English Labrador. 
Each year, 200 "Leader Dogs" are matched with clients who would otherwise lose their independence, with training personalized for each client. They have the opportunity to train with their guide dog in a wide variety of situations to fit current and future needs, including urban, suburban and rural locations; college campuses; busy stores and malls; public transit and other environments.
Lions Clubs throughout the world have continued to support Leader Dog and its clients financially, brought thousands of people who needed assistance through Leader Dog's doors and have continued to serve on the board of trustees. They are puppy raisers, volunteers, breeding hosts and more. 
It was while working with students in Burleson's Kerr Middle School when he looked at his phone and thought the screen was smeared. Later that night, he asked his wife, Jennifer, if she saw the same thing he did. 
His wife didn't see any smear on the screen, he said. 
"I went to sleep, and I woke up pretty early in the morning," he said. "There's like this force field, this like static electricity like you would see on a TV screen when it's lost its signal. That's all I'm seeing."
He tried to go back to work but said he quickly realized he had to learn how to live life in a different way. He began working towards earning his master's degree in social work. In 2013, he decided to get a guide dog.
"Leader Dog wanted a video of how we walk around, our mobility, what our environment is so they could match a dog perfect for the candidate," he said. 
Walking with a walking stick is different compared to walking with a guide dog, he said.
"When you're using a cane, you control the momentum," he said. "You control how fast you're going. It's finding that object and learning to get around it. 
"It's different with a guide dog. You're not trying to find the object just to get around them. The point is to never come in contact with any objects and just keep moving."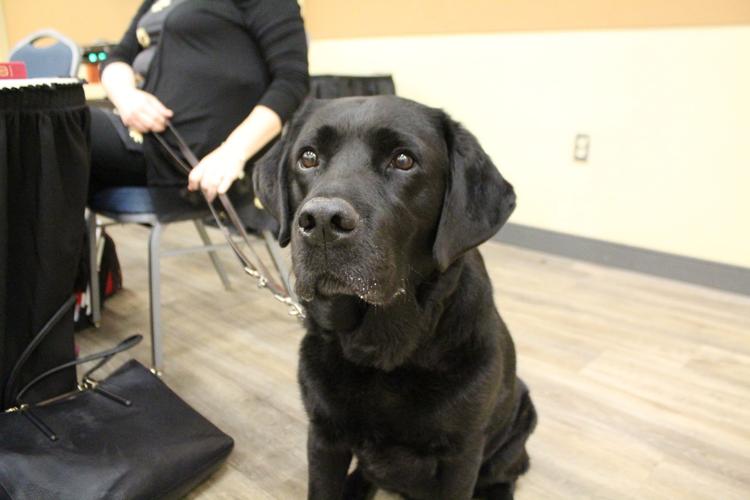 In 2015, he began volunteering with a facility that counsels survivors of domestic violence. He was hired as a full-time employee shortly after that. 
His dog, Perry, was with him every step of the way, he said. The pair walked every day around the neighborhood, and Perry was also by his side at work. 
"I get to live life as a blind man," he said. "For me, I'm actually grateful because I am learning to go through life trusting a guide dog and experiencing what he sees as we're going through the neighborhood, as we're working with survivors of domestic violence."
He is studying to earn his license in clinical social work and is looking to become a counselor. He's trained as an eye movement desensitization and reprocessing therapist. 
"Blindness is not a life sentence," he said. "I'm actually grateful to be blind because I'm really getting to experience life differently than anybody else. I'm very blessed. I'm very lucky. Having Perry as my guide dog literally changed my life."
"For what you're doing as Lions, thank you," he said. "It makes such a difference."
For more information about Leader Dogs for the Blind, visit leaderdog.org/lions-club/lions-and-leader-dog.