The artwork of two Cleburne ISD students is featured in the Texas Floodplain Management Association 2020 "Turn Around Don't Drown" wall calendar. 
Alexa Torres and Yelini Galvan created their drawings last spring as fifth grade members of the Santa Fe Elementary School Art Club. Now in sixth grade at Wheat and Smith middle schools respectively, they are both pleased to be published artists.
"When we were told we could enter our art in the calendar contest, I decided I would do a drawing," Torres said. "It just came out of my head. Hopefully this calendar will make people stop and think. We have to be safe during flooding. It can be dangerous and people can die."
Both students received notifications during the summer that their entries had been chosen for the calendar. David Salinas, who was also a member of the Santa Fe Art Club and is now in the sixth grade at Smith, was among the finalists in the competition.
"I was just so happy when I was called and told to come up to Santa Fe for something special," Torres said. "I never thought I would win. They gave me a gift card as a prize and I bought school clothes. I've never bought something for myself before. I felt really cool."
Torres' winning work is a landscape with motorists traveling down a road lined with "Turn Around Don't Drown" billboards. Galvan designed a logo with a hand coming up out of the water, with the caption "Save Yourself. Turn Around and Don't Drown."
"I just decided I would come up with a drawing to see if it would make it into the calendar," Galvan said. "I imagined someone drowning and you could just see their hand coming out of the waves. I have seen a car drive through some deep water in a dip in the road when it was raining really bad. I was scared for them.
"I actually forgot about the contest for a while, then later felt I had lost because I didn't hear anything. One day a certificate came in the mail telling me I had won. I got so happy. This whole thing has been exciting. They sent me extra calendars that I have been able to share with my family. We have two hanging in my house — one in the kitchen and one in my room."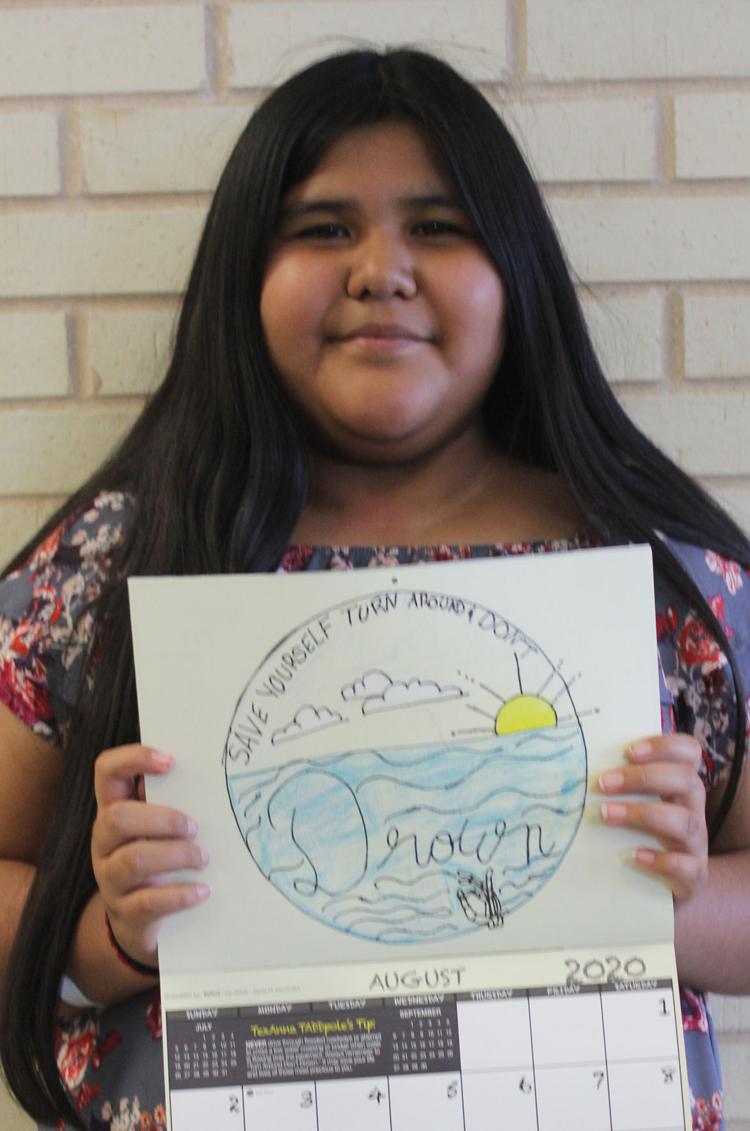 Amy Easter, who is the faculty sponsor of Santa Fe's afterschool art program, says the campus is very proud of the achievements of their former students.
"These students worked very hard on their calendar entries and put a lot of thought into their artwork and the message they wanted to convey," Easter said. "I am very proud of the work they did and am glad that they were recognized for it!"
The two artists will be recognized at the Feb. 18 school board meeting. They are the second set of CISD students to be featured in 2020 calendars. 
Photos of Jackets football players, varsity cheerleaders and Cooke Elementary School pre-kindergartners are included in the Cleburne Animal Shelter calendar promoting pet adoption.