The Cleburne City Council on Tuesday voted to enter a mutual aid agreement with other participating cities in the North Central Texas Region on a voluntary, as-needed basis during times of emergencies.
A change to city ordinances addressing wreckers means that uninsured drivers may now have their vehicle towed.
Helping hand
The mutual aid agreement council authorized affects the city's public works department.
Based on lessons learned in the past, natural disasters and/or large-scale incidents can quickly overrun a city's resources, Public Works Director Jeremy Hutt said.
Multiple large and small cities in and around the Metroplex already participate in the program," Hutt said.
"Even Dallas with all their resources ran into problems during the recent rain and flooding and reached out for help," Hutt said. "Many of their street signals stopped working, not blinking, just not working at all. They called out to other cities for 200 temporary stop signs at 7:30 p.m. on a Sunday. It was done within two hours. Richardson during that same incident called out for 12 large generators to help with power outages."
Besides signs and generators, examples of  additional resources a city may need in times of emergency include personnel, barricades, heavy equipment, chainsaws, sandbags and other items.
Such needs may arise during tornados, flooding and other natural or man-made disasters. 
Being able to call on others helps expedite recovery efforts, Hutt said. The local approach improves coordination efforts and helps in instances where disaster situations cross county or city borders. 
The program, which is supported and facilitated by the North Central Texas Council of Governments, also aids with efficient allocation of resources.
The fertilizer plant explosion in West, for example, proved problematic because of poor coordination, Mayor Scott Cain said. Other cities sent people and resources to help but West officials became overwhelmed, unsure how best to use all the help coming in. The mutual aid program, Hutt said, helps alleviate such problems.
Cleburne joins 61 area cities participating in the agreement.
Better yet, the program is voluntary and requires no up-front costs to Cleburne.
"It is always up to a jurisdiction in any circumstance to either approve or deny a request for assistance," Hutt said.
Should Cleburne agree to help another city, Cleburne would bear the cost for the first 36 hours of the incident but may after that become eligible for state or federal reimbursement provided a disaster declaration is issued.
"While it is not possible to predict when of if Cleburne will be asked to provide aid to another city, or if Cleburne will ever request aid from another city, this agreement is beneficial to the interests of the city in times of emergency," Hutt said. 
Receiving or lending help, should the need arise, shouldn't be an issue, Hutt said.
"Public works workers have servant's hearts, much like police and firefighters," Hutt said.
Cain called participation in the program a smart move.
"When we had the tornadoes in 2013 it was remarkable to see police from all over the Metroplex coming in to help and [Fort Worth Mayor Betsy Price's] blue brigade of trash trucks coming in from Fort Worth," Cain said. "But it also took a lot of time to make those calls on the city's part, which took time away from strategic planning during the first 36 hours, which are critical. If we had had this program then it would have been a lot better to have only had to make one call."
Cain urged the Johnson County Commissioners Court and other county cities to join the program as well.
Wrecker rules
Council members approved proposed changes to city ordinances governing tow trucks. The rules were last amended in 1987 and before that 1968, Cleburne Police Department Deputy Chief Linn Goodman said.
The updated rules allow an officer to impound a vehicle driven by a person without proof of liability insurance provided that person has previously been convicted of the same offense. The rule allows leeway for situations where a person has changed insurance or their policy has recently run out.
The update amends public hearing requirements for wrecker companies contracting with the city. The previous ordinance required city council to hold an annual public hearing to determine approval of wrecker service companies being placed on the city's rotation list. Under the new ordinance, only companies newly applying have to go through the public hearing process.
Protecting first responders
Anthony White of the Texas Department of Transportation presented plaques to the Cleburne police and fire departments. The plaques are in recognition and appreciation of efforts on behalf of both agencies toward the Fort Worth District's Traffic Incident Management Program, which started last fall.
White called the "Johnson County Team" an early adopter of the program.
"Johnson County has been the poster child for how a program like this should be put together," White said. "They engaged us immediately and helped give me a mental picture of what I thought a program like this should look like and how it should work.
"Both Cleburne departments attended our first meeting not really knowing what to expect. Other than them it was Alvarado and one of the tow truck companies at our facility in Keene. But the meetings have since grown to the point where we're going to have to find a new facility."
The program addresses and helps with traffic accident and roadway incident scenes focussing specifically on the safety of first responders.
"The goal is safety and clearing incident scenes as efficiently and quickly as possible," Goodman said. "Data shows that the longer the accident or incident and people are on scene the higher the likelihood of another accident occurring."
Good job
Personnel Director Debra Powledge presented the city's STARS Award to Administrative Clerk Autry Johnson, who has logged 12 years with Cleburne.
The STARS Award highlights employees who go above and beyond the call of duty.
An elderly woman recently visited city hall, Powledge said. The woman was visibly frustrated, unsure of what steps she needed to take to get a permit.
"Autry sat down and talked with her to try to help her out," Powledge said. "When she discovered that the woman needed a permit from the county, not the city, Autry called the county to help the woman figure out who she needed to talk to."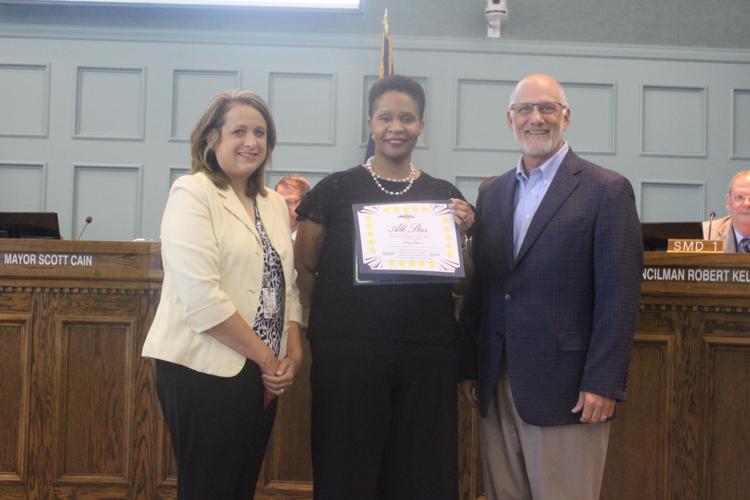 Cain joined Powledge in congratulating Johnson.
"That's what it's all about," Cain said. "Coming up with solutions instead of taking an that's-not-my-job attitude."
Finance Director Troy Lestina reported that Cleburne has once again received the Government Finance Officers Association's Distinguished Budget Presentation Award.
"This is the highest recognition in governmental budgeting," Lestina said.
The award is for Cleburne's 2019 budget.
This year marks the 19th year in a row Cleburne has received the award and 28th overall.
"The award reflects the commitment of Cleburne and staff to meet the highest principles of governmental budgeting," Lestina said. "In order to receive the budget award, the city had to satisfy nationally recognized guidelines for effective budget presentation. These guidelines are designed to assess how well an entity's budget serves as a policy document, financial plan, operations guide and communications device."