Cleburne ISD students from several campuses have been working on a special project to help those who served our nation in the armed forces "feel the love" on Valentine's Day.
Students from Adams, Gerard, Santa Fe and Irving elementary schools, along with those from Cleburne High School and TEAM School, are participants in the Valentines for Veterans project in partnership with U.S. Rep. Roger Williams, R-Austin. 
From pre-kindergarten creations to handmade high school designs, messages of thanks and friendship will be delivered by Williams today to the Fort Worth Veterans Administration Clinic. 
"I'm proud to partner with the Cleburne Independent School District as we deliver Valentine's Day cards to veterans in the community," Williams said. "I also want to thank each student who participated this year. These cards are a small token of our gratitude for the heroism of our veterans, and I know they are greatly appreciated."
Students at Santa Fe created valentines for veterans — along with one for a special someone in their lives — during their art periods. 
"We're thanking the veterans for our freedom," Santa Fe second-grader Juan Luna said. "They've done something special for us. They fought for our liberty."
Fellow second-grader Celeste Rojas was hopeful her valentine would brighten the day of whoever received it.
"It's going to make them happy," she said. "If they are sick or in the hospital, I think my card will make them feel better."
Students in CHS teacher Amberly Kamp's health science classes have become the official "note writers" for their campus in sending messages of good luck to students headed to various competitions and letters of appreciation to teachers, and most recently, members of the CISD Board of Trustees in observance of School Board Recognition Month.
"I'm very happy to involve my students in the Valentines for Veterans project," Kamp said. "It's probably been a long time since they made a handmade valentine and it was great to see their response to the assignment."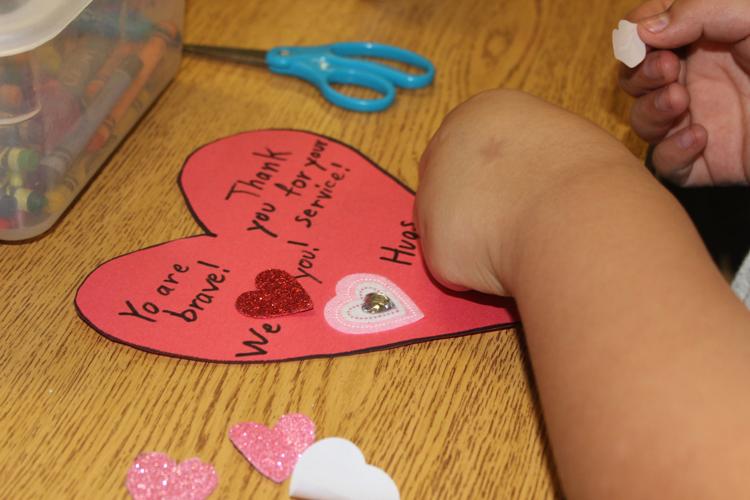 CHS sophomore Audrey McClure said that while some may think making valentines in class was an elementary school project, when it came to honoring veterans, it was appropriate for any grade level.
"When you have the chance to make a valentine for someone who has given a lot for our country, it's wonderful," McClure said. "They have made so many sacrifices. I hope what we do lifts someone's day."
Classmate Moises Vargas' creation combined Veterans Day with Valentine's Day.
"This is a great thing to thank the people who have put their lives on the line every single day," Vargas said. "I made sure I told them in my card that I want them to have a happy Valentine's Day — and I drew an American flag on the card."
CHS sophomore Tammy Nguyen said this was a fun assignment but also has a great purpose.
"Knowing veterans are going to get cards from us makes this very meaningful," Nguyen said. "I just want them to know someone is behind them and cares about them — that what they have done for our country is recognized."