Chisholm Trail Outdoor Museum officials on Wednesday named Zimmerer Kubota and Whitney Printing Lifetime members and permanent sponsors of the museum.
The designation, On-Site Director Carrie Reynolds said, stems from both companies' support of the museum throughout the years and continued willingness to go above and beyond to help the museum out.
Zimmerer Kubota, which maintains a Cleburne facility, has lent the museum tractors, flatbed trucks and other equipment through the years at no cost to the museum, Reynolds said.
During Wednesday's ceremony, Zimmerer officials donated an RTV capable of transporting four to the museum.
Johnson County Historical Foundation Chairman David Murdoch called the vehicle a huge blessing.
"The museum is a big place," Murdoch said. "Especially for our volunteers out here during the hot days who have to walk from building to building."
Whitney Printing has long donated the museum's printing, sign and banner needs, Reynolds said.
"That helps us get word out on the street about the museum to the hotels, restaurants and other places," Reynolds said. "And we wouldn't be able to do that without [Whitney Printing owner] Charlotte Whitney."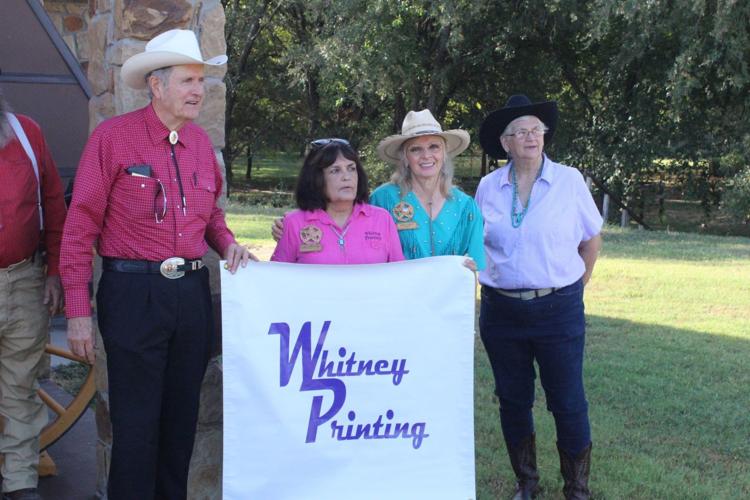 Signs commemorating the support from both organizations will soon be installed near the museum's entrance.
The Johnson County Historical Foundation oversees the Chisholm Trail Outdoor Museum, located off U.S. 67 on the banks of Lake Pat Cleburne.
The museum, which subsists on donations and volunteer workers, serves as an interactive repository for Cleburne, Johnson County and Chisholm Trail history. 
The grounds include Johnson County's original courthouse, a one-room schoolhouse, a working blacksmith shop, a Jai, teepees and more. 
The museum and attractions are free except for the Big Bear Museum, a museum focused on Native American history. 
The museum's Pioneer Days festival, held each November, attracts thousands. The event includes Civil War re-enactments, old west gunfighters, music and other attractions.
Backing the blue
The museum's latest attraction, The Terry House, is scheduled to debut soon. The building consists of two almost identical rooms separated by a dog run. 
The west side will serve as headquarters for Terry's Texas Rangers, a local Civil War re-enactment group. The east room will house a museum dedicated to the Texas Rangers and other law enforcement agencies. The building, still vacant, is close to completion.
"I've got my work cut out for me I guess," Murdoch joked. "My plan is to have this ready to go by Pioneer Days."
City and county officials joined officials from Zimmerer and Whitney Printing after Wednesday's ceremony for a sneak peek inside the building.
"It looks awesome," Cleburne Economic Development Manager Grady Easdon said. "I love the woodwork, the fireplace, everything."
County Judge Roger Harmon walked away equally impressed.
"Just outstanding," Harmon said. "This is really going to be something to see once it's finished. But, that's what they've done with this entire museum through the years, just an outstanding job overall."