The 2020 girls soccer season in Johnson County featured highly successful teams and exciting impact players. And the Classic Chevrolet Buick GMC of Cleburne 2020 All-Johnson County girls soccer superlative awards are reflected in those extraordinary performances.
Five of the six girls soccer teams in Johnson County are represented in the superlative selections, led by Burleson Centennial's four.
The Lady Spartans had an historic season as they finished undefeated at 17-0-4 and won the program's first district championship in five years.
Right behind the Lady Spartans in all-county superlative accolades are the Burleson Lady Elks and Cleburne Lady Jackets with three selections apiece.
With such great team success and standout individual performances, four of the superlative awards are shared accolades.
Headlining the All-Johnson County girls soccer team is Burleson junior Jordan Walker, selected as the county's MVP. Walker, also the District 5-5A MVP, had an historic season of her own, tallying 24 goals with 25 assists to lead the Lady Elks to a 15-4-5 overall record.
"She just stands out so much," Burleson Coach Erin Poyner said. "She plays with that amount of passion and fire that makes you go, 'wow.' She elevated her game to a whole different level this year. As a coaching staff, we would always hear other coaches trying to figure out ways to shut her down and they were so focused on stopping No. 5, but she just wasn't stoppable.
"Her speed, both physically and in the ability to read the game, paired with her aerial dominance, make her a formidable challenge to compete with. While we kept her in a central position most of the season, she's so adaptive we can move her almost anywhere to strengthen the attack or help plug a hole on defense."
The All-Johnson County offensive player of the year honor is a shared award between Burleson junior Maycie Massingill and Burleson Centennial sophomore Brooke Mullins.
Massingill scored 21 goals and added 15 assists as she formed a lethal 1-2 punch with Walker.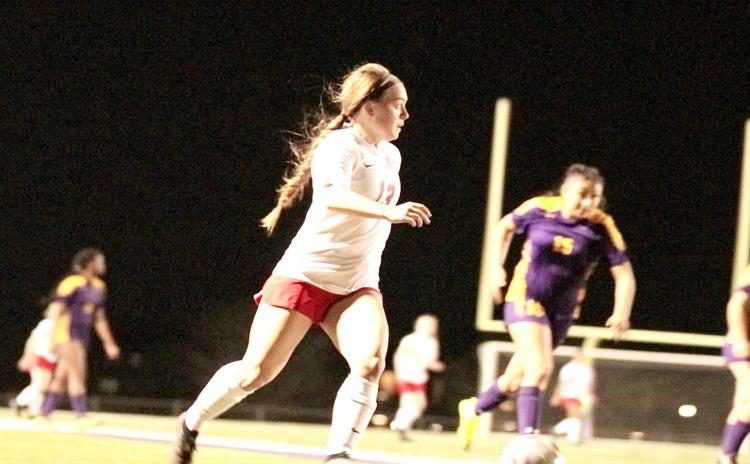 "Maycie is an absolute dynamo," Poyner said. "She's so fluid with the ball and incredibly dangerous. She possesses an immense amount of speed, which allows her to get in some threatening areas to either put one on goal or send the ball across for a teammate to finish. Maycie is a true competitor, she's all effort and heart and a passion for her role as the goal scorer. Her tenacity truly is what shines the most when she is playing."
Mullins found the back of the net 20 times to go along with 13 helpers to lead the Lady Spartans to a remarkable season.
"Mullins is a force to be reckoned with," Centennial Coach Heather McMahan said. "She played forward mostly, but also played some attacking mid, and was even in goal for a game — with a great save I might add. She is a straight-up athlete. She is strong on the ball and in the air and has a nose for goal. Not to mention, she is No. 1 in her class. With her only being a sophomore, I cannot wait to see what she does on and off the field."
The all-county defensive player of the year accolade is split between Burleson Centennial junior Kayla Smith and Joshua junior Kylie Criner, two pivotal pieces on a couple of the stingiest defensive teams in the area.
Criner finished with two goals and two assists on the season, but her shutdown ability and leadership on the Lady Owls' back line helped Joshua surrender fewer than one goal per match for the season.
"I think those two athletes would be fantastic starting points for anyone trying to build a team," Joshua Coach Jeff Brooks said of Criner and Smith. "Kylie does so many things well. She was an outstanding center back for us this year and always works so hard for her teammates. In a county like ours, it's definitely an honor for Kylie to be voted the co-defensive player of the year. She also just continues to improve her game, which makes me happy."
Smith not only led a defense that allowed only seven goals all season but she was also a force offensively with eight goals and 31 assists.
"Kayla is a very special player," McMahan said. "Her speed and services into the box make her stand out. We have a very talented team and a very good defense, and Kayla was involved in everything. She took the corner kicks along with most of our free kicks and throw-ins because she can really launch them. Her 31 assists led the Metroplex last time stats were posted."
After recording 10 shutouts and posting a 0.67 goals against average, Cleburne junior Lexie Key is the All-Johnson County goalkeeper of the year.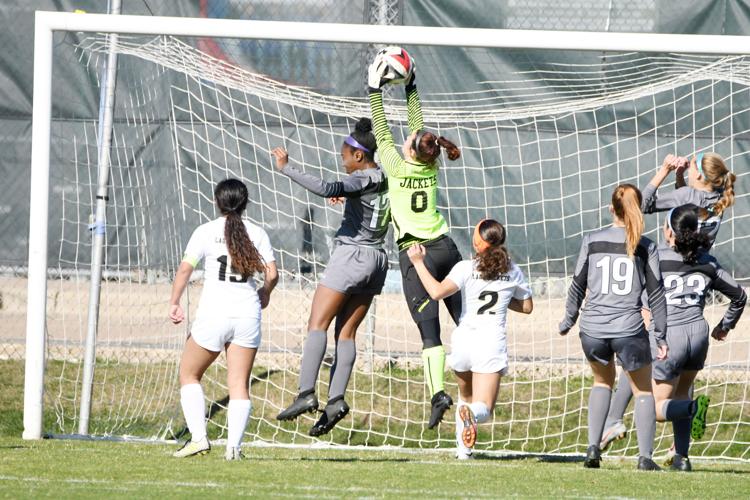 "Lexie was phenomenal this year," Cleburne Coach Aaron Babcock said. "She stepped up and really carried us in several games coming up with huge saves. One of the key turning points in our season was the 1-0 win at Joshua in the second round of district play. We went up on a PK and Lexie had some huge saves to keep us in the lead. That game could have turned ugly quickly, but she came up huge. She played keeper in 21 of our 22 games this season and only allowed 14 goals, along with 10 shutouts. Her outstanding play in goal, paired with our strong back line play, made us a difficult team to score against."
Burleson senior Abby McLaughlin and Joshua junior Reagan Easter both patrolled the midfield at elite levels for their respective squads to earn All-Johnson County midfield player of the year honors.
Easter scored 12 goals and added three assists, but beyond the stats, Easter was the heartbeat for the Lady Owls, who went 12-4-3 in 2020.
"Reagan is one of the most competitive people I know," Brooks said. "She has an innate ability to sense what the team needs as sequences develop. She is also extremely coachable and just an incredible person to have on our team. She cares about her teammates, works hard even when people aren't watching, and loves the game. She does whatever she needs to help the team win; frankly, that's about as high a compliment as I can give anyone soccer-wise. She was the leading goal scorer for us from the midfield this year."
After overcoming two ACL injuries, McLaughlin worked her way back and burst onto the scene in 2020 in style with 20 goals.
"I think she really just strengthened up the left side for us this year," Poyner said. "She's got great vision. She's so flexible moving back and forth between attacking and defending. She was relentless about following up any loose ball and wanting to get the ball in the back of the net. Abby is so fearless, physical and strong on the ball, she's able to help maintain the flow of possession as well as switch the point of attack for us. She gave us another big piece to attack with."
Sharing the All-Johnson County utility player of the year honor are Burleson Centennial senior Cooper Cowan and Alvarado sophomore Evan Stevens.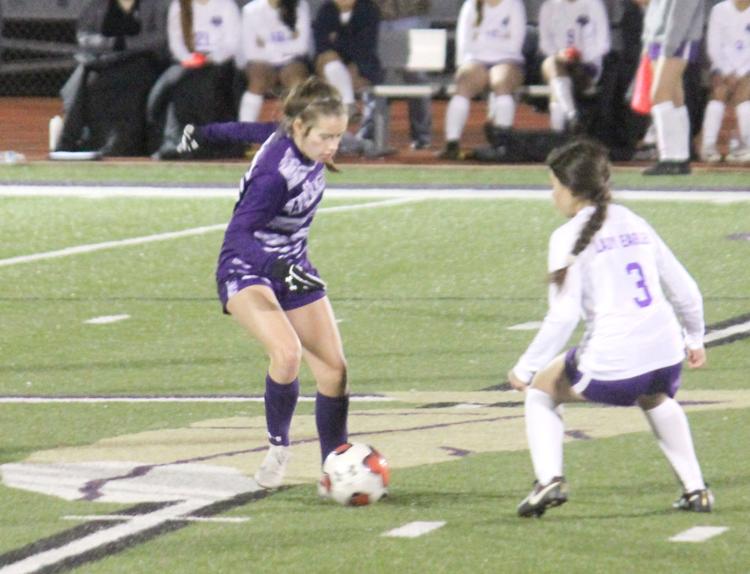 Stevens netted 13 goals with four assists to help the Lady Indians qualify for the postseason. She was also voted the District 12-4A utility player of the year.
"Evan can and did play everywhere on the field for us," Alvarado Coach Micah Horner said. "Evan played as an attacker, as a wing and centrally. We had even talked about dropping her back to defend, if needed in the playoffs. Evan has a tremendous understanding of the game and because she is humble, she accepts any role if it is for team success."
Cowan, a three-time All-Johnson County selection, scored 14 goals with 10 assists to help the Lady Spartans.
"Cooper can and has played any position on the field for us," McMahan said. "Cooper was a starting center back all season last year. This year she started at attacking mid, then played some defensive mid, and finally ended up at the winger position. Coop is a dynamic player that has great speed and skill and she really understands the game. We will miss her greatly next year as she goes to play at Arkansas State."
Joining Cowan, Smith and Mullins as all-county superlative recipients for the Lady Spartans is McMahan as the coach of the year. In her first season with Centennial, McMahan helped guide the Lady Spartans into one of the state's top squads.
"This is an incredible honor," she said. "I know some of these coaches very well and have a huge amount of respect for them. Playing Burleson High and Coach Poyner is one of the highlights of our season. They are such a talented team and I am excited for our future battles. Our success this year is credited to the girls. This group was already so talented and successful, but they welcomed me and completely bought in."
Rounding out the All-Johnson County girls soccer superlative awards are a pair of Cleburne freshmen in Allyson Reed and Samantha Vesely. With Reed and Vesely, along with several other standout freshmen and sophomores, the future of Lady Jacket soccer is in good hands.
Reed is the all-county offensive newcomer of the year after she put away an impressive 27 goals.
"Allyson played well above her classification and will only get more dangerous as she grows into her role," Babcock said. "She is a strong player and understands the game at a high level. Part of her success was her positive attitude during games and training. She always has a smile on her face and truly seems to love to play. That childlike feeling of joy allows her to play with a freedom that goal scorers need to be successful."
Vesely is the Johnson County defensive newcomer of the year after leading a young — but dominant — back line that only allowed 14 goals in 22 matches with 11 shutouts.
"Sam is a true [component] to the success of our team," Babcock said. "We played 22 games this season and gave up no more than two goals in any one game. That defensive success comes on the back of Sam's play on the back line. While our entire back line was incredibly strong this year, Sam lead the way and really took control of the defensive side of our team. She, like Allyson, plays well above her classification and will only grow into her role.
The All-Johnson County superlative awards are selected by the Times-Review based on all-district selections, statistics, team success and coaches' nominations.