Johnson County Sheriff Adam King, Cleburne Mayor Scott Cain and Cleburne Police Chief Rob Severance voiced support for Gov. Greg Abbott's latest proposals
At a Thursday Dallas campaign event,  Abbott laid out a string of new legislative proposals to raise penalties and create new crimes that would require jail time for offenses committed at protests.
Abbott isn't on the Nov. 3 ballot, but the event was the Republican governor's latest move in a national political battle during a tumultuous election that has pitted police officers and fears of rising crime against calls for an end to police brutality and systemic racism. Recent Texas protests against police brutality have largely been peaceful as the four-month mark of George Floyd's in-custody death in Minneapolis nears.
"Today, we are announcing more legislative proposals to do even more to protect our law enforcement officers as well as do more to keep our community safe," said Abbott, who was flanked by police union officials, other Texas leaders and Republican politicians hoping to take Texas House seats from Dallas County Democrats in November.
King said he has not had a chance to study Abbott's proposals in depth but generally agrees with what he's heard so far.
"I say generally because it's not so much a problem in Texas, or at least much of Texas, as it is in some of our other cities or even some of the bigger cities in Texas," King said. "The problem in a lot of those places is not so much lack of laws to protect against things like this as it is the powers that be hobbling officers from enforcing the law and prosecutors in many cases not prosecuting people who are arrested for these crimes.
"I'm all for people speaking their mind and peacefully protesting. But, when it comes to the problems of looting and rioters, if the police were allowed to just do their jobs we could deal a lot better with these situations of out-of-control rioters.
"My hope is that people are watching and paying attention in the places where this has been a problem and will vote to get rid of these officials in those areas who are allowing this stuff to happen and replace them with law-and-order candidates  who will work to ensure the safety of the citizens and approach these issues through good, fair and high standards."
Cain agreed adding that peaceful protests are always welcome in Cleburne.
"But absolutely we support our police who put themselves in harm's way," Cain said. "You would think that common sense would dictate that you treat officers who are protecting and serving the community with respect and dignity.
"These proposed enhanced measures by Abbott to get things under control, I can tell you we won't put up with that kind of activity in Cleburne. If people want to protest peacefully we welcome them. We'll bring them water and food and welcome them with open arms even if we disagree with them. If they're going to be disrespectful or attempt to harm our police officers or the citizens of our community, they're not welcome. We won't put up with rioting and looting. I'm glad to see the governor take action statewide for those communities that need help so that we don't see things going on like cities burning in other parts of the country.
"It's time that the country return to common sense and decency and being respectful to one another even when we disagree."
Severance said he's thankful that such incidents have so far been absent from Cleburne and Johnson County.
"Certainly I support efforts to discourage violence or harm to our communities and applaud Gov. Abbott's efforts toward those ends," Severance said. "It's a balance. We need to respect the rule of law while also protecting the right of people to peacefully protest.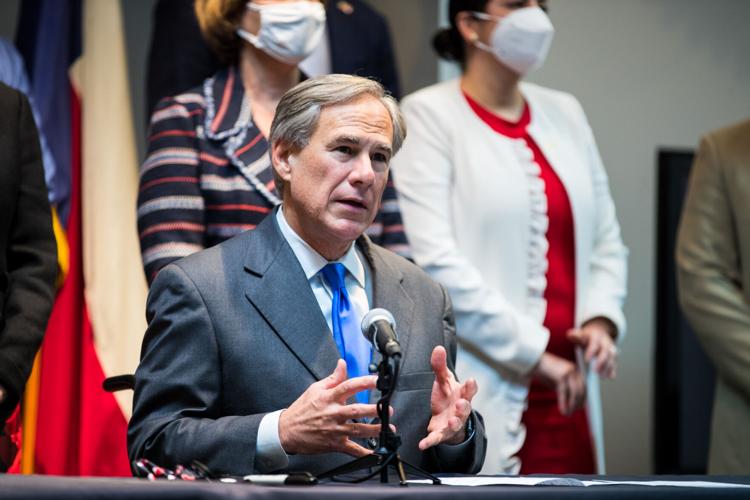 "We've seen around the country instances where people have been hurt or killed or instances of significant property damage. That's not the kind of thing people want in our community and, generally not speaking, what Texans want. But yes, any efforts to strengthen and support the rule of law to protect people and property is something I'd support."
Abbott's press conference came after a majority of likely Texas voters in a New York Times/Siena College poll said that law and order is more important to them than the pandemic. Yet when asked whether racism in the criminal justice system or riots in American cities were the bigger issue, Texas voters were more likely to choose racism than riots.
The governor's recent attempts to center the election on criminal justice also comes as Democratic presidential nominee Joe Biden is outperforming past contenders of his party in Texas polls. That could create a situation where Biden still loses Texas to Republican incumbent President Donald Trump, but helps Texas Democrats running in legislative districts enough to beat their Republican opponents. The minority party heads into the November election just nine seats away from taking control of the Texas House. If Democrats were to win the chamber, they could be in a position to block legislation on a number of issues pushed by Abbott and staunch conservative Lt. Gov. Dan Patrick, who runs the Republican-held Texas Senate.
Democrats and organizers have slammed Abbott's latest proposal as a political ploy to garner Republican votes and an attempt to disincentivize protesters. Abbott's suggestion is the latest in a variety of potential legislation he has proposed recently to "back the blue" as protests rock the country.
The legislation would have to be passed by lawmakers in 2021 and it was not immediately clear that such measures would have the support needed to become law. Abbott's proposals would create felony-level offenses with mandatory jail time for causing injury or destroying property during what is deemed to be a "riot." Blocking hospital entrances and using lasers to target police would also be felony offenses that would require a jail sentence, Abbott said. Striking an officer with something like a water bottle would lead to a mandatory minimum of six months in jail.
Currently, the crime of "participating in a riot" is a misdemeanor offense in Texas with a maximum of six months in jail and is labeled as a gathering of seven or more people that in part creates a danger to a person or property. Many protesters in Texas have been arrested on suspicion of such offenses since protests erupted in May after Floyd's death. Others have been charged with felony-level crimes like assault on a police officer, including an 18-year-old who faces up to 20 years in prison for allegedly throwing a water bottle at an officer.
Information in this article came from The Texas Tribune.