There was much to celebrate during the 27th annual Black & White Gala at the Omni Hotel in Fort Worth on Saturday.
More than $69,000 was raised during the live auction portion of the Gala, which raises funds for Texas Health Harris Methodist Hospital Cleburne and health-related causes in Johnson County, and began in 1993 when Kay Walls chaired the first event in the hangar bay of the Cleburne Regional Airport.
Funds were also raised through silent auctions, raffles and sponsorships.
Johnson County Commissioner Larry Woolley led the live auction, which featured 13 packages, including the "Black and White Surprise," a puppy donated by Northside Animal Clinic.
The puppy was auctioned off and donated back several times before going home with George and Loraine Pittenger of Rio Vista. 
Randy McKinney returned as the master of ceremonies for the event, and string quartet, Forte' Strings, entertained guests as they dined. Alvarado's Brittany Oviedo performed after the live auction ended and guests danced the night away.
Since the inaugural Gala, funding has paid for more than 89,000 immunizations for children, over 600 no-cost PSA screenings and more than 4,100 mammograms and diagnostic support for women in Johnson County. 
"I'm delighted to be with you here tonight," 2019 Chair Kathy Martin said. "Thank you for your commitment to make Johnson County a healthier place to live. We've had great success with our four Gala programs over the past 27 years. These life-changing programs would not have been possible without your generous support. Thank you so much."
THC President Ajith Pai said community support is the cornerstone of the hospital's ability to provide essential services to the community.
"From your generous support, our programs have continued to thrive and grow for more than a quarter of a century, providing no-cost health services to thousands of people in our community," he said. "In 2018, we introduced the Cleburne Patient Outreach Program, partnering with the Cleburne Fire Department to provide paramedicine to improve patient outcomes at home and reduce frequent and unnecessary return visits to the emergency department. These accomplishments in caring for our community would not have been possible without you.
"This year, proceeds will purchase three emergency department triage devices to help reduce wait time and enhance our patient's experience. Additionally, funding will provide 20 orthopedic mobility assistants to be utilized by patients, increasing their comfort and movement to get them on the road to recovery quicker."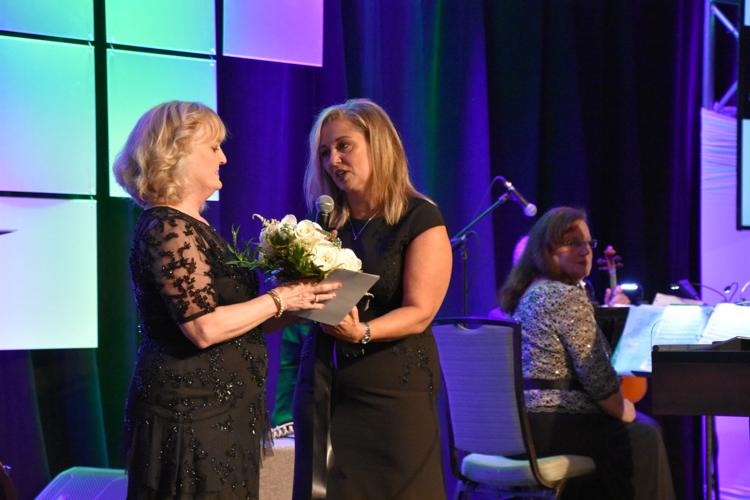 Martin thanked the Gala committee for their hard work throughout the year.
"It has been an honor to serve as the Gala chair this year and work with the compassionate and passionate ladies of the Black and White committee," she said. "This night would not have been possible without their hard work, and I have a marvelous committee. They have a great dedication to the improvement of our community."
The 2019 committee included Randa Alazar, Beverly Archer, Terri Archer, Shanna Bates, Pat Beavers, Amparo Becerra, Donna Boles, Brende Bullard, Chris Cain, Lizzie Dalley, MC Davis, Cindy de la Garza, Lindsey Elsner, Jennifer Glenn, Melanie Good, Karen Grunert, Paige Harris, Nancy Holland, Nancy Johnson, Breck Kiel, Pam Kruse, Barbi Lorenz, Casey Lyness, Mollie Mims, Myriam Pai, Debbie Parker, Rosemary Rebstock, Sue Rebstock, Debbie Reynolds, Hallie Rideout, Rebecca Roe, Beth Swatzell, Martha Twaddell, Colleen Vanzant, Jane Walker, Kay Walls, Amy Womack, Julie Woody, Leslie Woolley and Rachel Zorn.
A wrap up party will be held from 6-8 p.m. Oct. 7 at Cleburne Eye Clinic.