The second installment of the Legacy of East Cleburne series continued Thursday night with a focus on athletics and a couple of detours into other topics.
The monthly series, which runs through April, delves into the history and people of East Cleburne. Through the series organizers hope to bring to light history that may otherwise not be widely known, illustrate East Cleburne's contributions to and role in Cleburne's overall narrative and foster dialogue between residents of all corners of Cleburne.
Each presentation — held at 5:30 p.m. each month at the Booker T. Washington Community & Recreation Center, 100 Mansfield Road —  is free and open to the public. Topics upcoming include entertainment, work, religion and military.
Although the east side of Cleburne historically has been characterized as the black, and later Hispanic, section of town, series organizers John Warren and The Rev. Johnie Dollarhide stressed that the area was, and remains, predominantly white. Both also described the neighborhood as historically vibrant business wise, socially and culturally. 
East Cleburne is also the location of the former Booker T. Washington High School, which from 1904 to 1965 served as Cleburne's school for black students. 
The school has since been demolished. All that remains is part of the former gymnasium which, about a decade ago, was renovated and enlarged into the current recreation center. 
Thursday's presentation included two former Cleburnites from the east side who went on to play for the Pittsburgh Steelers. Both said that athletics, while important to them, served as stepping stones to other goals.
First, however, Pastor Bill Wright of the East Cleburne Ministerial Alliance spoke on the effects of segregation on African American life in America specifically as applied to schooling.
The system and separate schools for black and white children stems from the Civil War, Wright said. 
"Southern states created a dual educational system based on race and race alone," Wright said. "Was it equal? Absolutely not. But again, if you were a certain color this is where you went. The schools for white children, we later learned, had better resources. But we made do with what we had."
In Cleburne, as in many other towns, railroad tracks separated the perceived bad section of town from the perceived good.
"Where were the blacks?" Wright said. "Across the tracks. Well, where were the whites? On the other side of the tracks, which meant they were across the tracks also. We had to look at it from a positive perspective."
Wright, who grew up in Texarkana, said his parents taught him to respect all people, which left him puzzled when he first encountered racism and segregation in the form of department store water fountains labeled colored and white. Unsure what that meant, Wright asked a lady in the store.
"I told her I had a question for her," Wright said. "I said, 'This sign says white and this sign says colored. Can you explain this to me please? I don't see any colored water coming out of here.' She looked at me kind of strange and said, 'Well, where it says white, that's for people like me. Where it says colored, that's for people like you.' I said, 'OK. Thank you very much.'
"I went to that white fountain and drank all the water I could. I drank and I drank and I drank. Then I said it's time for me to get out of this store."
Although Cleburne schools integrated in 1965, Texarkana schools didn't follow suit until 1967, Wright said.
"The funny thing is, after integration in whatever city, the black students all went somewhere," Wright said. "It's not that the whites went to the formerly black schools. That was the strange thing when they talk about integration given that they closed all the black schools.
"What followed was what's called the great merger. There were some challenges, some name calling and some riots all because somebody was white and somebody was black. Isn't that amazing?"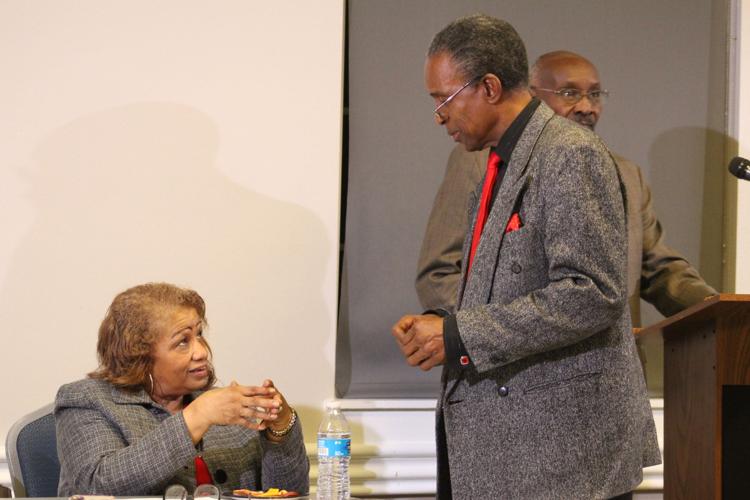 Wright noted that the school district in Cleveland, Mississippi remained segregated until just recently. The district accepted a court settlement ending segregation in 2017, according to a CNN article.
The past good and bad must be remembered, Dollarhide said.
"So often things from the past are not comfortable," Dollarhide said. "So we don't want to learn or talk about it. But the purpose of this [series] is to look at where we come from so we don't repeat it and go back again."
Coupling integration with athletics makes sense, Dollarhide said.
"Because athletics is probably one of the first fields where integration started to really make sense," Dollarhide said. "And we can look at how today's athletes stood on the shoulders of former athletes who helped up get where we are today by persevering and forming those relationships through integration. And that wasn't an easy thing for Jackie Robinson and those other early players. And we still have some work to do."
Displays set up told the story of several such Cleburne athletes with east side ties including Jabe Brazzle Jr. who played professional baseball at the minor league level and later taught, playing a role of the integration of schools in Vernon, Texas. The street in front of The Depot, home of the Cleburne Railroaders baseball team, now bears his name. 
Warren spoke of brothers Thomas and Rich Gee both of whom played in the Negro League for the Lincoln Giants. Warren also spoke of James Cash who became the first black player on TCU's basketball team and later a dean at Harvard University.
"The point is," Warren said. "Many people went off and did great things, and we want people to know about that. That East Cleburne is not some third-world country." 
Former Cleburne resident Rodney Norton attended Booker T. but graduated from Cleburne High School. His grades and athletic abilities got him into Rice University and he was later drafted by the Steelers.
Norton, who now calls Houston home, said he always enunciates Cleburne.
"Otherwise everyone thinks I'm from Cleveland," Norton said. 
Norton spoke of being frightened the day President Kennedy was assassinated given that city's proximity to Cleburne and noted that his sister was in Booker T.'s last graduating class before Cleburne schools integrated. 
"After that I had to ride my bike to Irving Elementary and later had to walk to CHS," Norton said. "Wasn't no bussing in Cleburne."
Norton said he remembers his mother, on his first day of school after integration, to let it slide should anyone call him the N word.
"I looked at her and said, 'Mama, I don't know if I can do that,'" Norton said. "'I don't know if that's going to happen. It depends on the circumstance.'"
Later, while working for Proctor & Gamble, Norton, said he mentioned to a co-worker that nobody had ever called him the N word.
"One girl looked at me and said, 'Well my God Rodney, look how big you are.'"
Norton credited the residents of East Cleburne and his job at Earl Williams Grocery Store for instilling the values and skills that helped him succeed later in life. 
Although drafted by the Steelers, Norton didn't make the final team but did go on to have a long career with Proctor & Gamble and now with Frenchy's Sausage Company.
"Sports was my ticket out," Norton said. "But sports is not everything. You've got to take all your life experiences and treat people right."
Life's challenges spring both from inside and out, Norton said.
"You can talk about segregation and society," Norton said. "But each individual has to accept the responsibility of leadership and how they're going to fit into society."
Xavier Warren also played for the Steelers having first played for CHS and the University of Tulsa.
"Santa Fe Elementary got shut down when I was in fifth grade because of race problems," Xavier Warren said. "And they did bus us to Coleman. When I got there there was every kind of N word you can imagine. And I fought a little bit. But one day I came home and my dad told me you can fight and keep getting kicked out of school or rely on the fact that you have the power over you or not."
Warren said he preferred basketball and track and field to football as well as his stint in CHS's Golden Pride band where he said he learned discipline, patience and the ability to withstand pain. Warren too praised former CHS basketball coach Jeff Cody's focus on the fundamentals of the game.
"We hated it," Warren said. "Because we were used to the loop de loop and the whoop de whoop. But when we played those Fort Worth schools they were big afros and jumping high and dunking. But we won the games because we were more fundamentally sound."
Though Warren played with the Steelers for a time he now works as a special education behavior interventionist for the Carroll/Farmers Branch ISD ensuring that the rights of special education students are not violated.
Warren noted that he may be the first to play under the first two black coaches — Tony Dungy and Lovie Smith — to have later coached in the Superbowl.
Linda Burt Wallace likened growing up in East Cleburne to the pot at the end of the rainbow adding that her childhood home on Chase Street was within walking distance of country and downtown.
Wallace spoke of a rooster who loved to chase screaming kids and of her uncle, working at the Santa Fe shops, spotting her out one day where she didn't belong. Wallace, who was 8 at the time, said her father punished her by chaining her bicycle until she was 13. 
Wallace said she had some of the same teachers at Santa Fe Elementary that her uncle and father had. A blessing and a curse, Wallace said, given that her uncle excelled in school while her father not so much.
Integration improved Cleburne schools and made them richer, Wallace said.