It may be summer vacation, but it's never too early for parents to start thinking about school supplies.
The Johnson County APPLES program — Assisting Parents Provided Learning & Education Supplies — is accepting applications for student school supplies assistance from 10 a.m. to 2 p.m. Monday through Friday, July 15-26, at the Spirit of Sharing, 306 N. Field St., and the Salvation Army of Johnson County, 111 S. Anglin St.
Students eligible for assistance are those in Cleburne, Godley, Keene and Rio Vista. Parents/guardians must bring their driver's license, the child's birth certificate and a current utility bill or lease agreement that identifies the student as a resident of one of the eligible cities. 
On Aug. 10, APPLES will host a back-to-school fair at Wheat Middle School, 810 N. Colonial Drive. This is the 10th year the coalition has hosted the fair. 
From 9 a.m. to 2:30 p.m., pre-registered families will receive a backpack and supplies for children in prekindergarten through 12th grade. Additionally, community organizations will be available to give information about youth activities, insurance, adult education programs and healthier eating initiatives. The Lions Club will also coordinate eye exams during the event. 
APPLES member Barbara Yoder said they are asking for volunteers to help set up the event on Aug. 9 and volunteer during the event on Aug. 10.  
This year, Wheat Middle School incoming eighth-grader Paige Cook will be the event's honorary chairperson. 
Paige was recognized for her "Pencil Pals" project in February when she was named a distinguished finalist and received a bronze medal at the Prudential Spirit of Community Awards by Prudential Financial, in partnership with the National Association of Secondary School Principals. 
The PSCA represents the country's largest youth recognition program based solely on volunteer service, according to its website. At that time, Paige had supplied more than 43,000 pencils to students in Cleburne ISD. 
"The Johnson County Apples Coalition has helped thousands and thousands of children for many years," Paige said. "In fact, they have even helped me and my siblings during our elementary years, so I am honored and blessed to be able to forward that kindness back to them by becoming the chair women at the age of 14 this year and by volunteering and donating monetary to their wonderful organization."
She said these volunteers work hard to level the playing field when it comes to children feeling unequal to their peers who don't struggle financially when it comes to having school supplies.
"Being one of those past students, I can tell you that it's embarrassing and humiliating at times when you have to come to school unprepared for class — not because you simply were irresponsible but because your family lacked the financial means to purchase the supplies needed for class because low-income families often have to choose between fulfilling their school supply list or putting food on their tables, which is one of the same reasons that I started my third kindness project this past January," she said. "I believe by working together we can change the future of each and every student in the area while also ending the need for our teachers to use their own pay checks on us students."
So far, she has collected over 671,691 pieces of school supplies like pencils, sheets of notebook paper, paper clips, pens, notebooks, glue sticks, map colors, crayons, scissors and other supplies.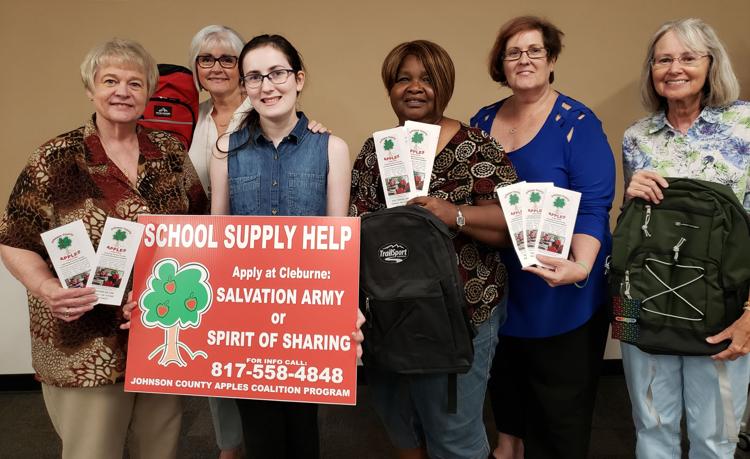 APPLES also received a $1,500 check from United Way of Johnson County, which Yoder said will be used to purchase the backpacks and supplies needed for the back-to-school fair. About 800 students are expected to be helped this year, she said.  
The organization is accepting monetary donations from residents, which can be sent to 1005 N. Main St., Cleburne, TX 76033. 
For information, call the Salvation Army at 817-558-1296 or Spirit of Sharing at 817-645-3342. 
For information about APPLES, visit the group's Facebook page. For information about other local community organizations, visit cleburnearea.info/helpinghands.html.