When U.S. Army veteran John Arroyo arrived in Burleson on Friday, he was expecting to participate in an interview.
Instead, he and his wife, Angel, were surprised with news that they will soon be the recipients of a new custom-built, mortgage-free home.
The home is gifted to them through Operation FINALLY HOME, which provides homes and home modifications to America's military heroes and the widows of the fallen, in partnership with Lennar, a nationwide home-building company.
Arroyo served in the military for more than 20 years.
At just 20 years old, his first assignment was in Fort Bragg, North Carolina, in the 82nd Airborne Division. A few years later he became an Army Green Beret as part of the 3rd Special Forces Group during the Global War on Terrorism, and deployed twice to Afghanistan and once to Iraq.
After transitioning from enlisted soldier to commissioned officer, Arroyo was assigned to Fort Hood, Texas.
One day he heard gunshots on base and before he could react he was shot in the throat in what would become the second mass shooting at Fort Hood.
"April 2 of 2014 I took a 45 bullet through my throat, severed my jugular vein, I completely bled out," Arroyo said. "When I was dying on the ground, Jesus spoke to me audibly and told me to get up. He said, 'But, John, I didn't save you for you. I saved you for them. I save you so that you can go help other people.'"
When Arroyo got up he began looking for other victims.
"There was one soldier walking toward me, it was 4 o'clock in the afternoon on base," he said. "As this soldier's getting close to me I begin walking towards him, asking him for help. It ends up being the soldier that just shot me.
"He gets 10 feet in front of me and Jesus blinded him. And he said, 'Today you will live for me and tell the world about me.'"
Although he had a long road to recovery, Arroyo continued to serve in the Army for another five years. He still suffers from residual nerve damage and migraines sustained from his gunshot wound.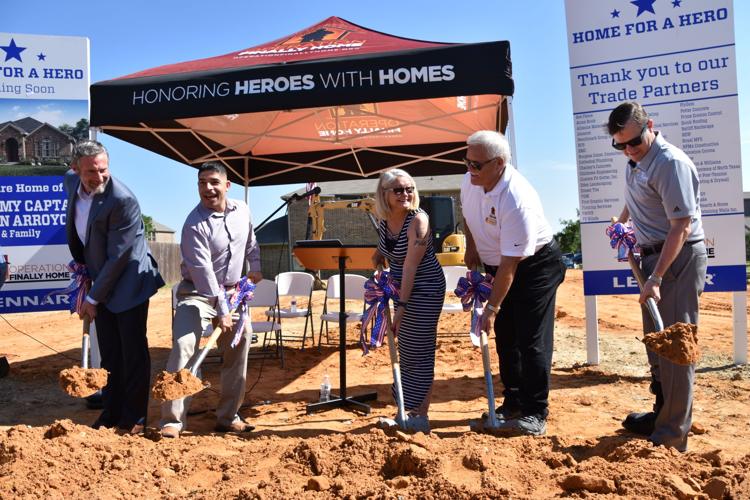 Now, Arroyo works for the Dave Roever Foundation in Fort Worth, which provides assistance to wounded warriors.
"God saved me so that I can help save others," Arroyo said. "To go back and pull people out of those dark places. I don't know why he saved me, because the guy right after me actually perished. So, I owe it to the men and women who didn't make it that day, to the men and women that didn't come home from Afghanistan and Iraq, to those Vietnam veterans that didn't get told 'Welcome home.' My wife and I are grateful for what this nation has done for us, and I tell you what — as an Army Green Beret, I'd do it again because you're worth it."
Operation FINALLY HOME Project Manager Ronnie Lyles delivered the invocation on Friday, just before breaking ground to begin construction on the Arroyo's new home.
"Let's never forget that freedom is never free," he said. "Thank you for John and Angel for their service to this country. We ask that you bless this ground and make this home a safe haven, where John can continue to heal his mind, his body and his spirit."
David Grove, division president for Lennar Homes in DFW, said he is proud of his company for partnering with Operation FINALLY HOME.
"One of the things I love about working with Lennar is that giving back to the community is woven into our DNA," he said. "It's one of our core tenets. It's part of who we are. 
"Over my 20 years with Lennar, I've been honored to work with many worthy organizations and worthy causes through our Focused Acts of Caring program. But this opportunity to participate with Operation FINALLY HOME is really the pinnacle for me. It is our honor to provide a mortgage-free home to a very deserving family."
Burleson Mayor Ken Shetter welcomed the Arroyo family to their name community.
"Thank you to Capt. Arroyo and your family," he said. "We honor you. I hope you know that the city of Burleson has made a commitment to honoring our veterans. I like to say that you can't be a great city if you don't tell the stories and honor the history of your people. The stories of your veterans. So, I hope you will be proud to be a part of this community for the rest of your life."
Arroyo and his wife have three children and two grandchildren.