Whether it's instructing quarterbacks on the practice field or teaching his students about world history in the classroom, Alvarado's Scott Svendsen approaches both settings with the same mindset and passion.
His lifelong dedication and commitment to teaching recently earned him the Alvarado High School teacher of the year and the Alvarado ISD secondary teacher of the year honors.
While some people get into the coaching field primarily to coach and then are required to be a teacher, Svendsen said he's approached both teaching and coaching the same way, and that he enjoys both sides of the job equally.
"In the coaching profession in Texas, you've got to teach, too, but both of them are equally important," Svendsen said. "We're hired as teachers first and then hired to coach as well. I think if you're a good teacher, you can be a good coach and if you're a good coach, you can be a good teacher. My deal is not everybody treats it that way in the coaching world. So I try to be a role model for other coaches and younger coaches to handle things in a professional way and be as serious about teaching as I am coaching. This is just as important as the coaching piece. 
"If you value both of them, you can enjoy both parts of it equally. I enjoy the classroom. I like working with kids. It gets me in touch with all kids in the school, not just the athletes. And I like that part."
Svendsen teaches pre-AP world history and just finished his 30th year as an educator and coach, including the past eight years in Alvarado.
Alvarado Superintendent Kenneth Estes said Svendsen is a treasured asset as a teacher, coach and leader within the AISD family.
"It is fantastic to have the opportunity to recognize Coach Svendsen," Estes said. "He leads by example and strives to impact students in the classroom as much as he does on the field. No matter what he does, he gives it a full effort.
"Coach Svendsen brings a tremendous amount of energy, enthusiasm and excellence to AISD. Those qualities make him a magnet to fellow for educators and students alike. He is undoubtedly seen as a mentor to young coaches and serves as our team leader in social studies. Simply put, he is a great educator. We are blessed to have him on our AISD team."
Svendsen said he approaches the classroom just as he does the practice field. And his advice to younger or aspiring coaches is to treat the classroom and practice field with equal focus and preparation.
"When you go to practice for football, you've got to be prepared because you don't want to waste any time," Svendsen said. "Everything's organized and ready, and you know which drills you're going to run and what plays you're going to work on. 
"I approach the classroom the same way. When my kids are in my class, we're going to be organized and I know what I'm going to do with my 45 minutes in each class every day. The kids are going to know the structure and we're going to make sure we take care of every minute in the classroom as we do on the practice field. It's all preparation."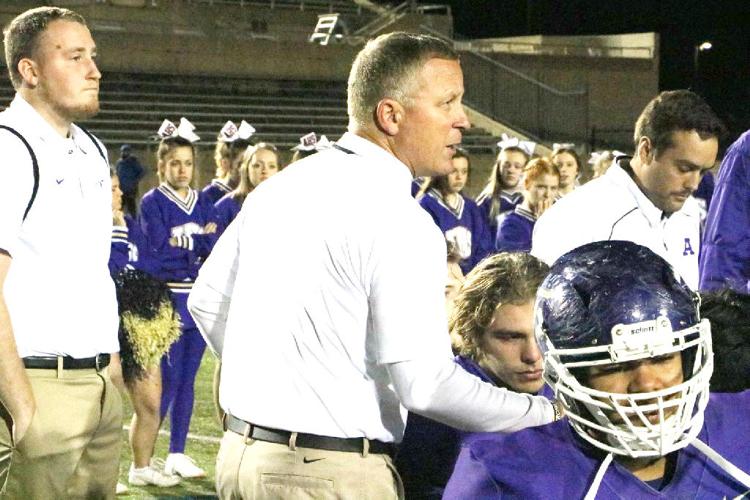 During football season, once the Indians wrap up practice and Svendsen's coaching duties are done, he walks back over to the high school to prepare for his students for the next day's lessons.
"During the season with football practice and I walk off the field at 7:30, I know we have school the next day so I walk across the parking lot over to the school building and I make sure I'm ready for my students in the classroom as well," he said.
Alvarado Athletic Director and Head Football Coach Jeff Dixon said Svendsen's passion resides in helping students.
"He's my right-hand guy," Dixon said. "So to have that person that represents me and our program being honored, that's amazing. Scott is in it for the kids. He loves to coach and he loves to teach and he's great at both. He got into this profession because of the love that he has for students, I can assure you that.
"He attacks the classroom like he's coaching our quarterbacks. He plans that way. He prepares that way. It's pretty amazing. Our district is fortunate to have him on staff. He's a leader in the hallways just as much as he is in the fieldhouse. He's a worker."
Svendsen serves as the assistant head football coach and offensive coordinator/quarterback coach. He's filled several other roles, including head girls powerlifting coach recently, where he guided numerous athletes to the state meet
"A couple years ago, he was the head girls powerlifting coach and took that program to a whole different level with the number of participants and number of kids who went to state," Dixon said. "He generated the interest in that sport. Instead of just a couple of young ladies, we had 20 young ladies because of what he's able to do. He will be the head boys track coach next year and he'll do the same for our track program next year."
Svendsen said he tries to abide by what he calls the "Three E's" into his interactions with students and athletes.
"Whether it's in the classroom or on the football field, I try to instill what I call the 'Three E's' in my students and players," Svendsen said. "I want students to be equipped to face the world ahead of them, I want to empower them to function in society, and I want to encourage them to make a positive difference. Those are my 'Three E's' when I teach in the classroom and coach on the field."
Svendsen knew at an early age that he wanted to teach and coach, and he said he had several examples of what a good teacher and coach looked like.
"Growing up and going to school, I had coaches that were teachers for me and they were good role models," Svendsen said. "They came to class and they were prepared and they were professional in what they did. They modeled for me what I wanted to be. I knew whatever job I took, I wanted to make a difference in the classroom as well as on the field. As a younger coach, the coaching part probably takes a little more of a lead as motivation to get into education. But once you get in the classroom, you understand the value of what being a good teacher means to those students."
As for what being honored as the AISD secondary teacher of the year means to Svendsen, he simply passed on credit to administration and his support system.
"I have to give credit to our leadership in our school district that allows coaches and teachers to flourish and do things for their students," Svendsen said. "Our superintendent, Dr. Estes, and principal, Mr. [Chris] Magee, and the rest of our administration support us as coaches and teachers."