The Chisholm Trail 100 Club hosted its ninth annual membership meeting at the Cleburne Conference Center on Thursday, honoring emergency personnel in Johnson, Hood and Somervell counties.
The CT100 Club is dedicated to supporting those first responders, while providing more than 1,900 law enforcement officers, firefighters, correctional officers and emergency medical personnel with a $50,000 line of duty life insurance policy as well as serious injury benefits and scholarship opportunities.
"It is my honor to report to you the continued success of the CT100 Club which I attribute to our club's membership, our sustaining partners and the club's exceptional board of directors," CT100 President Justin Hewlett said. "Your financial support and volunteer hours through the 'Hot Rods & Heroes Car Show' and the '100 Shots for the 100 Club' clay shoot provide the foundation for the CT 100 Club to continue to thrive."
State Sen. Brian Birdwell, R-Granbury,  who served as guest speaker, discussed the impact first responders made on his life when he was a victim of the Sept. 11 terrorist attacks, while serving in the U.S. Army at the Pentagon.
"Scripture tells us to render honor to whom honor is due," he said. "Evil people made an evil decision and acted upon that evil. It still happens today; it happened this past weekend. There are men and women just like you that charge to the sound of the guns. 
"Those of us in the military, those of us in law enforcement and those of us in the fire service — the one thing those three services all share isn't color guards, it isn't uniforms. That's not what makes those three services a unique brotherhood or sisterhood. All three of them, inherently signing up for those duties, deal with the tug of death every day."
Hewlett shared a few of the goals he achieved during his first year as the club's president, including adding substantially to the club's endowment, increading membership by 18 percent and expanding the service area of the club to include Hood County. Each goal, he said, were able to be reached through four of the club's primary fundraisers:
• Third annual Hot Rods & Heroes Motor Show that boasted over 120 cars and more than 1,000 attendees.
• Couch & Russell's Diamond & Dice Ball. The CT100 is a beneficiary of the annual holiday gala hosted by Couch & Russell.
• Honoring Hood's Heroes, a Hood County event to raise the initial funds to cover the insurance premiums for the 509 first responders in Hood County was a big success in January and was standing room only. The event feature Taya Kyle as the speaker and a large auction and fundraising activities
• 9th Annual 100 Shots for the 100 Club Clay Shoot - this event was expanded to 4 courses in 2019 and welcomed 430 shooters and raised record funds.
During the Annual Meeting, the following awards were also presented by the Chisholm Trail 100 Club: 
Chisholm Trail 100 Award
This year's Chisholm Trail 100 Award was presented to AMR crew members Tanner Redding and John Leal, and Alvarado firefighters Doug Johnson and Chad Jones.
"On Sunday morning, March 7, 2019, an AMR Johnson County EMS crew stopped to assist a vehicle with what appeared to be a blow-out on I-35 between Grandview and Alvarado," Hewlett said. "When stopped, they noticed another car about 45 yards off the interstate with major damage and smoke. 
"As they approached, the vehicle started to catch fire and they heard a male voice yelling for help. The man trapped in the vehicle told them he was alone. The crew began to attempt to extinguish the fire and radioed for help, but knowing the volunteer fire department who was closest might be delayed, they also radioed Alvarado Fire — where the AMR crew stations. 
"Without question or hesitation, the Alvarado crew responded 'we are on the way' The first responders stayed with the man trapped in the vehicle — with their hands on his shoulder — until the flames engulfed the vehicle. The incident ended in tragedy, but these individuals went above and beyond in their service."
Above and Beyond Award 
 This year's Above and Beyond Award was presented to Bob Alford.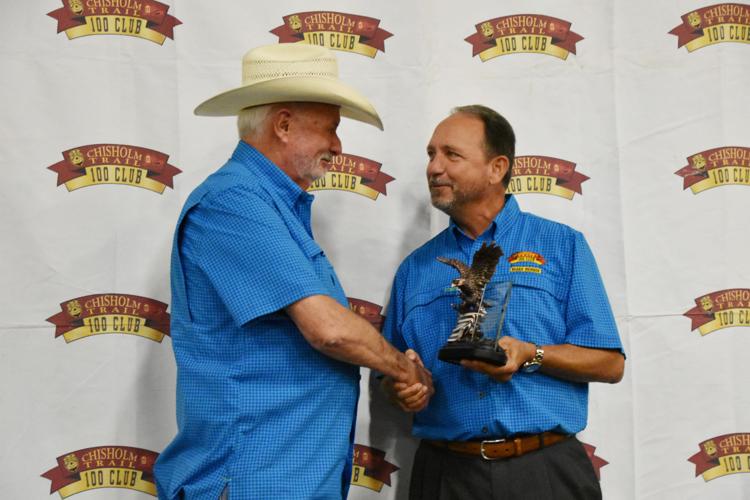 "Bob Alford has been involved with the Chisholm Trail 100 Club since the beginning as one of the founding members of the organization," Hewlett said. "For the past nine years, Bob has worked tirelessly — and many times behind the scenes — to handle the big things like securing coveted and priceless auction items and obtaining major donors. 
"But he also works quietly in the smaller tasks like managing vehicle parking at VIP Parties — in the pouring rain — and at the shoot; and driving and providing the rig for the CT100's entries in the Fourth of July parades. He always is willing to assist with whatever is the task at hand."
Another Above and Beyond Award was presented posthumously to Fred Bursey, Jr.
"Fred Bursey served  two years as a director of the Chisholm Trail 100 Club and was an active and instrumental member of the Clay Shoot Committee," Hewletr said. "Fred was always willing to lend his talents and resources to the Clay Shoot; and was key in helping to raise thousands of dollars with items he procured as well as donated himself. 
"Fred — always with a smile on his face — was one of the last volunteers to leave the 2019 Clay Shoot; and sadly he went on to be with his Lord 23 days later. Fred was a true asset and a friend to the Chisholm Trail 100 Club."
Lifetime Achievement Award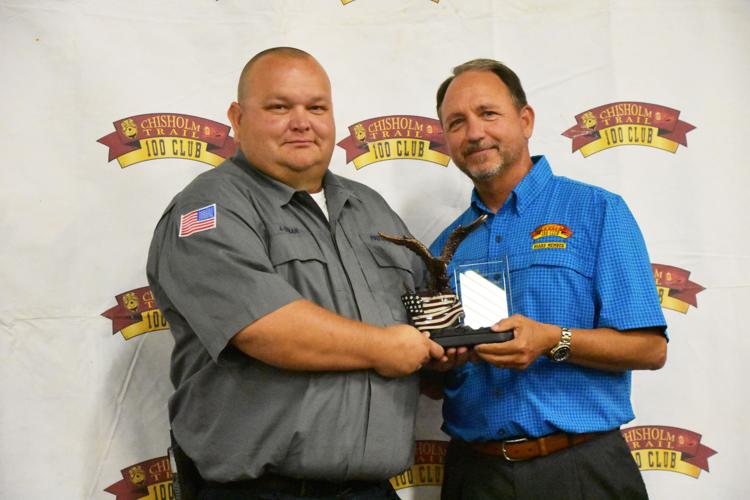 This year's Lifetime Achievement Award was presented to Jonathan O'Bar.
"Johnathan O'Bar has served the Grandview Fire Department for over 20 years," Hewlett said. "He served in many capacities within the ranks of the department including chief, assistant chief and board president. He decided to step down as chief this year allowing him more time for his wife and son. 
"Seeing the need for volunteers and active members he decided to remain on the department to continue to help out. After 24 years of service it would have been acceptable and understandable if he stepped away and retired. He remains on the board of directors and is still in the top five for calls made. Johnathan O'Bar is described as 'the definition of a servant' by his peers and they describe his character as 'second to none.'
Scholarships
The CT100 also recognized its two newest recipients of the MAAD Hunter Venture Capital Group Inc Scholarship.
Tyler Hodges, who graduated from Grandview High School and will attend Tarleton State University to major in construction science and management, was the first recipient.
"Tyler's father works for the Cleburne Fire Department," Hewlett said. "Tyler served as treasurer of his National Honor Society chapter, a member of Zebras Care, member of FCCLA, yearbook staff,  and president of the GHS Bass Fishing Team."
 Kyler Jones, who graduated from Cleburne High School and will attend Tarleton State University to major in kinesiology, was the second recipient.
"Kyler's father works for the Mansfield Police Department," Hewlett said. "Kyler was a member of Beta Club, National Honor Society and a member of the Cleburne High School Basketball team. He was also top 10 percent of his class."