From Zotz to Sassy Taffy, Cleburne's new downtown candy store has a selection of sweets that take customers on a trip down memory lane.
The store — Trovato Street at 106 E. Henderson St. — carries a wide variety of nostalgic candies, sodas and ice creams.
Jim and Teresa Ferens purchased the two-story building in 2017 and soon began major renovations. They live upstairs, above the candy store.
Teresa Ferens said when they were planning on what the store would be they wanted to do something different, but for the family.
"We needed to do something that was not already here, and someplace people could be comfortable and just sit down and not worry about anything," she said. 
The couple decided that a candy store might be good for downtown Cleburne.
"The whole concept is candies you are not going to see anywhere else," Jim Ferens said. "We are avoiding candy you will see at the grocery store or a convenient store. We wanted to have something unique that people remember having as a kid."
Most of the candy is sold by the pound, except for individual items such as jumbo jawbreakers, rock candy sticks, swirl lollipops and Cherry Mash candy bars.
The store had it's grand opening Halloween night, a perfect night for candy.
"It was overwhelming," Jim Ferens said. "Kids came in to trick-or-treat for candy, and the parents came in and said, 'Oh, I remember this, I remember that.' So, they started buying it."
Store Manager Linda Worlow said she was surprised candy starting flying off the shelf that first night.
"It was really quite amazing because we didn't expect to sell much," she said. "We just opened for trick-or-treating."
The following Sunday, customers were waiting at the door when the store opened at noon.
"We were supposed to close at 5, but got out at 6:30 p.m.," Jim Ferens said. "Linda never got a break."
Jim Ferens gives all credit to Worlow. He calls her the face of Trovato Street.
"Linda has been a god-send in all of this," he said. "She is the reason this is all happening, because if we had to do it there is no way in heck. I'm still learning how to pour candy in a bag. I can't emphasize enough how lucky we are to have her."
The store carries a selection of sugar-free candy, and always welcome suggestions for other favorites to carry.
If you're looking for a gift, the store also has several options including candy gift baskets and vintage tins filled with candy.
"On Halloween, we started out with 600 pounds of candy," Teresa Ferens said. "We had a private event soon after and, because of what people bought on Halloween, we had to buy more for it. It's amazing, the reception we've gotten from the people here."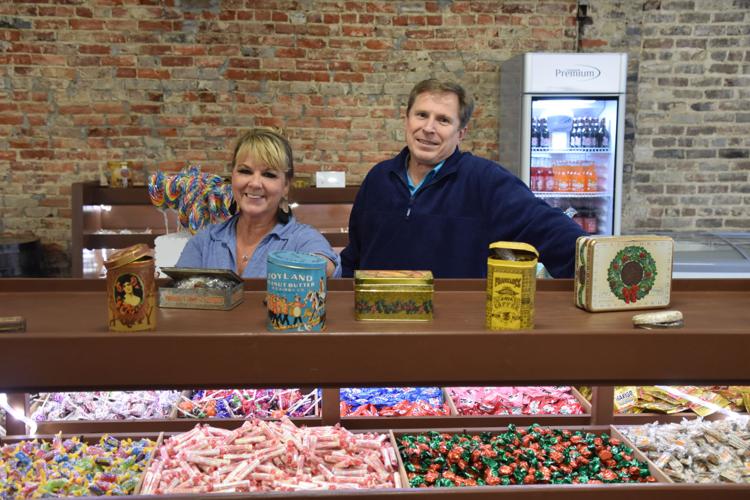 So what does the name, Trovato Street, mean?
Jim Ferens said they wanted a unique name, but couldn't find one that wasn't already registered.
"Trying to find a name is not easy these days," he said. "We have Trovato for the building when we bought it. It means organization and tidy. I thought, what about Trovato Street? It just stuck."
The store features an open layout with areas for seating.
"It's a relaxing environment," Jim Ferens said. "It's a nice place to come in and just sit down. When you've been shopping all day with your husband and he wants to go keep looking at antiques, you can come in and sit down and relax."
One side of the store houses all of the candy, while the other side will be an international market.
"My wife and I have a Venetian [diplay,]" Jim Ferens said. "We met in Italy and we've got good friends there who wholesale true Venetian masks. We are looking for other vendors."
The Ferens both said working with the city to get their building ready for living upstairs and having a store downstairs was great.
"Ever since we started this, the city has been outstanding," Jim Ferens said. "It's just been wonderful. I can't speak highly enough of the fire department, police department and the city in general."
The hope, Jim Ferens said, is to bring Trovato Street to a neighborhood near you.
"Our long-term goal — five, 10 years — is take this whole package, package it up and franchise it," he said. "Take it to other towns and take couples like my wife and I, take old buildings and renovate them, have a business up and running for them and then they take it over kind of like a mortgage. We've met so many people that are interested in that."
The store is open from 11 a.m. to 6 p.m. Tuesdays and Wednesdays; 11 a.m. to 8 p.m. Thursdays, Fridays and Saturdays; and noon to 5 p.m. Sundays.
For information, visit Trovato Street on Facebook.