It was a fairy tale moment — with a modern twist — as the beautiful princess was surprised with a pair of magical slippers.
Such was the case for Cleburne High School Homecoming Queen Haley Jones. In addition to being crowned with a sparkling tiara during halftime ceremonies, she was presented with a pair of pink and white special edition Yellow Jacket high top sneakers created by Cleburne designer Perry Andrez.
"I was very excited to be able to do this," Andrez said. "To present these shoes in front of my town was exciting and a great way to launch the shoe brand. I feel like Cleburne will like what they see. I kept asking people I knew if they were going to the Homecoming game, but not telling them why. What I did tell them was they didn't want to miss halftime."
Andrez, who spent much of his teenage years in Johnson County, attending both Cleburne and Joshua High Schools, created his first clothing sketches when he was 19, dreaming of a time when he could start his own business. His latest designs focus on the Jackets, with shoes and hoodies for men and women, along with women's leggings.
The first off Andrez' new line are the shoes now being worn by a queen. Jones says Cleburne basketball fans will see her new high tops on the court, as she competes for the Lady Jackets.
"They are going to be my new home game shoes," she said. "I feel so special to be the first to wear shoes like these. They are one of a kind."
Andrez has been drawing since he was five. He describes himself as one of those kids who doodled in class.
"I've always had a pencil in my hand," he said. "I was the kid in class who doodled, drawing cartoons and cartoon characters. As I got older, with school taking more of my time, I got away from my art."
But he came back, designing his first T-shirt line when he was 22, going to a former Joshua High School classmate, J.B. Brooks, with the idea of starting a business.
"J.B. is a great artist and I was always drawing with him when we were in school together," Andrez said. "I am a self-taught artist, including what I do today, which utilizes graphics and technology. I love designing, but I'm really more the business guy than the 'artsy' guy. I've been 'marketing' since my pee wee football days when we had to sell things to raise money for the team.  My dad always said it was my job to sell, not for him to sell my stuff to his co-workers at his job.
"When I was nine or ten, a man told me he liked my confidence. He bought two of the raffle tickets I was selling, but made a $10 donation, which was more than the cost of the tickets. Since I have been old enough to have a real job, they have all been in retail."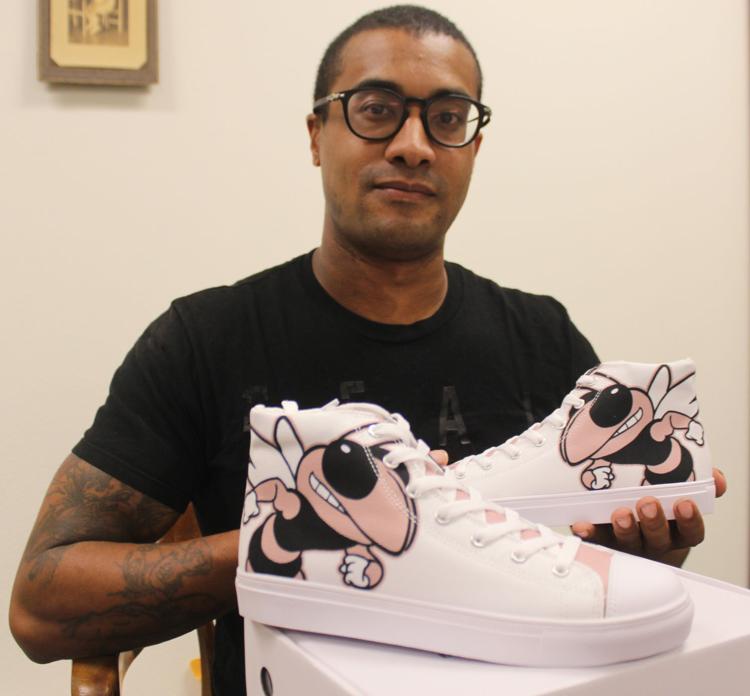 But working for himself as an entrepreneur is his ultimate goal, and designing is a great part of that plan. He has spent the last ten years dabbling with his designs while living in California, Reno and Fort Worth.
"I am blessed with family and friends who believe in me," he said. "I have a friend, Darrell Mayberry, who went to college for graphic design, who has been part of my endeavors. He helped me design my first line of shirts. We did well in selling them and I decided then that was definitely something I wanted to do.
"I experimented with an online store, but really want to do more than that. I've had a store in Cleburne sell some of my work, and also a small skate shop in Fort Worth. I've had rappers and musicians buy my designs and had booths at festivals, car shows and events. I'm getting there--I'm very determined to get a line of merchandise off the ground."
If anyone has the talent and the drive to make that happen, it's Andrez, CHS Principal Ben Renner said. Andrez was among Renner's students when he was an assistant principal at Joshua High School.
"Perry was a great student," Renner said. "He was a very cool kid who had the confidence to march to the beat of his own drum. At the high school level, that's huge. I've seen his designs for Cleburne and they are amazing—I want that hoodie he has designed. I also want a pair of his shoes."
Cleburne is now Andrez' home, and his business address. With partner Charles Day, he will soon be opening an arcade on the east side of Cleburne. That will hopefully be also be the place to find his "New Identity" clothing line.
"I've always loved gaming, and there are very few places where kids can go on the east side, outside of the Booker T. Washington Recreation Center," Andrez said. "I felt I could bring some positivity to east Cleburne in opening a business here. My arcade will be family-friendly, somewhere safe to bring kids."
Andrez has used social media to get the word out about himself, the DTMA Arcade opening soon, and his clothing designs through the Perry Louis Andrez Facebook page.
"I'm very determined to get a line and merchandise off the ground," he said. "Social media has been a great part of my marketing, but I still put in a lot of literal footwork. I do think there will be success in getting out this clothing line. I believe with all the blood, sweat and work I've put into this, and with all the help and encouragement from family and some very good friends along the way, I believe I will have success."