Spring sprung early Wednesday for about 60 Cleburne students and adults as they boarded buses bound for Austin to tour the capitol building and other sites. The group participated in the annual Legislative Day hosted by the Cleburne Chamber of Commerce and sponsored by Oncor and Tuesday Forum.
In addition to area officials, business owners and residents, several Cleburne ISD students and teachers joined in.
"The students here today are members of the district's Superintendent's Student Advisory Council," Smith Middle School Principal Amber White said. "They're students from our secondary schools, Smith, Wheat, the high school and TEAM School."
The student representatives on the council meet quarterly with CISD Superintendent Kyle Heath to provide student input on district policies and initiatives.
"It's a way to inform our students and plug them into what's going on in their district," White said. "And their opinions are definitely valued and matter since every decision we make is for our kids. So it's important for us to know their perspectives."
White said Wednesday's Austin trek — which included visits to the Texas House and Senate, a tour of the capitol, state cemetery and lunch at the Austin Club — afforded participating students opportunity to compare their student government involvement to governmental functions at the state level.
"It's nice to learn about this in the classroom," White said. "But to be able to come to the capital and see government in action firsthand is something else altogether and a great experience for them. When we were in the gallery the students were asking about what the representatives were doing and we talked about the role they play in the process and how they come together every two years to discuss some of the big hot topic items this session."
Students and others from Cleburne who made the trip sat in the gallery of the House and then the Senate as state Rep. DeWayne Burns, R-Cleburne, and state Sen. Brian Birdwell, R-Granbury, recognized Cleburne.
From there it was a short walk through downtown Austin to dine on lamb, fajitas, chicken and other selections at the Austin Club.
Smith eighth-grader Megan Baadsgaard awarded the club's fare high marks as she did the rest of the trip.
"I took this trip in sixth grade, which was a little different because we didn't get to sit through much of the House session or visit the Senate," Baadsgaard said. "So this time is definitely more involved. I enjoyed watching the House members and how they interacted and the state cemetery is really cool for all the historical relevance, seeing Stephen F. Austin's grave and all."
Fellow Smith eighth-grader Parker Pritchard agreed.
"It's been very interesting," Pritchard said of the day. "Very insightful to see how [government] works. We were kind of pointing to each other when we were in the gallery asking who that person was and everything. It was cool when they asked us to stand up. It's been fun and it was very generous of the chamber and everyone else involved to bring us down here."
Smith eighth-grader A.J. Quiroz said this was his first trip to the capital.
"It's been cool," Quiroz said. "Very influential."
Cleburne Chamber Executive Vice President Tara Janszen led the trip.
"We've hosted this trip each year for a while but this is the second year to include students from the Superintendent's Student Advisory Council," Janszen said. "But whether it's students, people from the Leadership Cleburne classes or just members of the community this is a neat trip for everyone involved. So many people have never been to our capital before and especially to be here when they're in session is such a unique opportunity to see that and meet our representative and senator.
"My favorite part of the trip? I really like the Texas State Cemetery because of all the history and fun and interesting stories about it."
Doc Holliday's Work Outfitters owner Curtis Birchfield cast his vote for the cemetery tour as well.
"Just because it's a who's who of Texas history really," Birchfield said. "There's everything from early Texas history to modern history. You have people like [U.S. Navy Seal and sniper] Chris Kyle, [former University of Texas at Austin football coach] Darrell Royal and [former Dallas Cowboys coach] Tom Landry, nine former governors and other notable Texans from playwrights to composers to chemist, sports figures and everyone in between."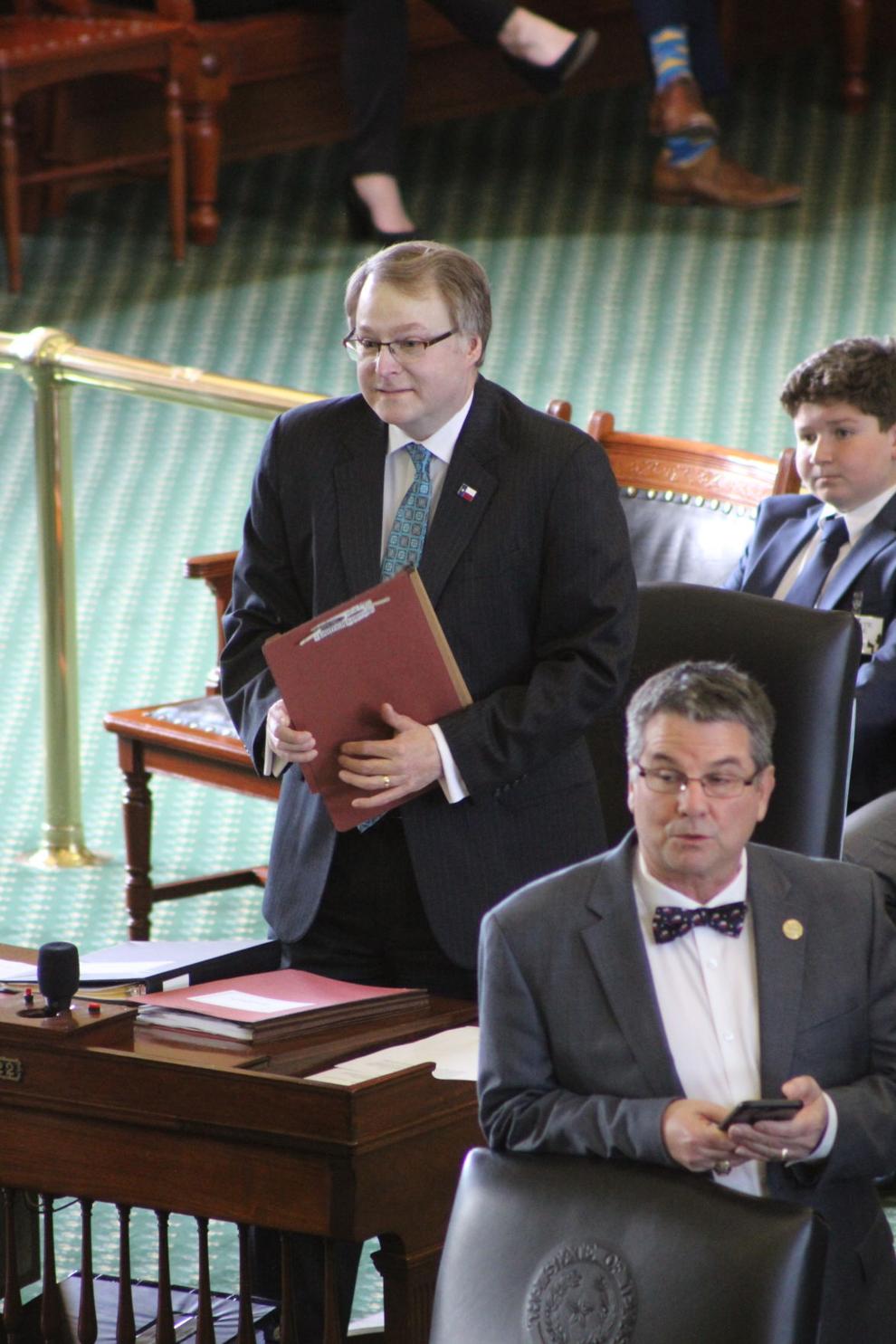 Cleburne Community Church Pastor Ryan Michels said he was particularly affected by seeing Kyle's grave site.
"I've always had a huge respect for the men and women of our military," Michels said. "And seeing Kyle's tombstone left me feeling very moved and inspired. I was also proud of our capitol, which is the largest in the nation and to see it in person was really something. I also enjoyed when we met with Justice Boyd of the Texas Supreme Court."
Birchfield said he last participated in the chamber's trip to the capital about 10 years ago.
"I didn't do the capitol tour that time so I'm glad I did this time around," Birchfield said. "Our tour guide was very informative pointing out details like the door hinges, which all say Texas Capitol and are brass and weight 8 pounds each and other things like the star on the door handles. 
"Just to go through and see the intricacies of the building was really neat. It's a living museum really, both a piece of our past but still used today. If you've never been, put it on your bucket list I say. It's something every Texan can be proud of, and it doesn't cost anything to visit."
Johnson County Commissioner Rick Bailey said he got a kick out of seeing the student's reactions to seeing government up close.
"They're the future voices of our cities and counties," Bailey said. "And it's neat for them to be able to see and be a part of all this today."
Bailey said he'll be back in Austin come Monday.
"I've been asked to serve on the regional tobacco board, which is in regards to the Phillip Morris settlement of many billions of dollars several years ago," Bailey said. "My role on the board is to give a voice to how those settlement funds will be allocated and I'm hoping to bring some of those funds back to our regional hospital district."
Burns took time to visit with the students and hand out lapel pins.
"Love seeing our kiddos down here," Burns said. "With having kids in CISD still, it's good to see the district participating in these activities to expose our kids to how government works and what's going on in the world."
Burns said he's busy fighting for bills addressing unfunded mandates, eminent domain protections for property owners and pro-life initiatives.
Cleburne resident and Johnson County Master Gardner Gary Wylie said he's several times made the trip but always enjoys a return visit to watch the Legislature in action.
"It's been several years since I've been down," Wylie said. "I was involved with a [Texas A&M University] earth-kind roses program a few years back. We came down and handed out little potted roses to all the secretaries in the capitol. I didn't know at the time but that same day they were also recognizing first responders. I'm a retired firefighter from DFW Airport so I got to be recognized that day too."
White concurred with Birchfield in urging all, student or adult, to pay Texas' capital a visit.
"You know, we were telling our students how if something's really important to you or there's something you want to call the Legislature's attention to that it's important to notify your representatives and to learn how state government works," White said. "And that applies to everyone, not just students. It's important we all remind ourselves that our representatives are statesmen who are down here to serve us."