Cleburne High School 1965 graduate Boyd Matson joked that his Thursday Cleburne Rotary Club appearance reminded him of the day in high school when he had to deliver a report on a book he hadn't read.
"Which worked out OK," Matson said. "Because nobody had read the book. I made up the title and the author."
Matson, a former National Geographic photographer, needn't have worried. His multimedia presentation employing photos, videos and personal memories of his travels spanning the globe kept Rotarians poised on the edge of their seats.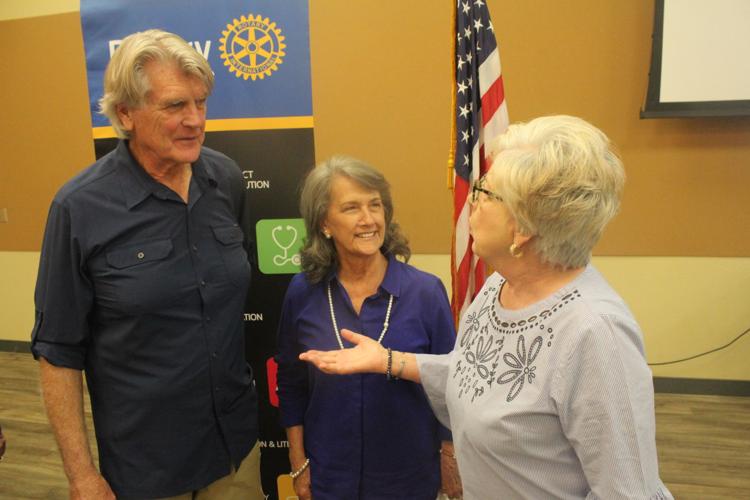 Rotarian Mollie Mims introduced Matson by admitting that although she's known of him for years she only first met him several minutes earlier.
"This is what I know from stalking him on Facebook and YouTube," Mims said. 
In addition to National Geographic, Matson worked as a sports reporter at KNBC in Los Angeles, co-anchor of "ABC World News Now," correspondent of "The Today Show," host of "National Geographic Explorer" and more. Matson's YouTube channel features interviews with Jane Goodall, Tony Bennett, videos on elephants, Mayan ruins, Monarch butterflies as well as videos covering blues, jazz, gospel and other music.
"There's also one about his personal collection of world treasures, which he calls 'Boyd's Big Pile of Crap,'" Mims joked.
Matson characterized his time with National Geographic as the "ultimate dream job" but added that his wife described it more as "summer camp for adults."
As videos of Matson in several near misses with wild animals attest, the Nat Geo gig is not for the faint of heart.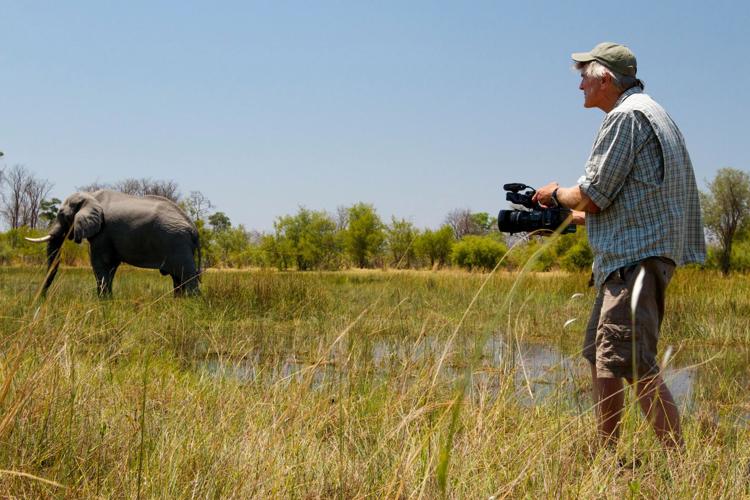 "National Geographic never showed any hesitancy to put my life at risk," Matson joked. "Other than they wanted to make sure I wasn't hurt so bad I couldn't make the next show or assignment."
Overall, however, Matson said National Geographic brought wonderful opportunities his way and sent him all over the world.
"The bottom line with adventures is that it's when things go wrong that things start to get good," Matson said. 
Case in point a trip to Norway and Matson's hopes of capturing the Northern Lights.
"No one wanted to stop because we had to get back to the ship," Matson said. "Then the bus broke down. I was the only one happy."
Likewise a cloudy night on Easter Island. 
"We snuck out and laid on our stomachs so no one would see us because you're not supposed to go out to the statues at night," Matson said. 
The clouds eventually cleared allowing Matson to shoot stunning photographs of the iconic Easter Island statues against a star-filled sky backdrop.
Assignments in Ethiopia, Cuba and Myanmar afforded Matson the opportunity to capture cultures now or likely soon to disappear including one picture Matson displayed of himself with a headhunter. 
Matson said he's been bitten, scratched and pooped on by more animals than he can count. Videos Matson showed proved out as much. One showed him knee deep in a pond of hippo dung mere feet from a hippo who seconds later charged him. 
Another show a lion nip him several times knocking him over in one instance and, several minutes later, leaving a rip in Matson's jeans in an area too close for comfort. Cobras, scorpions and pythons contributed their parts to other close encounters.
One lion encounter — Matson was sitting on a termite hill with his crew in a vehicle too far away to be of much use should things turn drastic — averted possible disaster thanks to the fairer sex. The lion in question passes behind Matson, pauses, looks Matson's direction, considers then moves on.
"He was following female lions who were in heat," Matson said. "So for him I guess it was a question of I can eat or I can go have sex. I guess he figured he could eat any time."
It's been a ride, Matson said.
"It's been great to spend time with different cultures, wildlife and the take in the beauty of our planet," Matson said. "But I've also been proud to be a part of National Geographic because of what the organization represents."
National Geographic tends to have a reputation known but not hated throughout the world, Matson said, relaying how his association with the magazine got him out of what might otherwise have been a sticky situation in South America.
National Geographic not only brings the world at large to people, Matson said. It also strives to make a positive difference.
The Afghan girl, arguably the magazine's most famous cover, providing a perfect example, Matson said.
Matson didn't shoot the photo of an Afghan female refugee that graced the magazine's June 1985 issue. Matson did, however, play a part in efforts to locate the green-eyed girl several years later and not long after the Sept. 11 terrorist attacks, not the best time for American journalists to be knocking around the Middle East.
He and others responded to a promising lead that failed to pan out but eventually found the actual woman. The woman, Sharbat Gula, was illiterate and had no idea that the photograph of her much younger self had become famous throughout the world. National Geographic helped establish a school for Gula's daughters and other children in the then Taliban-controlled region.
Now retired, Matson said he and his wife still travel but that his adventures nowadays are less charging hippos and more crashing weddings to take selfies.