Whether it's positive or negative, social media has become a powerful influence in today's world. 
Cleburne's Kendall Jones, 25, said she wouldn't be where she is today without it. 
A short film documenting her life will premiere today at the Cleburne Conference Center.  
In 2014, the then-20-year-old received worldwide attention for posting pictures of herself hunting big predators in Africa. It was her fifth trip to Africa hunting the "Dangerous Seven" — elephants, leopards, lions, rhinos, Cape Buffalo, crocodile and hippos — for a TV show. 
"While I was over there, I posted pictures on social media," she said. "Anti-hunters and animal activist groups got a hold of the pictures, and it kind of blew up on headlines on all the major networks in America, as well as internationally. 
"I was on Germany's biggest newspaper's front page as 'The baby face killer.' I got a lot of notoriety from that. That kind of put me into the spotlight and gave me the platform I have now."
At first, she received hateful messages and death threats from people all over the world. Soon after that, other hunters began to support her and encouraged her to keep doing what she loves. 
People frequently ask her how she deals with all the negativity. 
"It really didn't bother me," she said. "I never cried about it or was really worried about it. I have very thick skin. I didn't let it affect me because my biggest thing is I know who I am. I know why I do what I do. Someone that doesn't even know me that talks bad about me, I think it says more about them than me."
Even with the negativity, she's still passionate about hunting. 
"If people don't stick up for what they believe in then it's going to die out and won't be passed on to the next generation," she said. 
Hunting is a form of conservation, she said, to keep animal populations down.
"If it wasn't for hunters then no one would care to look out for them and keep the numbers in check," she said.  
Humble beginnings
It was while watching her dad hunt when she began to fall in love with the sport. She went to Africa for the first time with her dad when she was 8 years old to learn the ropes. Five years later, she was hunting on her own. 
"My dad always wanted me to be the biggest and best at everything, so he actually started me out hunting in Africa on the 'Big Five,'" she said. "My first animal ever was a White Rhino. It throws people through a loop. I kind of started backward. I started at the top and worked my way down." 
Whether she's using a rifle, bow and arrow or a crossbow, hunting is part of her everyday life. 
"If you're going after dangerous game, those are animals that can come back at you and kill you," she said. "Hunting small game animals that they have over there, it's pretty similar to hunting over here in the states."
Being competitive with her dad was always something to look forward to, she said.
"I'm an only child, so he treated me like a boy and my mom treated me like a girl," she said. "I kind of got the best of both. I always wanted to get something bigger than him or cooler than him. We made it a game almost."
When her dad passed away in January 2016, she said she lost her hunting partner.
"He's the one who got me into the outdoors," she said. "At first, that was pretty hard for me as far as hunting. I didn't really have the love that I had. Getting out back in the stand was hard. After that season, I regrouped."
She graduated from Texas Tech University in 2017 and told herself to get back out there so she could make her dad proud.
"He is the reason I'm where I'm at today," she said. "He would be excited to see I'm carrying on his legacy. Now I'm out here taking over [Starbuck Ranch] and trying to get it going. This was his dream was to have a big exotic hunting ranch." 
Her mom, Kimberly Jones, said she couldn't be more proud of her daughter.
"I'm over the moon about everything she's accomplished, especially in light of what she's had to go through," Kimberly Jones said. "Her dad would be so proud. He would just be proud of what she's accomplished caused they were so passionate about it together. Just her being able to pick it up after her dad passed was amazing."
They all enjoyed hunting as a family, she said, so it's good they are still able to do that even with him gone.
"We still get to live out what we all do as a family," she said.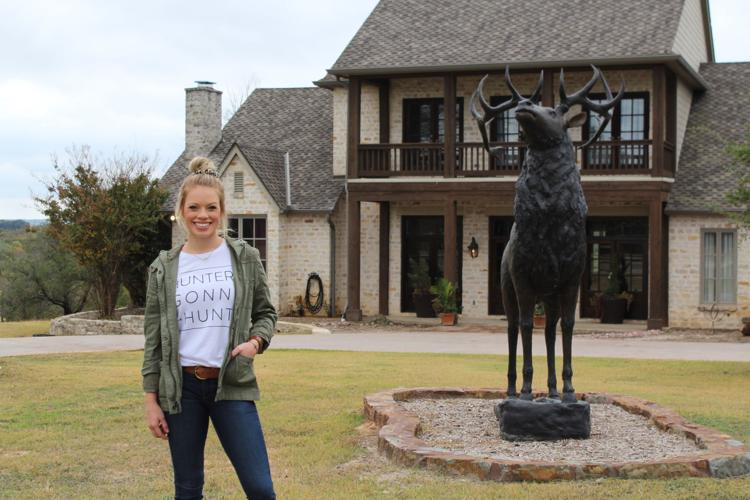 Philanthropy work
As Kendall Jones travels from place to place, she continues to publish photos and videos on her social media pages. To this day, there are still some negative comments, she said. 
"I just encourage people to not let negative people get them down," she said. "You're more than what other people say about you. Do your passion regardless of what people think because you're not going to make everybody happy. If you try to make everybody happy, then you would live a miserable life."
She now partners with outdoor companies to promote their equipment on her social media pages during her hunting travels around the United States. 
Her goal is to create a foundation or a nonprofit organization to encourage women and children to spend time outdoors. Whether it's hunting, hiking, fishing or camping, there are plenty of things to do, she said.
"I have had a bunch of different ideas, but I know I want it to be for kids," she said. "I've thought about kids without parents or those who have lost a parent. I don't want to limit it to that. Mainly to get kids into the outdoors."  
She also donates money to Christmas Angels around the holidays and for back-to-school events for children in Johnson County. 
Short film
Her short film is called, "Kendall Jones: A Relentless True Story," and features interviews of her and members of her family, as well as news clips of stories about her in 2014 when she received backlash from her photos. 
Doors open at 4:30 p.m. with the movie beginning around 5:15 p.m. Tickets are $10 for general admission, free for children 6 years old and under and $50 for VIP tickets.  
To purchase tickets, visit her Facebook page and click on the event, "Kendall Jones Hometown Preview."
You can follow her story on Facebook, Instagram, Youtube, Snapchat, Twitter and by visiting her website at thekendalljones.com.