The first axe-throwing event center in Johnson County — Lumberjax — opened in Burleson in March.
"We've had a lot of interest," co-owner Amber Rouse said. "We've had a lot of people come in and come back a second time. We've even had people come in just to check it out."
Rouse said she and her husband, Paul, had never thrown axes before decided to open Lumberjax.
"My husband got a wild hair idea that he wanted to do axe throwing," she said. "He thought it would be good to bring some more entertainment to Burleson.
"I thought he was nuts. But, we didn't want to bring the same old bowling alley and stuff like that. We wanted to make it a little bit weird, a little bit different. Throwing axes, it's just kind of a fad right now. They are popping up in locations everywhere, and we thought if it could work in Fort Wort it could work here."
Having no experience in axe throwing, Rouse said they first registered with the World Axe Throwing League.
"Then we also read all of the rules and regulations, and we visited some other facilities in the metroplex," she said.
The cost to play is $24.99 per person plus tax for 75 minutes of throwing time.
"We try to keep it to 4-5 people per target," she said. "So if a group of 10 came in, there is enough time for everyone to throw a lot.
"The 75 minutes does not include if you want to finish your beer or whatever," Rouse said. "We have an area for you up front where you can kind of hang out."
There is a also a party room for private events.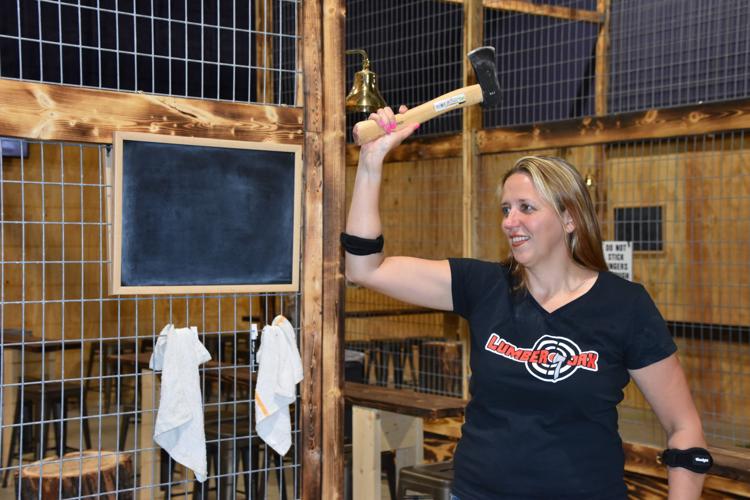 Rule No. 1 of axe throwing: No open-toed shoes. 
A list of other rules are posted on the wall, and guests who do not adhere to them could have their axe-throwing privileges revoked without a refund.
"We pride ourselves in safety," Rouse said. "Our cages are done with a gauge of metal that your axe is not going to go through. Our targets are out far enough that they are not going to bounce back at you."
Lumberjax Manager Clarissa Stuart if you don't know which technique to use, just ask an "axepert."
"They stay back here with you," she said. "They can kind of show you how to throw, or just stay back and work with you when you need it."
The first time someone makes a bullseye they get to ring the bell.
"People love ringing the bell, it's the greatest thing," Stuart said. "It gets noises in here because they are always laughing and giggling and taking a video of themselves ringing a bell, and then a picture with their bullseye."
Rouse said if you've had a bad day, you can come in and blow off some steam.
"You can come in here and throw some axes, have a cold beer," she said. "Just have some fun for an hour."
Before or after your time, Rouse said guests can feel free to take photos at the selfie station, or just kick back and relax by the fireplace.
"We were going for a log-cabiny feel," she said. "You'll notice in the spaces where we have windows you can see outdoors into nature. It's a lumberjack, log cabin feel."
Stuart said guests can bring their own food and drinks.
"You can bring your own beer or bring your own wine, just no hard liquor," she said. "You can bring any food that you'd like. You can have it delivered or bring your own cooler. Bring your own birthday cake. The main thing is to just have a good time."
Lumberjax is open to all ages.
"We're a good family activity," she said. "We've had kids here that are like 10 years old and they have a great time. And the parents can compete against their children and it's a lot of fun."
Lumberjax is open from 4-9 p.m. on Thursday, from noon to 12 a.m. Friday and Saturday, and from noon to 9 p.m. Sunday.
"By request, we can also open for a group," Rouse said.
For more information, visit lumberjax.org.