Capturing moments is something Avery Farrell of Joshua loves to do when she has a camera in her hands. One of her photos will be seen by thousands of north Texas residents at the State Fair of Texas this year. 
Avery, 10, who's a fifth-grader at Caddo Grove Elementary School, was walking around her neighborhood one day with her mom when she noticed her 4-year-old brother, Hudson, crawling around the opening of a culvert. 
Avery snapped a photo of him, and now the picture can be seen in the fair's Creative Arts building until Oct. 20. She won honorable mention in the children's "people" class division.  
"I like taking pictures of people and animals," she said."I was doing it for fun just to see if I would get anything." 
She also entered a picture of her dog and another photo of her brother playing basketball in the competition. 
Her love of photography grew when she joined her school's Paparazzi Club. About 10 students are members and take photos of events around the campus, which are then published on the school's website, Facebook page and the yearbook.
"Well, at first I just wanted to take pictures a lot," she said about joining the club. "I wanted to try something new, so I joined the Paparazzi Club."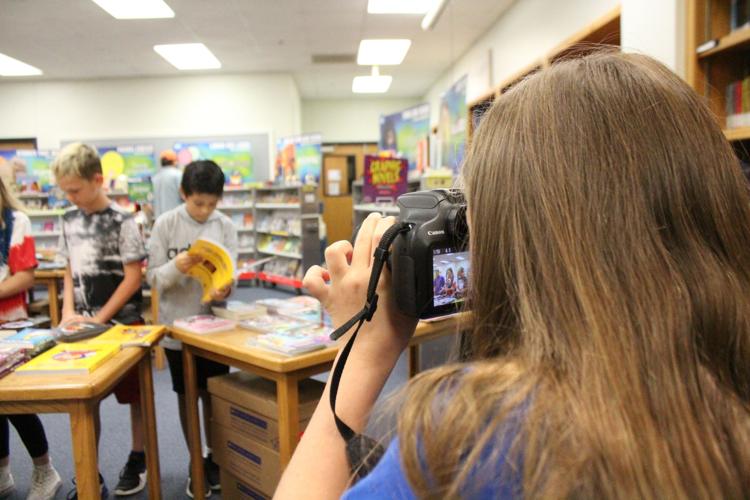 Caddo Grove Librarian Kerry Aalbers and reading lab aide Shawn Palmer sponsor the club and said they enjoy helping the students enhance their photography skills.
The club was first created five years ago by a teacher who had a photography business on the side and wanted to teach students about the craft, Palmer said.
"They take pictures around the school, and we put them in the yearbook," she said. "Last year, we actually took them to Fort Worth for photography and did a class."
The club takes field trips to many places around the Dallas-Fort Worth area including museums, the Fort Worth Stockyards and the Fort Worth Botanic Garden, she said. Their photos are also featured in a gallery at Joshua High School during their open house. 
Aalbers said they were thrilled about Avery's photo being recognized in the state fair. 
"They said there were over 2,000 entries, but that was from children all the way to adults," she said. "They said it was a record year for entries for everything across the board for the state fair. Their four categories they could enter in were people, animals, floral and any subject."
This is Avery's second year in the club and said her skills are enhancing. She was surprised when she found out her photo won honorable mention at the fair.
"I thought it was pretty cool," she said. "I did not expect it. I was surprised."
Caddo Grove Principal Julie Rohleder said she's happy for Avery.
"I love that Mrs. Aalbers and Mrs. Palmer have worked hard to grow our campus Paparazzi Club by providing great opportunities for our students to have a hands-on experience and learn," Rohleder said. "Each year these students get a lesson from a professional photographer, practice skills learned out in the field such as the stockyards or on campus and now getting to enter their work into the state fair. I am definitely a proud principal."