Barbershop harmony is a style of unaccompanied vocal music characterized by four-part chords for every melody note. 
The melody is consistently sung by the lead, with the tenor harmonizing above the melody, the bass singing the lowest harmonizing notes and the baritone completing the chord.
The Texas Tradition Chorus, an all women's four-part harmony barbershop a capella, is based in Burleson.
The award-winning group consists of about 50 women from all walks of life.
"We are a very close-knit group of women," said Lynda Gouker, co-founder and director of Texas Tradition Chorus. "Everybody says we have a lot of fun. But there is nothing more fun than singing well." 
Texas Tradition Chorus has performed the National Anthem for the Cleburne Railroaders and Texas Rangers, and has performed at area chambers of commerce meetings, Whistle Stop Christmas at Hulen Park in Cleburne and other community events.
"Our goal was to sing throughout Johnson County and we have done that for the past 12 years now," Gouker said. 
The ages of the women in the group range from 25 to 85.
"There is a 60-year difference between our youngest and our oldest," Gouker said. "For our young mothers, we do have on-site childcare. A granddaughter of one of our members will babysit right there in the next room so they don't have to pay a babysitter."
Each woman in the group has a different reason for why they love acapella barbershop music.
"For me, it's almost visceral," Gouker said. "The four parts that I hear, they will emote this feeling and it is warm and fuzzy. It doesn't take just one person; it takes four. And I always that was the beauty of it. We rely on each other for that."
Debbie Clowers, marketing chair for the group, said she enjoys the joy in the faces of people they sing for.
"Just being able to make someone smile, or cry," she said.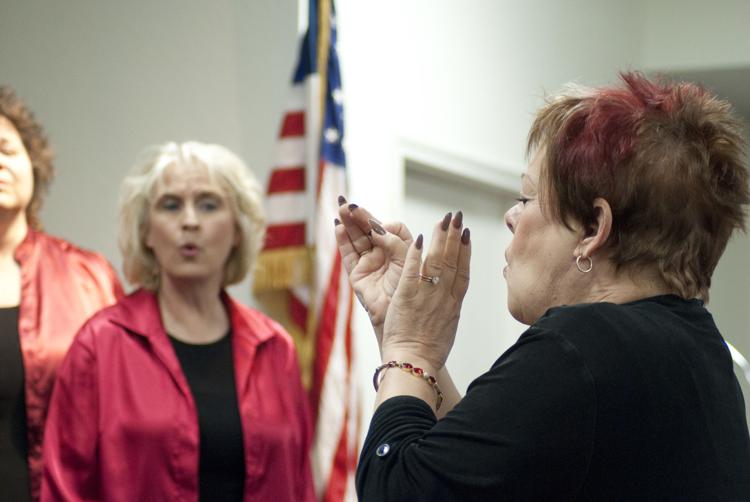 Co-founder Becca Miller said the group is more like a family.
"You come in to rehearsal and you hug everybody's neck," she said. "You get to know all these ladies you've never seen before in your life, and four, five weeks they are part of your family now."
Rehearsals are from 7-9 p.m. every Tuesday at First Baptist Church, 317 W. Ellison St. in Burleson.
"We usually have one big show once a year," Clowers said. "Christmas is busiest because all of the organizations in the area want us to come sign for their lunches and parties. It's fun and we enjoy us."
Gouker said sometimes rehearsals can be frustrating, so she encourages the members by having a little fun.
"I love this bunch so much and they work so hard," she said. "If we are going through a particular difficult song, it's like having a toddler. I want them to work really hard, but they also have to have fun, too."
Taking a can of gold spray paint, Gouker will make an award from something silly.
"One time she spray painted a little alligator toy," Miller said. "The lady that got it put a pin on it and wore it to the next rehearsal. It was funny."
In addition to sharing music with others, another great passion of theirs is learning more about the art of a cappella singing. 
"Our mission is to spread the art of barbershop harmony, and teach those that need teaching," Gouker said. "We will teach to you read music if you need." 
Barbershop music features songs with understandable lyrics and easily singable melodies whose tones clearly define a tonal center and imply major and minor chords and barbershop — dominant and secondary dominant — seventh chords that resolve primarily around the circle of fifths, while making frequent use of other resolutions.
"We sing Adele, we sing The Beatles, we sing old barbershop songs," Miller said. "We sing everything in between and our big song we are rehearsing for right now is an Elvis song."
Gouker said vocal instruction is a regular part of chorus rehearsals, and an important component of the chorus experience.
Members come from all over Johnson County, and a few are from other counties. They said they would really like to have more Cleburne women involved.
"I know there are people who can sing, and would love to sing," Miller said. "We are not an elitist. We will take anybody who loves to sing."
Gouker said it's easy to join.
"We don't have auditions, but we expect after about three visits that you can kind of do what we are asking you to do," she said. "But, it's not scary. It is very full of love."
Texas Tradition Chorus is preparing for a free concert at 6 p.m. June 6 at Granbury Square Plaza.
If you are considering attending a rehearsal and need childcare, the group asks that you call ahead of time to make sure a babysitter will be available.
The cost to join in minimal.
"It's only about $25 a year," Miller said. 
For information, visit texastraditionchorus.org.