In 1866, there was not one bridge that crossed the states longest river. 
Horses, wagons, families, children, surveyors, stage coaches and others had to find, wait for and pay for a ferry. 
If not, they found a shallow spot in the Brazos River and waded or rode their horse across. If the river was flooded along its almost 840 miles, travelers waited for days or weeks to cross.
Cattle drivers had to find shallow waters for their herds of cattle to safely traverse as they headed north along the Chisholm Trail.
Travel improved as bridges were built. By 1870, the Waco Suspension Bridge opened and served the public until 1971. The bridge is still open to pedestrians. 
In 1910, Texas officials began searching for the best location to build a bridge near the ferry crossing between Johnson County and Bosque counties; both would be taxed for the project.
Designed and built by Austin Brothers Bridges, Culverts, Road Machinery and Equipment Company, the bridge consists of three 140-foot steel spans on reinforced concrete piers and 380 feet of steel approach on concrete bents. The total cost was $20,970. Construction began in 1912 and the bridge was dedicated in 1915.
The nameplate placed on the bridge recognized Johnson County Judge J.B. Haynes and commissioners J.M. Cooper, J.B. Townes, W. Shropshire and W.E. Whitten.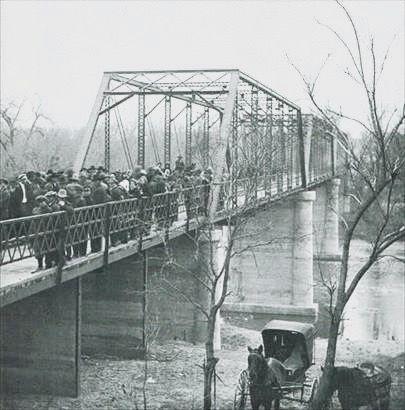 The formal dedication ceremony was complete with speeches, a meal and the official acceptance of the almost 800-foot bridge. 
In an article from the Cleburne Morning Review, Jan. 29, 1915, master of ceremonies, Judge Poindexter, said "The occasion was a happy one indeed for him since Johnson and Bosque counties were born on the very same day, back in 1854, and that for thirty years he had been talking in favor of a bridge across the Brazos."
The first to motor across the bridge were residents from both counties. 
Those from Cleburne who furnished cars to carry the crowd included Judge William Poindexter; Herbert Shelley, John W. Floore, Jr.; Arch Shaw (photographer), Dr. B. H. Turner; R.E. Gatewood, Murphy Pickle, W.H. Griffith, M.B. Page, George Hurley, H. S. Wilson, J. W. Miller, W. F. Dietrich, L. B. Coleman (the official trouble-shooter), T. P. Turner, Sheriff L. D. Cooper, J Smith, T.W. Scott & Sons, D. S. Sowell, A. J. Wilbanks, Enon Jones and Hugh Blasengame. Bosque County officials provided five cars. 
In John Watson's article about the bridge he wrote "Prominent Cleburne citizens like Judge Poindexter, H.S. Wilson, W.M. Odell, School Superintendent Emmett Brown, T.W. Scott, D.S. Sowell, Hugh Blasengame, Enos Jones, M.S. Page, Murphy Pickle, W.H. Griffith, R.E. Gatewood, Doctor B.H. Turner, J.W. Miller and Judge B. Jay Jackson are some of many who helped deal with the tax that Johnson County collected for its share of the new bridge. 
Johnson County's share came to $13,655 and Bosque County collected $7,315, bringing the total to $20,970 for the cost of construction.
That bridge was a big change for Cleburne and the entire county. Now people and merchandise could safely cross the river in any weather.
In 1974, the Bosque County Commissioners awarded a contract for the bridge to be re-floored by the Brazos Pipe and Supply Company of Whitney. 
Five hundred feet of the bridge is in Bosque County and 300 feet in Johnson County.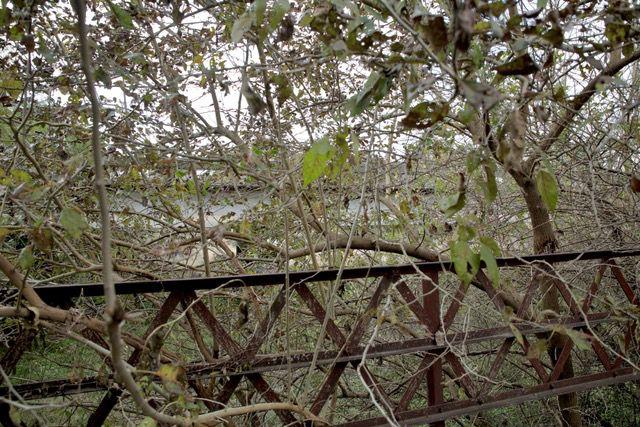 Johnson County paved a road from the bridge to Five Oaks about the same time the bridge was refloored. 
The old Brazos Point Bridge served the residents of Johnson and Bosque counties for almost 86 years. It was common for vehicles to cross over the old bridge one at a time because of the width of the bridge. 
A new, wider bridge was in order. 
At the time the new bridge was built, R. C. McFall was Johnson County Precinct 1 Commissioner. 
Construction by the Bowie Bridge Company began in 1999 and the R.C. McFall Brazos Point Bridge was dedicated in September of the following year.
You may have known McFall as Mac, R. C., or Carlyle, but no matter what you called him, this tireless man worked for the good of others.  
McFall served as Johnson County commissioner from 1993-2008. 
Johnson County Judge Roger Harmon appointed McFall to the Johnson County Emergency Services District No.1 after he lost his seat on the commissioners court in 2008. He also served on the North Texas Tollway Authority's board. He passed away in October 2018.
About four years ago Johnson County Commissioner Rick Bailey called the Bosque County Judge to help with clearing trees and brush from the old bridge, but there was not any funds available. 
"Money for taking care of the old bridge was taken out of the farm-to-market road budget when the new bridge opened," Bailey said. "A few good folks came to court recently to ask about cleaning up the bridge. Those folks are also interested in applying for a state historical marker."
Using funding set aside for special projects, his crew members and several inmates spent several days clearing the trees and brush and painted over the graffiti. 
Johnson County Judge Roger Harmon is also working with officials in Bosque County about cleaning up their end of the bridge.
Bailey said he understands the historical significance of the bridge and encourages anyone who wants to help keep the bridge maintained to call him at 817-202-4101. 
If you have never walked across the old Brazos Point Bridge on County Road 1108, take the time to experience it. Grab a camera and check out the weathered metal and the view of the Brazos. 
Imagine cattle crossing the shallow waters below or a ferry full of families and farmers headed to Cleburne for market day. 
Mollie Mims can be 
reached at cleburnetx