Many people may think to catch a big bass that you have to be on a fancy boat with hundreds of dollars worth of equipment out in the middle of a big lake. But Cleburne resident Eduardo Aguiñaga is proving that notion wrong, one video at a time.
Aguiñaga, who still considers himself a novice fisherman, is on his way to becoming sort of a local celebrity through his Lip'N Bass brand on YouTube and Instagram.
Spend just a few minutes checking out Aguiñaga's YouTube channel or Instagram page, and you'll see videos and photos of Aguiñaga landing a number of bass and other fish from the most obscure ponds, creeks and streams in and around Cleburne and the Johnson County area.
"I was probably about 7 years old when I first picked up a rod and reel," Aguiñaga said. "I'd go out with my cousins out to the Cleburne park and try to catch anything we could. But I kind of got away from it for a while."
Aguiñaga said he got the bug to start fishing again after seeing fishing-related activity on Facebook and Instagram.
"That brought me back to it like, 'I used to do that when I was little, so I said why don't I do it anymore,'" he said. "I was rusty at first but it's like riding a bike, you don't forget. It's still in the back of your mind how to do it. I've been fishing seriously for almost three years now. October will pretty much be three years I've been fishing on a consistent basis, meaning going out pretty much every day I can during spare time."
But Aguiñaga isn't just going out fishing, he's sharing nearly each and every outing with his 1,300-plus Instagram followers and 365 YouTube subscribers, with each of those numbers growing. On most outings, Aguiñaga straps on a GoPro camera either on his torso or his head to give viewers a first-person account of him reeling in a fish.
"I would see YouTubers on social media — Googan Squad, LunkersTV, Lake Fork Guy — they made their own brand and their own fishing rods and stuff like that," Aguiñaga said. "They were just YouTubers who were doing what they love and it got me thinking there's something I could do with this. It's like you're working but you're doing something you love at the same time. 
"I thought I'd give it a shot with a GoPro camera. I just started out for fun not even thinking it would go anywhere, but then I started getting messages and people liked it, I guess. I didn't think I'd be this far into it with 300-something YouTube subscribers right now. It was an eye opener. It's been pretty cool."
One of Aguiñaga's primary goals through his social media presence is to spread the enjoyment of the sport of fishing and to show you can go fishing right down the street from the local Wal-Mart. 
"Not many kids know about all the water we have in Cleburne and there's a lot of fish out here," he said. "It's fun to get out and do it instead of being cooped up in the house playing video games. That's why I love seeing my Instagram and YouTube grow.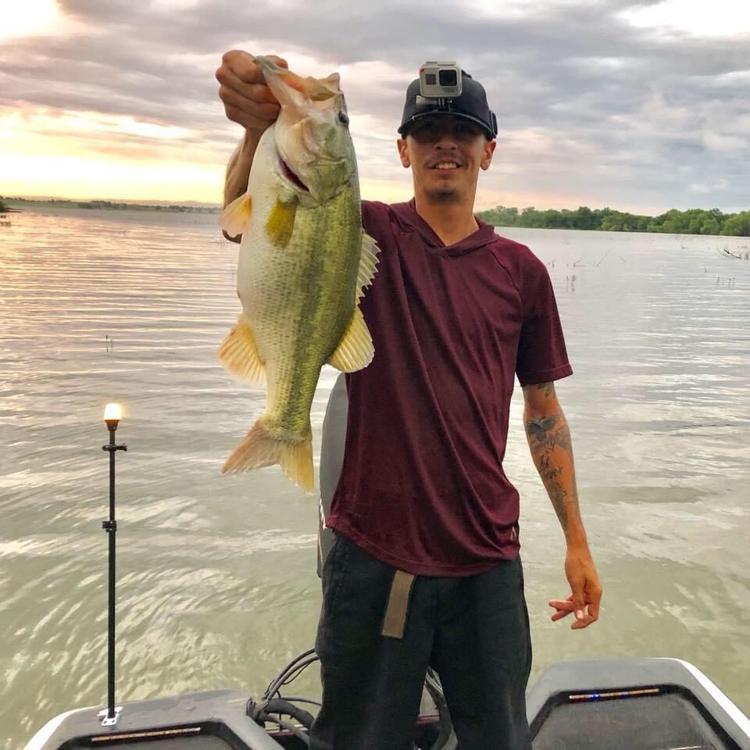 "These past couple months I've never seen the Wal-Mart fishing aisle as wiped out as it has. I've been seeing a lot more people fishing. I love seeing that out here in this community."
Aguiñaga's wife, Regina Vargas, said she's proud of Aguiñaga for how far he's come with his Lip'N Bass brand and the example he's setting for others to be more active outdoors.
"I am all for kids enjoying nature," Vargas said. "Nowadays, kids are stuck in front of a screen, and to have him show our three boys that there is so much excitement in reeling in a fish brings me so much happiness. Lately he has had a lot of younger kids catch him while fishing and I know that for him to hear somebody else say they watch him on YouTube is the best feeling ever. ... It took some time for him to become comfortable but I never stopped pushing him to be bigger and better at what he was doing. 
"This man has created a YouTube channel with some of the wildest fishing content in Johnson County. Through all the tough times to see where he is now, to say I'm proud of him is an understatement."
In one of Aguiñaga's most recent videos  — Cleburne Texas Hulen Park Creek Fishing — after he catches a bass, Aguiñaga bumps into a couple of young local anglers on their own fishing outing at Cleburne's Hulen Park. While talking with the young fishermen, he discovers they both watch all of his videos on YouTube.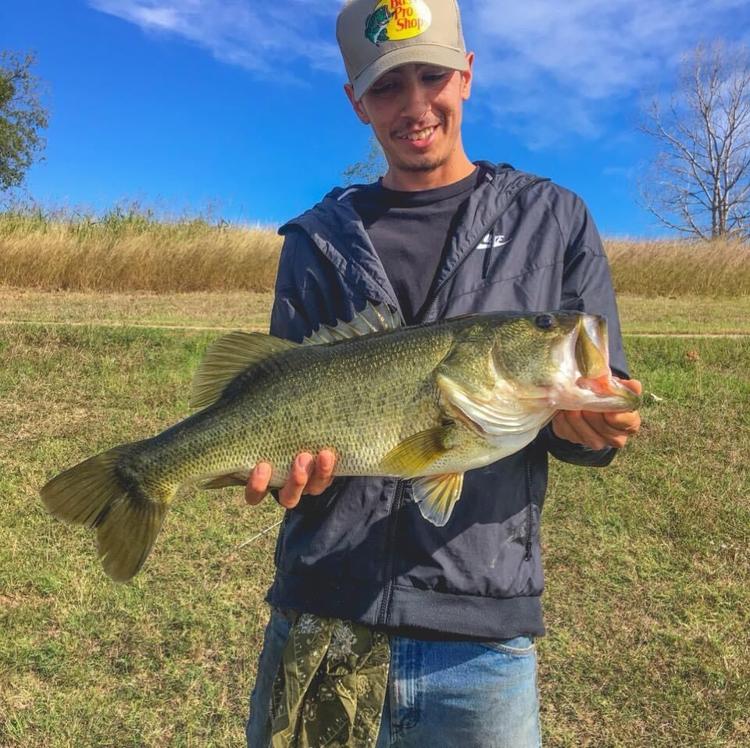 "My favorite part is hearing the younger kids watch my videos and ask me questions about how they fish local waters and what do I use and asking me for tips," Aguiñaga said. "That's a reason why I started making tip videos instead of just posting my outings. I started seeing more younger kids asking how to fish these local waters. 
"I bumped into a few kids this past week at Hulen Park fishing creeks around here. They watch my channel and say they learn off me. I think it's funny because I'm still learning myself. But it makes my day because I would much rather see kids outside enjoying this beautiful stuff."
Aguiñaga said he's grateful to have such strong local support, from the recent encounter he had with his young fans at Hulen Park even to the grocery aisle at HEB.
"I get that a lot now, like at HEB people recognize me," he said. "But that was the first time I got it on camera so it was cool to share it with people. But yeah, I'll be shopping at HEB with my wife and people will say 'Hey, you're Lip'N Bass!' and it's an eye opener to know people watch my stuff. It's pretty cool."
And, of course, Aguiñaga's biggest fans are his three kids.
"Every time he plays his own videos on YouTube, they are just amazed that their daddy is on TV," Vargas said.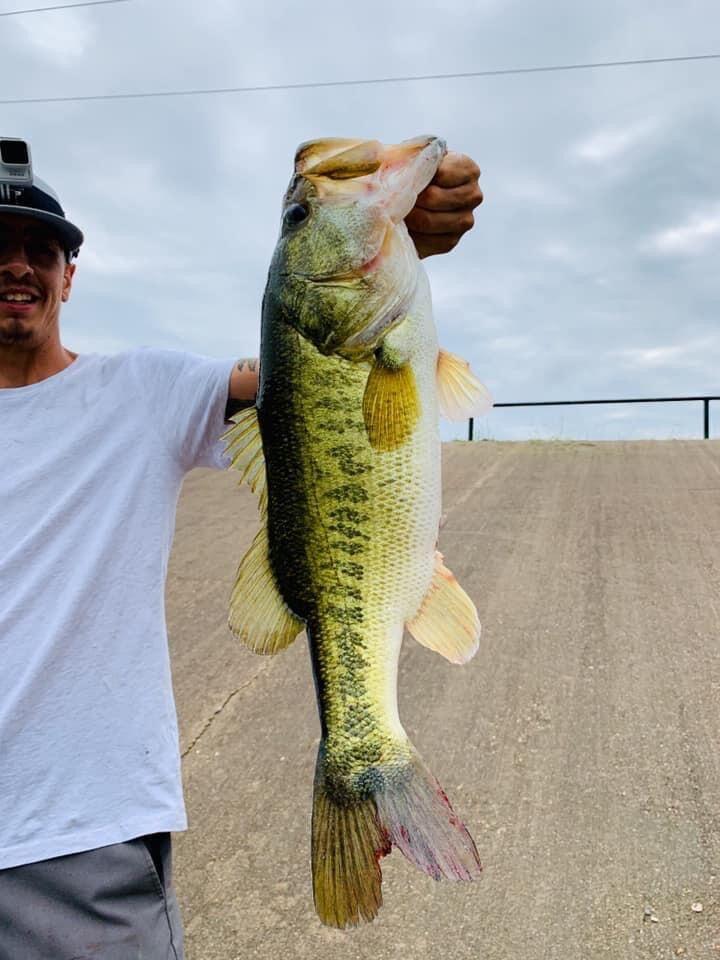 Aguiñaga, who was born in San Antonio but has lived in Cleburne nearly all of his life, said when he's not working night shifts as a welder at Landy Metal Buildings or spending time with his wife and three kids, he's almost always out trying to catch a bass — or as was the case Tuesday, an alligator gar. And the vast majority of his fishing outings are local — he rarely travels to big lakes to fish, yet.
"I started off mainly for bass and perch, small bluegills and stuff like that, and it just turned into kind of trying to catch any other fish I can because I see other people catching other types of fish. Right now, I'm actually fishing for alligator gar and I've never done it," Aguiñaga said while talking to the Times-Review on the phone earlier this week. "It's really fun. Me and my friend are out here right now. It's so hot but we're enjoying every minute of it. It's not always about catching, it's also about the experience and memories you're making."
Even though he considers himself still relatively new to the sport with plenty still to learn, his personal best bass would make some anglers of 20-plus years jealous.
"My biggest one so far is 10 pounds and 15 ounces," Aguiñaga said. "That's the fish that made me want to get a Go Pro because at the time I didn't have one. It was my most memorable catches ever. I can still replay that in my mind and it happened two years ago. It's something I wish I had on camera. I caught that at one of my cousin's property ponds in Alvarado."
Even though his brand has been growing, Aguiñaga said he doesn't have any grand future plans with his hobby.
"Honestly right now, I just like doing this for fun," he said. "I don't really have many big hopes and dreams with it. Like I said, the guys I saw when I started out for this who make their own brand of rods and reels and stuff, that would be a dream one day. But right now I'm more focused on growing the fishing community in Cleburne. 
"I've been seeing a lot more people at rivers and creeks and at the park, and it's pretty cool, especially when they say they watch me and they're just now learning how to fish. That's mainly my hope is to get more people outside and fishing.
"It's a really awesome sport. It's really healthy for you. Sometimes people need to get some fresh air and get away from their phone and everything going on. That's how I take it. I'm out here with no stress. I'm just focused on fishing and having fun. I don't go out there for the likes or views, I do it for the kids because I want to show them there's a lot of fish to be caught around here and it's fun."