Working on a movie set with fellow actors and a crew is right up the alley for Mike Scarlett of Joshua. 
Scarlett recently won best actor and third best film in a local film competition for his movie short, "Sheriff Gunn: The DNA Murders." 
Rack Focus is a Dallas-based filmmaking competition where contestants have three months to shoot a project up to 10 minutes long. The competition encourages creativity, networking and a sense of community by offering opportunities for them to work with industry professionals and providing a platform to showcase your projects in a theater. 
Scarlett was not only the film's main character, Sheriff Gunn, but also wrote and produced the film. 
The competition is an independent film festival, he said, which means anyone can submit a film that's 10 minutes or less in any genre. His film, along with several others, was viewed at The Haltom Theater in Haltom City. 
"Sheriff Gunn is a small-town sheriff in Texas," he said. "He is old school; he doesn't like modern stuff. There's a string of murders, and there's been several arrests based on DNA."
All the murders are connected to a local bar, he said, with viewers wanting more at the end of the movie. The plan is to create a film series based on the short. 
"So everybody's wondering who the killer is," he said. "They think they figure it out at the end, but that's not true. It's a crime drama, murder mystery."
It took about a month to complete the script, he said, but he was ready for the challenge. 
"I tend to like western-type films," he said. "I've been in some western films, but I wanted to do something that was more modern-day. 
"One of the reasons for doing these films is to showcase your skills. As an actor, that was one of my motivations was to write a part that could be used as a demo reel for getting more work."
When Shannon Houk of North Richland Hills read Scarlett's story, he knew right away he wanted to work on the film. 
Houk was the film's photography director and also has known Scarlett for about five years.
"It was a lot of fun," Houk said. "His story was very interesting. We got to film at a police station, which was fun to do. We filmed at a bar in Rowlett too."
Scarlett has a lot of ideas, so working with him was a joy, he said.
"It was good working with him," Houk said. "We had a very friendly work environment. Everyone who worked on that film were friends to begin with. It was real easy going. We had fun with it."
Glenn Franklin of North Richland Hills has also known Scarlett for about five years and won best supporting actor for the film and also directed it.
"We filmed over in Joshua at his house a lot," Franklin said. "He was very professional. He's a lot of fun. Everything went very smoothly. I thought he nailed his character." 
The two plan on working on more films together in the future, Franklin said.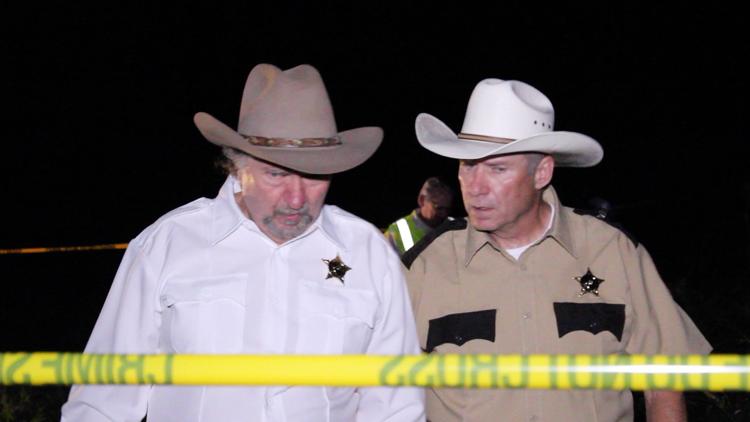 Behind the screen
Acting has always been a part of Scarlett's life. He even performed in two musicals with Cleburne's Plaza Theatre Co. six years ago. 
After participating in those performances, one of his friends told him about how their son acted in a film as a background character. 
"I thought I could do that, so I started researching it," he said. "One of my motivations is I compose music. I wanted to make connections in the film industry to meet some directors to get my music with their films. So one of my motivations for becoming an actor was to get a foot in the door in the film industry."
He first started acting as a person in the background for a couple of movies but then was able to receive his first speaking role in one of Franklin's movies. 
"It was a nice role for me," Scarlett said. "So every time he made a film, he asked me to be in it. I was in three or four more of his films."
Later, Franklin encouraged him to write his own movie scripts. 
In 2016, the movie, "An Arkansas Lynching," was born, which is about an Arkansas preacher in 1863 who was an abolitionist and was warned by Confederate Col. Joseph Shelby's men to quit preaching abolitionism. He didn't, so Shelby's men drug him from the pulpit and lynched him, he said in a previous Times-Review article.     
The movie is a fictional telling based on true events backed by documentation, he said, the preacher being his great-great-great-great-grandfather, John Chance. 
Throughout filming is how Scarlett found his love of acting.
"I like acting as much as I like writing music," he said. "When I write these films, I write my music for it too. It really gives me an opportunity to use all my skills that I've developed throughout the years. It's just a culmination of my life." 
He first fell in love with music when his kindergartner teacher encouraged him to sing a solo during music class.
"When I was in kindergarten, I had a lisp," he said. "I couldn't pronounce my words. She told my mother if I could pronounce my words I could be singing solos. So I got speech therapy. I've always loved to sing."
When he was 10 years old, his mom bought him a guitar.
"She sat me down and said, 'Now son, you'll spend many a lonely hour playing this guitar.,'" he said. "Back then, what does a 10 year old know about lonely hours? What a thing to say to a 10 year old, but she was actually right. I did play that guitar a lot." 
He also plays the banjo, piano, drums, recorder, mandolin and violin.
He credits his skills to his acting coach, Glenn Morshower, who has been seen on the small screen in TV shows like "The Resident," "Bloodline," "Scandal," "Preacher," "Supergirl" and "24" and on the big screen in movies like "Transformers: Dark of the Moon" and "Moneyball."  
Morshower teaches an acting class in Carrollton two nights a week when he's not filming in other locations. 
He has been working with Scarlett for a year now and said he has a big heart and an open mind.
"I've watched him blossom very quickly from where he was to where he is now," Morshower said. "I credit his ability based on his ability to be a good listener and a good student. I really admire that because I don't think we get anywhere without humility."
When he first started in the movie industry, he said he's always wanted to give back. Opening the acting class was his way of doing just that, he said.
"Even with Mike being one of our older students, he still has the eagerness of a young person," he said. "More students should be like him because he is really opened minded. He is a great listener and follows direction extremely well."
For now, Scarlett plans on staying in the Dallas area to build his film resume. 
"One thing that I've really enjoyed about the film community here in Dallas is it's like a big family," he said. "People are very interested in supporting each other. My only regret is I wish I had started earlier."
For more information about Scarlett, visit imdb.com. For information about Rack Focus, visit rackfocusdallas.com.