Since the beginning of public schools in Cleburne, high school students have gone to class in a variety of different buildings.
In 1882, B.J. Chambers owned the building on the site of today's Guinn Justice Center. He donated it to be used for a public school until the following year when  residents voted to give the city council control of the public schools. The city appointed a board of six trustees in 1883 to serve with Mayor W. N. Hodge; R.A. Poole, V. Gray, C. W. Mertz, E.T. Lewis W. F. Ramsey and W.C. Smith. 
They placed a newspaper advertisement in the Galveston News and hired the first superintendant, Frank N. Johnson, paying him $100 a month.
The first Monday in April 1884 was opening day for students and staff. The state only provided two months of funding with other money coming from school tuitions. 
The principal, Professor W.M. Rivers, was paid $100 a month. There were eight teachers; J.E. Long, Mrs. George, Miss Cora Hart, Miss Abbie Chase, Miss Ollie Lewellen, James D. Taylor, Mrs. G.B. Colby and Henry Smithers. Teacher's salary was $50 a month except Long, who was paid $65. 
The new red brick building trimmed in white stone was built on 6.5 acres on the site where the Baptist College was first built. B.J. Chambers donated the land to the college, and repurchased it for $7,600 after the college closed, then donated it to the city of Cleburne for a public school. Next time you drive along Chambers Street or visit the Guinn Justice Center, thank Mr. Chambers.
A fire in November 1886 destroyed the building and its school records. Classes were held in the old Varsity Theater, near the Santa Fe Railroad station. The building, owned by Chambers, had earlier served as a dance hall and a saloon until a new school could be built. 
In 1887, J.N. Long was elected as superintendent. J.D. Goldsmith continued as assistant superintendant, working with 728 students with 11 teachers.
In 1889, the citizens voted to a $40,000 bond issue for school purposes. The scholastic age was changed to include children from ages 8 to 18.  Total enrollment was 948.
J.N. Long died in 1890 and S.M.N. Mars was elected to replace him as superintendant with an annual salary of $1,125. Fifty dollars per month was the standard salary for teachers. J. D. Goldsmith was principal.
The first high school class was graduated from the Cleburne High School in 1892. With Miss Bertha Clements (Mrs. H. E. Oldfather) being the first to graduate.  
After a heated campaign for mayor in 1892, John H. Boyd was elected. The 1950 Ernest Guinn thesis states, "About that time, it was discovered that in the early organization of the public schools of Cleburne the citizens had voted to have an elective school board and in some way it had been illegally changed to the appointive system. It was then decided to have the members of the board elected by qualified voters in 1893.
The city could not lawfully vote bonds for a school building, so with the consent of the citizens, they built a new city hall that was also used as the school. Students filled the frame building by spring of 1887. City council and other government meetings were also held there.
V.M. Fulton became superintendent and R.G. Hall principal in 1896. Along with Emmett Brown, these three men faced the challenges and difficulties of leading and growing a school system.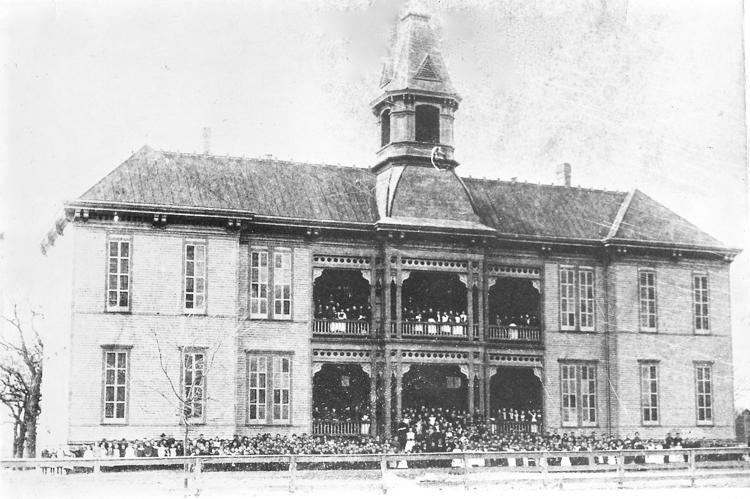 A central high school building was erected. Funding was used for its construction and equipment was obtained from the insurance on the old city hall, which formerly occupied the same site, as stated in the April 7, 1898 Cleburne Chronicle. 
Graduation in 1899 was held at the Johnson County Courthouse.
Hall became superintendent after Fulton died in 1907 and Emmett Brown was selected as the high school principal.
A light three-story gray brick building at 311 Featherston was completed in 1908 on the five acres that was known as Kelly Park, donated by Mr. Isabel Kelley, daughter of B.J. Chambers. The building was almost surrounded by corn and cotton crops and was the only structure on the block. 
There was a basement, 2 lunchrooms, one for boys and one for girls, and a kitchen where students could prepare light meals. Besides classrooms, there was a bicycle room, an auditorium and offices. The building was heated by steam from the basement boiler and there was electricity, water and a fire escape. In the school annual of 1910 it is referred to as Cleburne High School, but was also know as the Central Building and later Fulton Building. Cost of construction was $75,000.
The school board changed the name of the Central Public School to the Fulton Building, honoring the late superintendant. 
Brown became superintendant in 1913 and Dunlap became principal. W. S. Ownsby was assistant principal. This administration, which lasted more than thirty years, was known as "the three horseman." Dunlap retired in 1944 and Brown in 1946.
The first year of their reign, the high school became accredited with the Southern Association of Colleges and Secondary School. 
On Nov. 13, 1916, the wooden Central Public School Building (Fulton Building) burned. The schools were already crowded with primary children meeting in rented houses, called ward schools. Half-day classes for students were held for a while after that.
The residents of Cleburne voted to bring about changes to the charter to make it possible to vote $250,000 in bonds for school purposes. Voters passed the bond election unanimously, allowing the building of a South Ward School and a large centrally located school for older students. 
The high school was occupied on Jan. 18, 1919, with 100 students. H. D. McCoy, Cleburne contractor, was in charge of construction. Cost was about $232,000. Plans for the school were complied from a study of other schools by Emmitt Brown, who was superintendent of the school system at that time.
The three-story red brick Cleburne High School was completed on the grounds where the Guinn Justice Center is located. There was a basement and the students were members of a house, not a homeroom. There were three girls and three boys houses. Fifty-one students graduated that year.
Cleburne schools were desegregated in 1965.
A new Cleburne High School opened in 1976 at 1501 Harlin Drive during Superintendant Don Smith's watch. 
A school bond passed in 2016 to fund the renovation and additions to the Cleburne High School facilities. Construction continued during the 2018 school year as students attended class. Updates include an expanded technical center, a new baseball field and an entire addition facing Nolan River Road that includes a cafeteria, the library and new classrooms.
Mollie Mims can be reached at cleburnetxhistory@gmail.com.