From the moment she could hold a crayon, Misty Lemons of Burleson knew she wanted to create art.
"In first grade, my teacher, Mrs. Groves, had us listen to the music of 'The Nutcracker' and she told us the story," she said. "I'd never heard it before and I'd never seen the ballet."
Lemons said her teacher asked the students to draw what they thought the play would look like.
"I drew two sweeping staircases off to the sides and the sugarplum fairy in the middle," she said. "She was so impressed she asked my mother if I'd ever seen the play. She made me feel special and that really stuck with me."
Compliments from her teacher gave her a sense of accomplishment and from that moment she was hooked on art.
"I moved on to drawing with pens and pencil as a teen," Lemons said. "Even took one semester of art in high school — the free art class. We couldn't afford the next semester, which hurt, but that's just how it worked out." 
Despite financial setbacks, Lemons said she always found a way to pursue her dreams.
"As a young adult, I got into photography and did that for several years," she said. "I did some woodworking as well. I would create things on my father-in-law's scroll saw and would sell my creations at the craft mall in Joshua. I never stopped drawing, and I picked up painting in acrylic."
Lemons said she has always felt compelled to create.
"I just have to," she said. "It's so deeply a part of my being. It's the purest form of expression. Art has saved my life. It's a wonderful outlet. Whenever I'm feeling down or anxious, focusing on a piece takes me out of that space and transports me to a place full of warmth, peace, love, and happiness. 
"It truly is my happy place. I create what makes me happy and I hope it makes others happy, too. I always try to create pieces that are playful and pretty. I enjoy clean lines. I want to put more good in the world and make it a better place and I hope my art does that."
In 2008, Lemons submitted one of her designs to Hallmark for a Christmas card competition.
"I made finalist and even won some prizes," she said. "My card was sold online and in stores at the time, too. That was an amazing experience. I love Hallmark and it was a dream come true working with them."
 Earlier this year, Lemons entered into the PAAS painted Easter egg contest and made runner up. 
"I painted llamas and cacti on the eggs in a Southwestern type theme," she said. "I also decided to enter the State Fair of Texas for the first time with a llama painted rock. It was painted in a similar style as the eggs."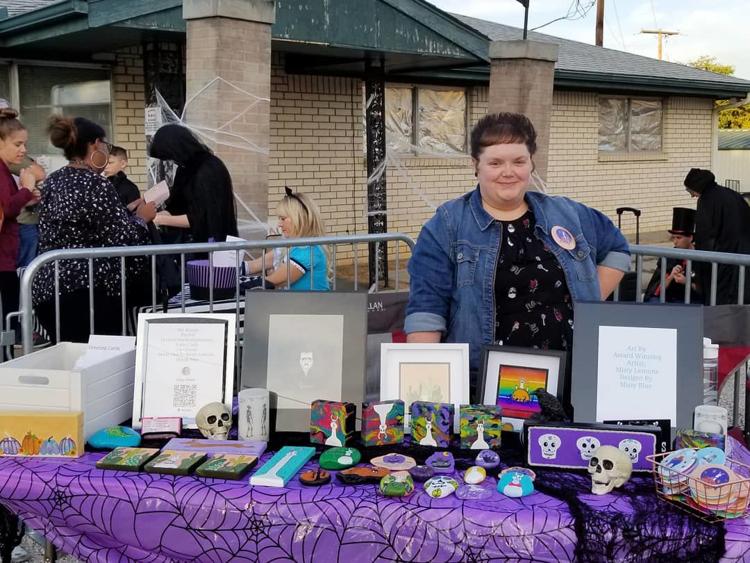 When she got an email announcing the winners, Lemons said she held her breath as she read through the list.
"I got closer to the end of the list and think 'Well, I'll try again next year' and then I see my name," she said. "I could hardly believe it. I think I floated for a second. Then I called my husband to share the news — you couldn't pull me off that cloud for a few days after I found out."
Lemons said art has changed her life for the better.
"I'm turning 40 at the end of the year," she said. "I didn't want to live in 'what if' land anymore. I'm not getting any younger and in a few years my son will be an adult and I'll be an empty nester. Now is my time. I have to put myself out there more."
Lemons has also painted a rain barrel for Mansfield's Earth Day Festival earlier this year and hand drew a digital illustration of Marvin the Martian in this year's Chuck Jones Center for Creativity's Red Dot Auction in California. 
"It was my first time entering that," she said. "It was auctioned off to help benefit art programs for senior citizens with Alzheimer's and children who have autism."
Recently, Lemons ran a booth of her artwork for the first time outside a haunted house. 
"They invited me to do that," she said. "For someone who considers themselves an introvert, these were all huge steps for me. But I did it, and have had a great time doing it, too. I've met some really cool interesting people doing this."
Putting herself out there, especially on social media, has been tough. But, in the end, Lemons said it's all been worth it.
"I hear so many times from people who say they can't even draw stick figures, but they'd love to be artists," she said. "Just do it; the more you do it, the better you'll get and if you don't, at least you had fun trying. You don't have to be Picasso or Rembrandt. Be you. Half the fun is trying and learning something new."
Lemons said the most rewarding part of creating art is knowing it somehow makes a difference for someone else.
"I put everything I have into my work," she said. "It means so much to me and when someone gets joy from it — it makes my heart sing.
"I can be my toughest critic, though. I think every artist feels that way about their work. But it helps us grow. My husband encourages me to do my best and to do better and my son is my biggest fan."
To see her work, follow Lemons on Facebook at Designs By Misty Blue - Illustrations.