Cleburne High School 2020 graduate Amy Wallen will be wearing her Future Farmers of America jacket a little longer than most, following her election to state office. 
At the 92nd Texas FFA State Convention, conducted virtually July 8-10, Wallen was named to the 12-member Texas Officer Team for 2020-21. She will be serving as state vice president of Area VIII, which includes 91 chapters, Cleburne among them. 
Wallen's FFA resume is highlighted by leadership, including the first president to serve Chisholm Trail District FFA as a junior. In her senior year, she successfully multi-tasked as the Cleburne chapter president and president of Area VIII. 
Wallen said she grew up on stories about FFA, told by her grandfather who was an agriculture science teacher in Houston, and her mother, Cathy Frasier, who ran for state office when she was Amy's age.
Her Cleburne ag teachers played a major supporting role in her journey through FFA leading up to her latest achievement. She also credits the state officers she met along the way in her four years in FFA as influencers in her decision to throw her hat in the ring as a state candidate. 
"We saw huge growth in Amy between her sophomore and junior years," Cleburne High School agriculture science teacher and FFA Advisor Lana Trahern said. "That's when the spark hit. I think being part of our program and hauling her to competitions and conventions and seeing what FFA was all about inspired a passion in her. She just took off in FFA."
Wallen said being encouraged to join a competition team by her former ag teacher, Assistant Principal Ricky Leck, was the first defining moment in her participation in FFA. 
"When I came to high school as a freshman I knew I wanted to be in ag, but I was still discovering myself as a person," Wallen said. "Then Mr. Leck asked me to be on a Junior Skills Team. It made me feel so special that he took an interest in me. My ag teachers went on to become like a second set of parents for me.
"As an area officer, I had the opportunity to establish relationships with state officers. But even before that, when I would meet a state officer it was always special because of the way they made me, and everyone else, feel like they were an important part of FFA as a contributing member. Early on, I decided I wanted to make others feel the way they made me feel.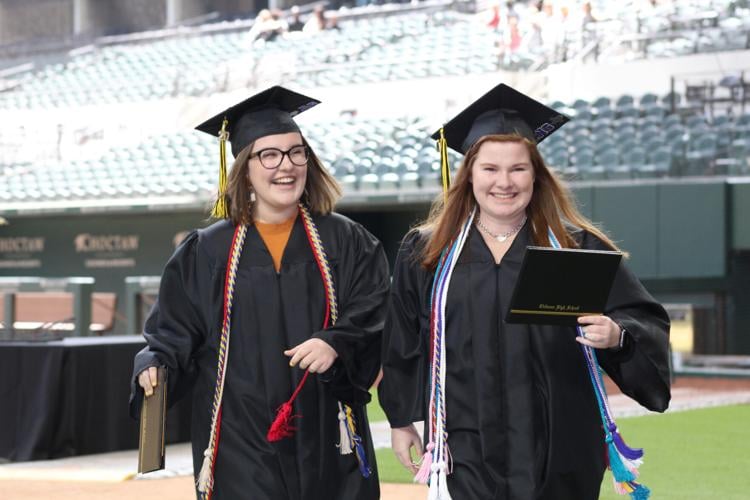 "Every time I put on that FFA jacket, I felt valuable. I was contributing to others. But when I took it off, I still felt valuable because of what FFA gave to me. I feel now, I was in the right place at the right time with the right peers. It was a big turning point for me."
Wallen's election to office is a tremendous point of pride for Trahern, and fellow ag teacher Dean Black, who until now was the last Cleburne FFA member to achieve state office. Black served as Texas FFA vice president in 2008-09. 
"Amy is our first female member to represent Cleburne FFA on such a high profile scale," Black said. "She came from a strong ag background and was an outstanding member of our program. She's worked diligently this past year in learning all aspects of FFA and its programs. She does a great job presenting her knowledge and is a true people person. She's studied and worked very hard to get to this point. When the decision was made that the convention would have to be virtual, she adapted and made the best out of this new way of doing things in running for office. She's just done a great job and I am so excited for her."
Wallen's goal to serve at the state level was one Trahern encouraged — and shared.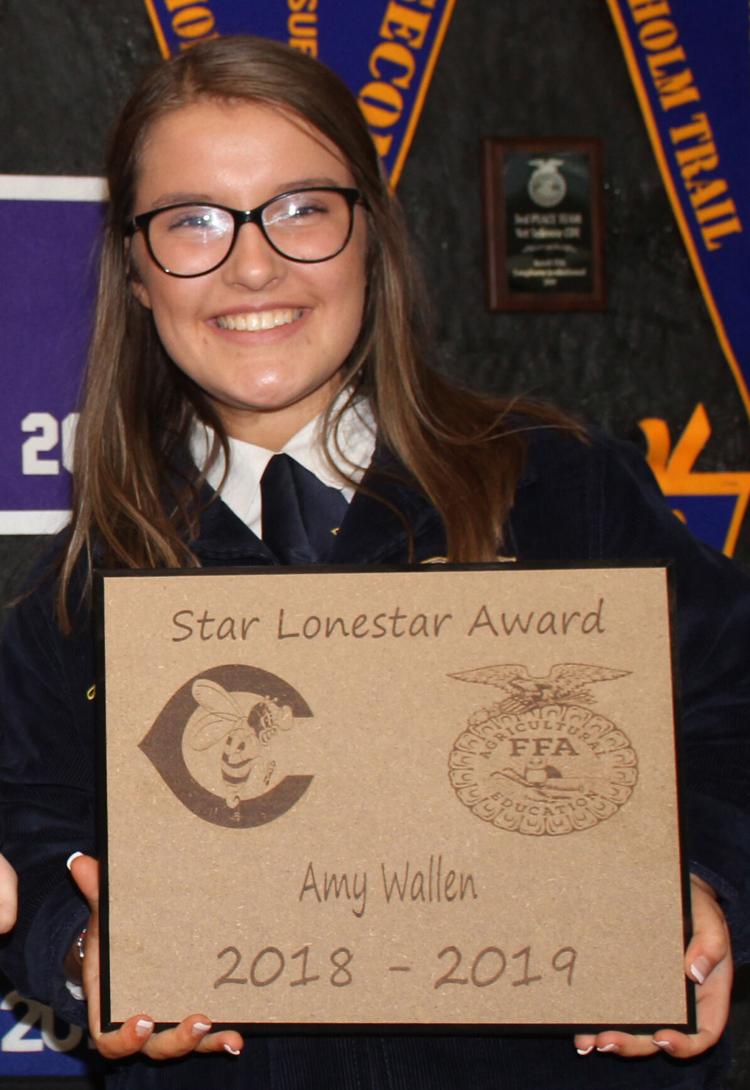 "It's always been a goal in my teaching career to work with a student who goes on to be elected to state office," Trahern said. "I ran for state when I was in FFA. We had a small watch party here at the high school to view the portion of the convention when the candidates were presented. It was pretty emotional for me to see Amy among those elected. I am so proud of her. It's been a unique experience to be a part of her journey through FFA.
"It's important to Amy to serve others. She came to us with that desire. As one with a servant's heart, she saw how she could do that in FFA. She got in that environment and loved it."
Wallen leaves behind an impressive track record, from three years as a chapter officer to competing at the district and area levels in everything from ag issues and chapter conducting to poultry evaluation. As a junior she achieved the Lonestar Degree, the highest honor Texas FFA can bestow on a high school member. It was presented to her at the 2019 state convention.
She was also recognized by Cleburne members who chose her as the 2019 recipient of the Star Lonestar Award. During the presentation, Wallen was described as one who was "always there, no matter the job, with a smile on her face and one of the greatest attitudes you will ever see."
Wallen and her twin sister, Alexis, are also well-known competitors as members of 4-H and Cleburne FFA. Their collection of showmanship, reserve champion and grand champion belt buckles reflect achievements at the Johnson County Junior Livestock Show, Fort Worth Stock Show & Rodeo and Houston Livestock Show and Rodeo. 
As she learns more about her new role in FFA, Wallen has already developed her own plan of action in carrying out those duties in the coming year as she interacts in person or virtually with the 32,390 FFA chapter members within Area VIII.
"I want to be Amy Wallen, their friend — who also happens to be a state officer — in every situation, workshop and in my visits to their schools," she said. "I want them to know they have a seat at the table and a voice. They have a chair, with their name on it and a bow. They just have to sit down."
The 18-year-old, who says growth happens when you step out of your comfort zone, also talks about beginning a new season, as a freshman at Tarleton State University. She is planning a career in education, teaching ag science. Alexis will also be at TSU, pursuing a degree in nursing.
"My senior year of high school was a very busy season for me," she said. "It was a challenge to balance everything—my studies, work, activities, family, taking care of my animals. Things can feel overwhelming, but 'more of Jesus, less of me' is my theme. This new season will be definitely busy, but I know it will be full of service, and I'm excited about that and excited to be at Tarleton. It's a really good school."
Wallen says it's still surreal that she will be continuing in FFA as a state leader. 
"I'm not sure that it's really settled in yet," she said. "At the end of the day, I'm going to get to serve with some really high caliber people. We have 139,000 members in Texas FFA. I want each of them to know they are important and valued. They are seen — and they matter."
Both Trahern and Black are hopeful Wallen's election to state office will lead to more Cleburne members following in her footsteps.
"I'm hoping in the coming years we have more students who run for state office," Trahern said. "As our kids see someone from their own chapter serving at the state level, I hope it shows them they can do this, too. They can pursue that same pathway."
"As a chapter, we are extremely proud of her," Black said. "We are looking forward to having her come back and share her experiences with our members. As a state leader, she will be sharing all the great things about the organization, giving speeches, leading workshops — there's a long list of things she will be doing as an ambassador for FFA. She'll also be serving on the board of directors and will have a huge say in shaping the Texas FFA budget."
Black said he is pleased to know a sixth "National Blue" jacket will be added to the Cleburne FFA Wall of Fame. It will be framed and placed next to the one he wore in his year as a state officer.
"Because we didn't have an end of the year banquet, Amy never hung up her jacket, which is a tradition for graduating members of FFA," Trahern said. "It just wasn't her time."