When Matt Gillin was a child he spent nearly all of his time in his dad's body shop, Wayne & Son Auto, southeast of Keene.
"I never went to a babysitter," he said. "I was raised out in that shop so I learned body work and working on cars. We'd do insurance work, like fixing wrecked cars, but on the side we worked on classic cars. So I got well versed in making repairs, painting and doing restoration work."
In college, a friend of Gillin's enrolled in a fire academy and invited him to go with him. 
"I was already volunteering at the Keene Fire Department at that time, so I decided I'd go with him and look into being a firefighter," he said. "As it worked out, about the time we graduated was the time Keene went to having fulltime firefighters there." 
Gillin was one of Keene's first full-time paid firefighters.
"I love the fire service itself," he said. "I love being able to go out and help people when I can. There's not always a lot of opportunities to do that in life, but serving as a police officer or firefighter it is your job to help people. 
"A lot of times we'd show up on somebody's worse day. I liked being able to make it not as bad for them. To be able to stabilize an incident, and sometimes maybe even completely fix their situation, that was a very good aspect of that job."
By the time he was 25 years old, Gillin had moved up the ladder to fire chief and served in that position for 11 years. 
"I was very young, but I did not do it all myself," he said. "I had very good people backing me up in areas I either couldn't deal with or didn't know what to do. So we all worked together as a team and made it through those 11 years."
He said eventually the stress of the job took a toll on his health.
"I was in a lot of stressful situations and learned that you can't live like that," he said. "I thought I could, but I got to a point where medically I couldn't stay there anymore."
So, Gillin resigned from the city and began searching for something else.
"When I was at home I wasn't sure what I was going to do next," he said. "So I decided I'd start working on cars. I went into Zimmerman's Paint & Supply in Cleburne to get some paint for a project that I was working on and they just happened to mention it to me that they were going out of business."
He said the owners at the time told him they were just ready to go in a new direction, and jokingly suggested he buy the business from them.
"I just kind of laughed and thought, 'Yea, sure.' But it kind of stuck in my head," he said. "A week or two later I went back and asked them some questions and it got down to a point where we started talking numbers, and it was numbers I could live with."
Gillin said he prayed about it and consulted with his wife, Melissa, and a few friends.
"I thought, 'Well, this is my background. It's in my roots,'" he said. "Maybe I'll open up my own body shop or bring Wayne & Son Auto back to life."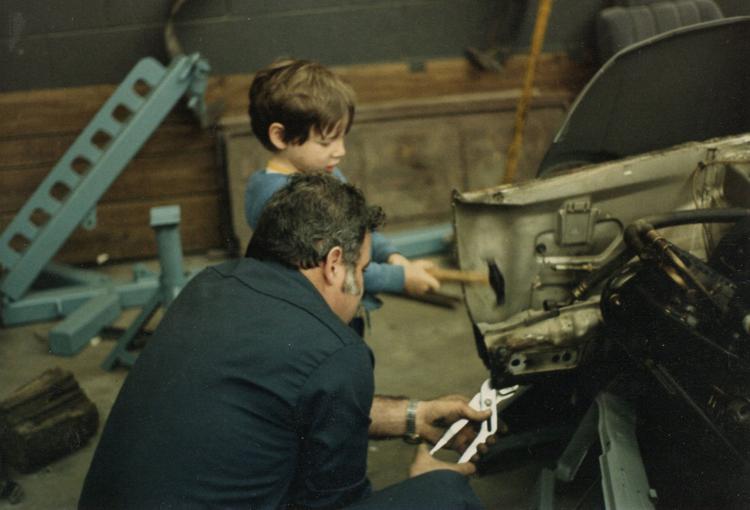 More doors seemed to be opening for Gillin. In Keene, there was a building available on Old Betsy Road where he could begin his business.
"It used to be an auto parts store years back," he said. "I needed to decide if I was going to take a risk or not. It was already an established business, it's already got its own customer base. So I thought I'd give it a shot. I wouldn't know unless I gave it a try."
In October, Gillin purchased Zimmerman's and set up shop at 316 S. Old Betsy Road.
"I began doing business here around the first of the year," he said. "It started off really slow at first, because a lot of people heard Zimmerman's closed, but didn't hear that it opened back up. But, looking at the numbers I can see they are getting a little better every month."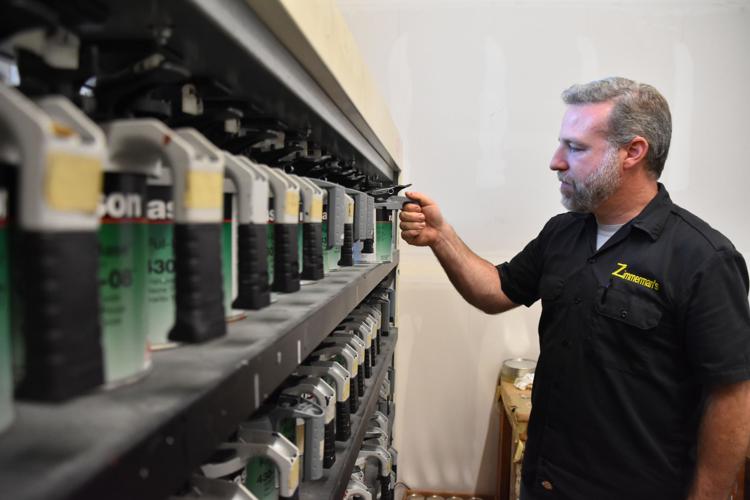 Gillin said the store offers supplies for everything someone will need to repair or restore a car.
"One thing I'm trying to focus on is getting the word out to hobbyists, the people who are working on projects in their garage or backyard," he said. "A lot of them are ordering stuff online, but the problem is there is nothing tangible for them to look at. 
"Here, you have somebody you can bounce ideas off of. You can pick up the things you are thinking about buying and look at it. And we are right around the corner so if you need some more tape or something you can come right back and get it, and not have to order it and wait or pay shipping.
"We mix the paint here on site. So the customer can bring in the code from the VIN sticker from inside the door jam. From that I pull up a formula on how to mix and it make it for them. I also have a machine to fill aerosol spray cans. Paint looks different when you brush it rather than spray it."
Not just for cars, Gillin said the paint can be used to restore other items such as bicycles or Radio Flyer wagons. 
"I have a couple different customers who are really into the old peddle cars and they fix those up," he said. "There's all kinds of stuff."
Around the shop, Gillin's 4-year-old daughter, Kaitlyn, helps out.
"I definitely couldn't have her with me at the fire department," he said. "And that's something I did regret at the time, because when I was a kid I could pick up skills and knowledge when I was working with my dad.
"Now that I have this store she can be with me. My plan is to try to teach her as much as I can about this business, and just running a business in general. It's just something that I've wanted to do for a long time."
Kaitlyn said she loves helping out at the store.
"I sweep all the dirt," she said. "And I get paint cans for daddy."
Gillin said he will call the shop from his cellphone and give Kaitlyn a pretend order.
"She'll say, 'What kind of paint would you like, sir?'" Gillin said. "And I'll tell her yellow, and she'll go to the back and come back out with a paint can and say, 'Here's your yellow paint, sir.'"