Cleburne High School thespian Takara Bailey never lost faith that the curtain would rise once again — and the show would go on.
Her trouper tenacity was right on target as Bailey just completed two-weekend performances in the new Black Box Theater at CHS, where she was featured in the role of Morticia in the Theater Arts Department's fall musical production of "The Addams Family." She also portrayed the sultry Addams Family matriarch in the Plaza Theatre Co. production which ran the month of September. 
Bailey will be back on stage for an evening of music of the season set at 7:30 p.m. Friday at The Space in Cleburne. "A Night with Takara Bailey" will highlight her vocal talents in a solo performance of Christmas songs — contemporary and sacred. Online tickets are $10 in advance, and $15 at the door. 
The CHS senior gladly welcomed the double bookings of "The Addams Family" after months of stage silence because of the COVID pandemic. She and her fellow One Act Play cast members saw the curtain unexpectedly come down on their UIL contest entry, "Jane Eyre," when schools across the state reverted to distance learning to avoid the spread of COVID. Cleburne had just competed in UIL District One Act Play and was among the schools selected to advance to bi-district. 
Bailey and 2020 Cleburne graduate Rylee Mullen were also chosen to compete at the International Thespian Festival, set to take place last June at The University of Indiana. The CHS actresses were two of only seven state qualifiers for the national competition following auditions at the Texas Thespian Festival involving more than 8,000 high school theater arts students.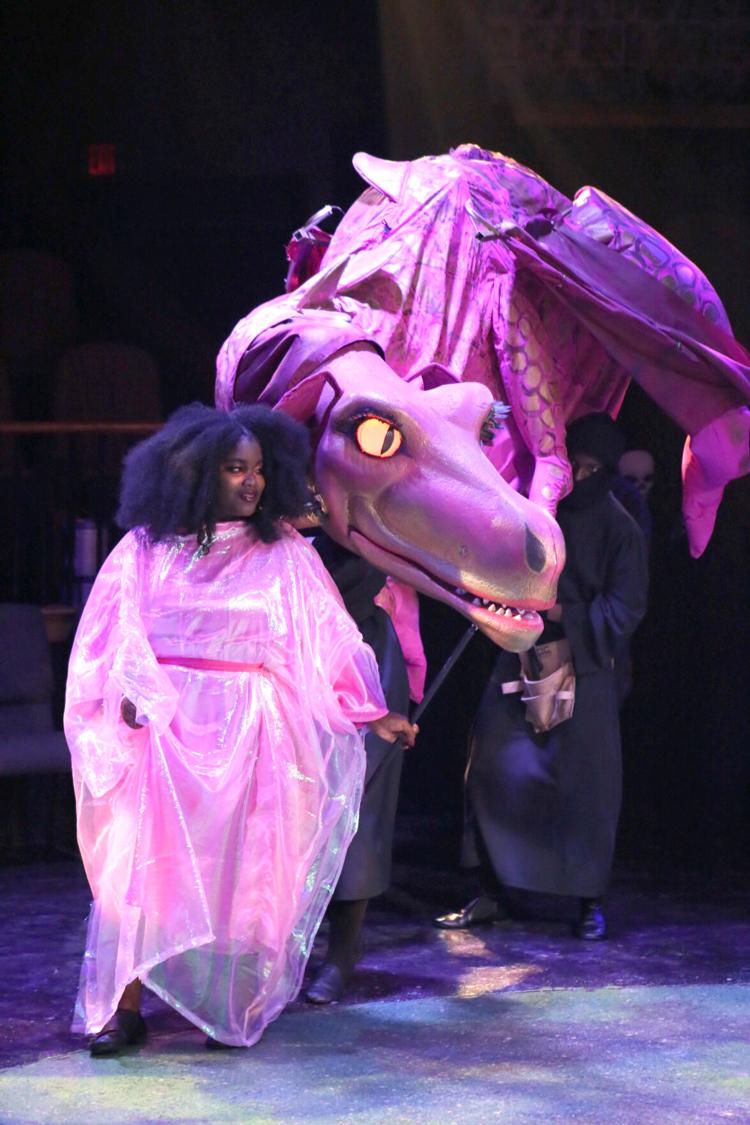 Bailey's performance of the song "I'm Here" from "The Color Purple" earned her a top billing designation from judges, placing her on the list of competitors to perform on the main stage at the International Thespian event.  
"Getting to perform that song at the Texas Thespian festival was a great opportunity," Bailey said. "I had been told to prepare some songs, but I didn't know that was part of the competition. I love 'I'm Here.' I really relate to it — it's like a power song. My music cut off in the middle of my performance before the judges, but I kept on going. I like a capella anyway, but I was afraid it would disqualify me."
That was not the case, as Bailey received rave reviews along with the news that she would be advancing to perform before national judicators. 
"When I learned the judges were impressed with my singing, it was one of the most memorable times in my life," she said. "As I was singing, it was a different than other times. I felt people saw and heard just me. It was a highlight night for me."
It was also a special moment for CHS theater arts teacher Keli Price.
"Takara, and Rylee Mullen, are two of the most talented individuals I have ever worked with," Price said. "Takara can sing anyone under the table and bring a room to tears. She actually did that at her Texas Thespian individual event. There were two directors in the room sitting by us and one had to take out a tissue from her purse. She asked me why I didn't warn her before Takara sang. She is truly a stunning vocalist."
The 2020 International Thespian Festival would go on to become a COVID casualty.
"When we were told schools were closed after Spring Break, then the UIL contest was cancelled, I had a gut feeling and it wasn't good," Bailey said. "I really wanted to go to the national contest for 'my' song and because it was Rylee's senior year. She is so talented and I know the judges would have loved her. I felt so bad about that."
Her show biz spirit — and her faith — got her through the week she was supposed to be singing her heart out in Indiana.
"I thought, well I should be on stage right about now," she said. "But I also believed God truly had something better for me. When one door shuts, another opens."
She was able to experience some stage time as a participant in the Plaza Theatre Co. summer teen camp. Plaza has become a second performance venue for Bailey and one she dearly loves.
"I started performing with Plaza about a year ago," she said. "I love it. I have made so many friends there. They are like family to me now. I had always wanted to act and when I was in third grade I took a class at Plaza. We got to be in the play, 'You're a Good Man, Charlie Brown.' I remember acting sad when it was Charlie Brown's last baseball game."
Bailey's next stage experience was as a sixth grader at Wheat Middle School as a participant in One Act Play. The school's production was chosen as UIL district champion and Bailey received All-Star Cast honorable mention. 
"From her first audition, I knew Takara had a presence about her," Wheat Theater Arts teacher Glynn Mitchell said. "Her talent is beyond question. What really struck me about her was her poise on stage and her innate ability to take any character and make it her own."
"In her first One Act Play production as a sixth grader, her character was a male," he said. "She took the part with no hesitation and created an interesting, lovable character that was so relatable. I was so fortunate to have Takara in two productions here at Wheat and also in my Theater Arts class. My life is better for having Takara visit it for a while."
Bailey's acting opportunities took a giant step forward in the eighth grade, when she was sought out to take on a major role in the CHS musical production of "Hairspray." She had also become known for her vocal talents as a member of the Wheat choir. She credits the "amazing" music teachers from the time she was at Marti Elementary for the impact they have had in recognizing and refining her music skills. 
"I was asked to audition for the part of Motormouth Maybelle, who is a rhythm and blues record producer in the play," Bailey said. "I was really scared — it was a bunch of big kids and me, a little middle schooler, at the audition. A few days later I was Motormouth, which is still one of my favorite parts."
"My teachers from Wheat came to one of the performances," she said. "They all brought signs with special messages to me. Wheat is so supportive of their students."
Bailey was also cast in a theater production in Cedar Hill that year, which she feels challenged and grew her stage skills. She has also performed in theater venues in Dallas, Arlington and Arkansas. 
Since her freshman year at CHS, Bailey has been consistent in her pursuit of acting, from the head cheerleader in "High School Musical" and a cast member in "Beauty and the Beast" to a challenging role in "Jane Eyre." Reflecting her ability to take on any character and make it her own, Bailey portrayed the insane wife of Mr. Rochester. 
"To be honest, the part spoke to me," she said. "My character was scared. She didn't know anyone, had no family and that alienated her from everyone else. Mental illness is a real thing and I didn't want to show any disrespect. In the end, it worked out well."
"But it was different playing a person with no lines—only screams, shrieks and an eerie, frightening laugh," she said. "I went home and watched witch movies to develop the laughter I knew I needed for the part. I would go to my room and try out different laughs. My mom eventually came in and said 'enough.' I ultimately used the laugh from the wicked witch in 'The Wiz.'"
With the stage lights now back on and her first senior year production behind her, Bailey is ready for more, while being grateful for every time the curtain went up. An audition for Cleburne's 2021 UIL One Act Play production of "Peter Pan" is among her upcoming performance opportunities.
"All the cancellations and the disappointments made me think maybe I needed to slow my roll, pray and ask for patience," she said. "No performance is worth the risk of a cast or crew member getting sick. Sometimes the show must not go on. But I am excited about any and every opportunity to perform."
Her goal for this final year in high school is to be happy. She's off to a good start with two lead roles — and being honored as a nominee for CHS Homecoming Queen.
"The world is hurting right now, and I am a bleeding heart," she said. "I want to be happy and I want the world to be happy."
She also wants to keep acting — and singing. As a junior she was named to the Texas Music Educators Association All-District and All-Region Choirs. Her father also sings and she says there's a lot of Gospel music to be heard at her house.
"I grew up not knowing there was good or bad singing — just singing," Bailey said. "In sixth grade I discovered I had a different kind of voice — and people told me it was good. I'm a soprano with a strong voice and can get high with it, but I'm also very comfortable being an alto."
Bailey is also looking forward to the acting opportunities to come. Her resume includes the Dragon and Tweedledee in "Shrek" the musical and the mother of Japheth in the musical "Children of Eden," another of her favorite roles.
"I feel I'm very versatile and have a strong range," she said. "I can play guys, grandmas — a variety of characters beyond a girl my age. What's great about theater is no matter the role in which you are cast, you are family and will receive unconditional love."
"My dream role is Elsa from 'Frozen.' I'm not the stereotypical type for that, but maybe someday I'll have the chance," she said. "I love that she is a big sister. I have older siblings, but I'm like the momma to them. Elsa feels different, and knowing she's different makes her feel ashamed. Then, at the end, she recognizes and embraces who she is—and that she is powerful. I love that."
When she's not on stage or in rehearsals, Bailey enjoys painting.
"I am inspired and influenced by the art of Africa," she said. "It keeps me in touch with my ancestors and painting gives me strength, when I want to give up or feel discouraged. I like to paint African women."
Bailey is a member of Beta Club, AVID, Exchangettes and is serving on the CISD Superintendent's Student Advisory Committee for the second time, following her first term as a representative of Wheat Middle School. 
She is also engaged in determining her next destination — college — with plans to double major in musical theater and psychology. She is in the midst of theater performance auditions, with Texas State University and Texas Tech at the top of her list.
"I'm all about theater, theater, theater," she said. "But I'd also like to be a therapist. People need people to talk to. That's why I want to study psychology, to help young black men and women. Mental health is a foundation for a person's physical health. It's important for people to be understood — and feel understood."
The 17-year-old has added movie actress to her resume, following the opportunity to be an extra in a Fred Hammond film soon to be released.
"I spent six hours on set, and if you look really close, you can catch a glimpse of me in a choir scene," she said. "So out of those six hours, 45 seconds is in the film. But it was a wonderful opportunity and experience. Now I'm interested in studying film along with musical theater."
Bailey is also keeping the faith that the curtain will continue to rise — for her and her fellow CHS thespians — with more performances to come.
"I felt really good about what we did in The Addams Family," she said. "I was happy on that last night, but also sad, knowing it was coming to an end. As a senior, it was my last high school fall production. I loved working with the other seniors in the cast, and also the younger students. They are my babies."
She has also gone on record that the role of Morticia is now her favorite character.