A Cleburne man who served as a greeter at the Cleburne Wal-Mart for nearly 15 years passed away Wednesday.
Dan Whitaker, 92, made sure his customers always has a pleasant and memorable experience, going above and beyond the standard "Hello" and "Goodbye" when they enter and leave the store.
"The smiles and the comments are always pleasing to me," Whitaker said in 2016. "Customers say that I help to make the shopping experience pleasant."
Whitaker first began working at Wal-Mart in 2005 as a temporary job around Christmastime. 
"I'd always said that being a door greeter at Wal-Mart is something they give grandma to do to keep her off the streets," he said. "But, it is honorable work and I thoroughly enjoy it."
When the temporary job was over, Whitaker was transferred to working as a cashier.
"As a teenager, I had worked all over the Piggly Wiggly story and enjoyed checking customers out," he said. "So I looked forward to this job assignment at Wal-Mart and the first universal price code I learned was 4011, or bananas. I came to know that this is the first number most cashiers memorize. I was on schedule."
William Roznowski worked with Whitaker.
"He always knew how to put a smile on my face and make work enjoyable," he said. "He will be deeply missed."
Customers shared their favorite memories of Whitaker on the Times-Review Facebook page.
"If we could all treat others they way Mr. Dan treated everyone in our community the world would be a better place," Trisha Anderson Cavett said. " I bet Jesus was waiting with open arms for this fine man!"
Judy Cox said she didn't know Whitaker outside of Wal-Mart, but feels like she has lost a dear family member.
"Dan always took the time to smile and make you feel special," she said. "He had a genuine love for people and it showed on his face. I'm kind of jealous of his family and close friends, it must have been awesome having him in their lives 24/7."
Mary Balliviero Rankin Guinn said the lights in Wal-Mart were much brighter when Whitaker was on duty. 
"He was a joyful encounter that made a Wal-Mart shopping day happier with his smile, singing and funny jokes," she said. "Prayers for his family. May he rest in peace."
Theresa Whisenhunt Brown said she remembers some of the songs Whitaker used to sing.
"'Happy Wednesday to you, Happy Wednesday to youuuuuu Happy Wednesday to you!!!'" she said. "What a wonderful soul he was. I am so honored I been blessed to have crossed paths with him each time at Walmart. Thank you for the memories Mr. Dan. He was promoted to Heavens Gates door greeter."
Jackie Greenfield Applegate said she always loved Whitaker's jokes and smile.
"I loved it when he would hand me my receipt and say, 'Here's your souvenir!'" she said. "I always made a point to go speak to him and listen to his jokes! He always made my day!"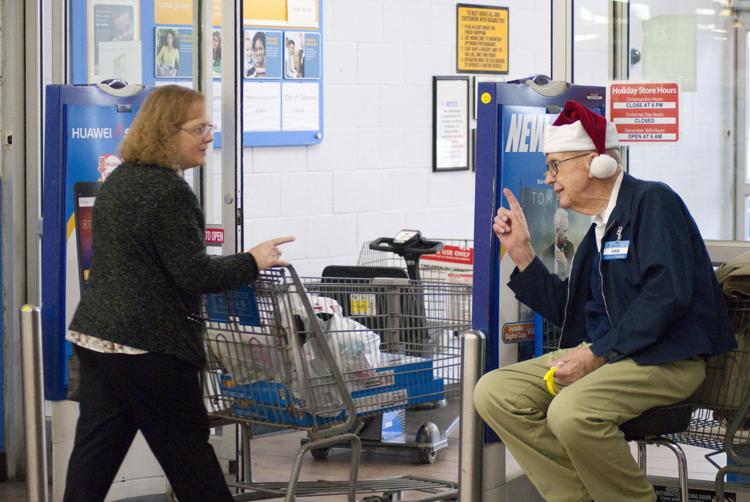 Tara Monrose remembers how Whitaker always had such a pleasant attitude. 
"He was always in a good mood and had a smile on his face," she said. "I remember when they used to give out smiley face stickers he'd give my kids one for each hand."
Jeanie Perry said her family would purposely go through Whitaker's check out line to hear his songs and jokes. 
"We always got our  'souvenir' from our trip to Wal-Mart that day and a 'thank you for shopping with us today,'" she said.
Faydra Stilwell said Whitaker's kindness helped get her through a rough time.
"A couple of years ago after my husband had been diagnosed with advanced lewy body dementia, I was leaving Wal-Mart after a quick shopping trip," she said. "Totally exhausted and not having a clue what was in store for us, Mr Dan made eye contact and with his gentle smile said "You're doing a great job.'" He didn't know how much I needed to hear those words, but God did. Thanks for being his messenger."
Amy Bullard Wininger said even on the days you could tell he didn't feel so good or was tired, he always said or sang something to make customers smile. 
"Last year when it was cold, he admired my scarf so much that I gave it to him and I'll never forget the look on his face when I did," she said. "He said we aren't supposed to accept gifts. So I said, don't think of it as a gift because it's yours and I'm simply returning it to you."
Whitaker in 2016 said he enjoyed greeting customers at Wal-Mart and planned to stay as long as he could.
"I enjoy the exchange with people of all ages, I enjoy the interaction with other employees," he said. "I enjoy seeing a wide selection of the people of Cleburne and our area."
Whitaker was a high school band director for 15 years and served in the U.S. Air Force for four years, playing the French horn in Air Force bands. 
He later served for 40 years as minister of education between nine churches and served as a deacon at the Burleson Church of Christ.
"Dan and Butch encouraged, inspired and walked with many in their ministries," David Giddings of Fort Worth said. "Dan was a long time colleague and friend who will be greatly missed."
He and his wife, Lois "Butch" Whitaker, have one daughter, Debbie.
"So sad to hear about this loss especially for Mrs. Whitaker," said Amber Smith, who attends BCOC. "Dan and Butch have been the best example to our family over the years. They are precious people who are forever young at heart. 
"Dan always had a smile on his face and a positive attitude that was contagious. What a special servant of God! He lived his life well and is now rejoicing in heaven."
Wal-Mart employees set up a table with photos of Whitaker, where customers can write their condolences to his family.
Wal-Mart employee, Kenny Rhodes, said the table has had a steady stream of visitors.
"He used to say, 'You know what the best part of my day is? When I see you,'" Rhodes said. "He would say that to everybody. Everybody young and old have come to the table to express their condolences and wrote his family some words of encouragement. He will be missed. Everybody loved him."
Services for Whitaker begin at 11 a.m. Tuesday at the Burleson Church of Christ.