While her reign as Miss Burleson's Outstanding Teen may be different than those before her, Haidyn Hill of Burleson is serving her role well as she provides needed supplies for first responders.
Haidyn, a sophomore at Burleson Centennial High School, was crowned Miss Burleson's Outstanding Teen in mid-March, just as the coronavirus was getting worse in Texas.  
"This is not how I expected this year to go, for sure," Haidyn said. "I feel like I am missing out on being able to serve the community as much as I would like. I am hoping that things get better soon so I can do more."
Typically the Miss Texas Spring Seminar experience is held in Richardson for all contestants, pageant directors and families. The seminar is hosted by Miss Texas Organization's leadership, Miss Texas and Miss Texas' Outstanding Teen.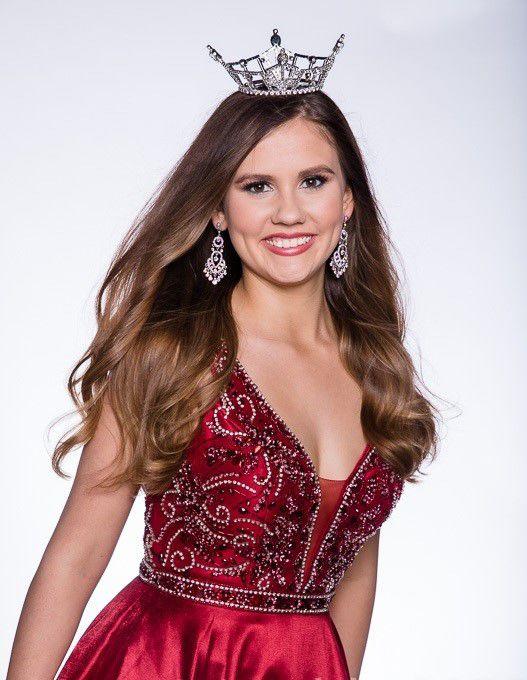 "Determined not to let the pandemic stop the seminar from taking place, the Miss Texas Organization held the seminar virtually," Haidyn said. "We had almost 200 people who joined in a Zoom meeting online for two days! I also feel like this was a time when my social impact project was very much needed and useful due to the pandemic. I will always continue to advocate for first responders and medical workers, but the pandemic made this even more important to me."
Haidyn's social impact project is "Helping Those Who Help Others." She comes from a family of first responders and wanted to support other first responders and medical workers during the pandemic.
Some of those efforts have included delivering needed supplies and lunches to fire and police departments, as well as mask extenders/ear protectors to several hospitals and doctor's offices.
"The Miss America Organization strongly promotes social impact in our communities," Haidyn said. "My parents are in law enforcement. My aunts and uncles are firefighters and paramedics. I also want to be a nurse someday. When I saw how the pandemic was affecting first responders and medical workers, I knew that I had to do something. I could not just sit at home and do everything virtually online. 
"I immediately started collecting any items that I thought could help — Clorox, hand sanitizer, N95 masks, gloves and such. Smaller fire departments are really struggling to find these items. I donated these items along with meals to fire departments, including Burleson and Briaroaks."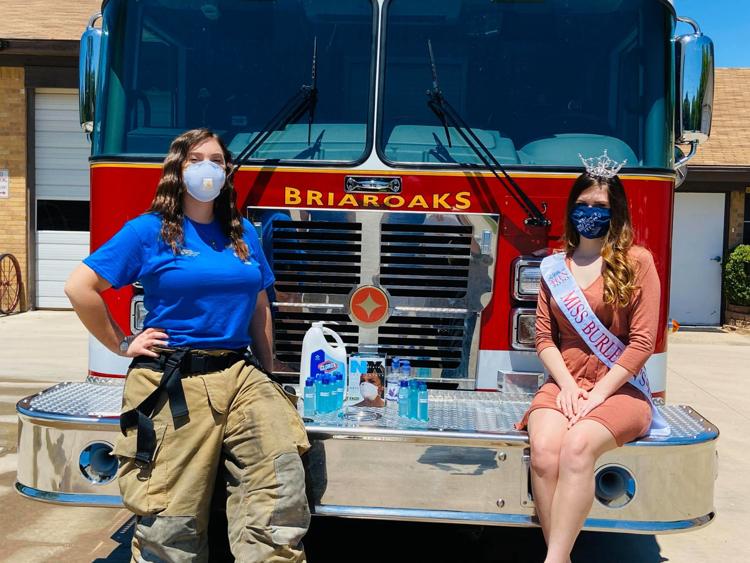 Haidyn also acquired 400 ear protectors for medical personnel who are required to wear masks. She donated them to the emergency department at Texas Health Huguley Hospital, TotalCare Clinic in Crowley and Texas Health Harris Methodist Hospital Fort Worth.
She also made hand sanitizer, which she donated to Burleson Police Department.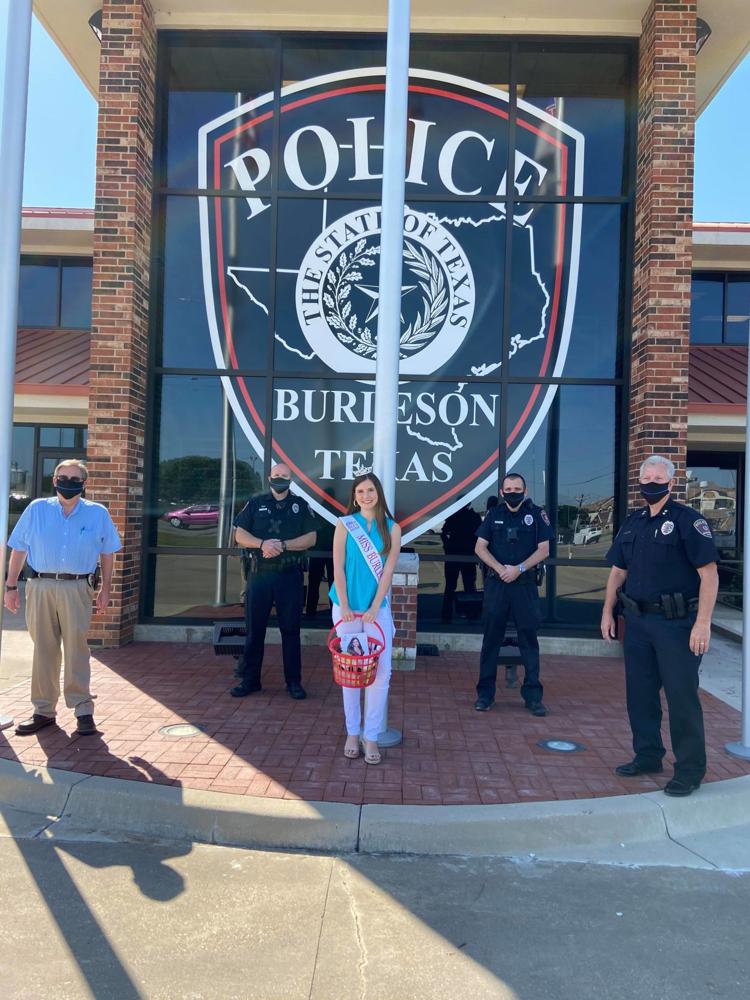 "I know that I am biased, but I am not surprised by the things that Haidyn has accomplished," Haidyn's mother, Holly Hill, said. "She is a good student, athlete, dancer and has a very kind heart."
For the Miss Burleson competition, Haidyn performed a lyrical dance to "You Say" by Lauren Daigle.
"Burleson does not have a pageant but my director, Amanda Jolley, is also the executive director of the Miss Joshua Organization," Haidyn said. "It has been an honor to represent my hometown and still be a part of a great organization like the Miss Joshua Organization. At the Miss Joshua's Outstanding Teen pageant and all of the pageants that I competed in this year, I competed in several phases of competition. They consisted of physical fitness, evening gown and on-stage question, interview and talent."
Jolley said that working with Haidyn has been a dream.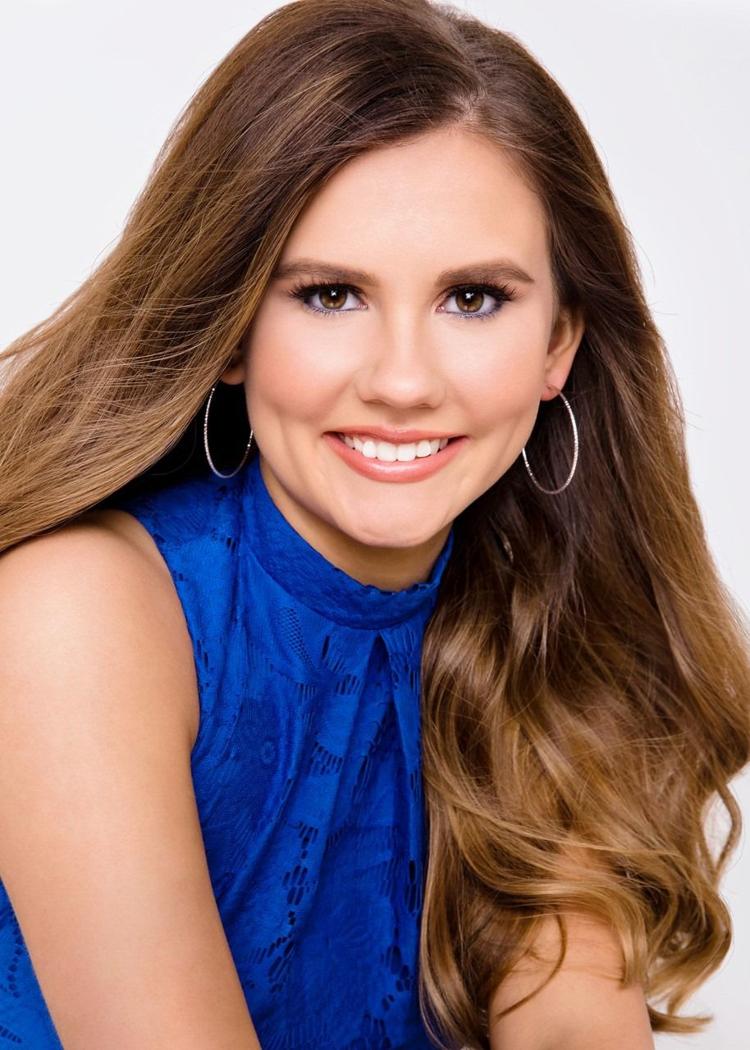 "Miss Burleson's Outstanding Teen Haidyn is a part of the Miss Joshua Organization along with her sister queens, Miss Joshua Amber McKenzie and Miss Joshua's Outstanding Teen Alexxia Carter," Jolley said. "She will represent Burleson as she competes with 33 other titleholders across the state of Texas for the title of Miss Texas' Outstanding Teen.
"I feel so honored and fortunate to know Haidyn and to be her director. She is truly a light and a joy to be around! Not only is she very talented and intelligent, she is also kind, generous and compassionate. She is someone who truly wants to make a difference and help people. 
"I'm so proud of her and of all the time and effort she has put forth to 'help those who help others.' It's a beautiful thing to see the positive impact she's had in the community. We all love and adore Haidyn and can't wait to see all the great things she'll accomplish next!"
Because of the pandemic, Haidyn will be allowed to keep her title for another year. The Miss Texas Scholarship Organization chose to delay the state competition until June 2021.
"Miss Texas is a treasured tradition that is honored to have the opportunity to provide young women with educational scholarships and professional development experiences. We are optimistic that the challenges of the times will inspire the organization to evolve into its best vision in the next decade," said Jan Mitchell, executive director of Miss Texas Scholarship Organization."
When she competes for Miss Texas' Outstanding Teen next year, she will be doing a Polynesian dance.
"I am really looking forward to talent," Haidyn said. "I have been dancing most of my life. I take classes at Frances Lea Dance Studio in Crowley and I am in dance classes at my high school as well. I typically do a lyrical dance for talent but wanted to do something different this time."
In addition to dance, Haidyn is a talented athlete.
"Haidyn is not your typical pageant girl," Holly Hill said. "She has been very involved in athletics since she was 5 years old. She played volleyball and soccer. She is a volunteer volleyball coach for a youth league for little girls. She did a few pageants when she was younger but then we turned our attention to sports. Last fall she decided that she wanted to venture back into pageants."
Haidyn was also a German exchange student for the past year. She and her family are hosting a student from the Netherlands for the upcoming school year.
"We have already spoken to her several times and she will be a great fit for my family," Haidyn said.
Adding to her world travels, the Hills have visited Ireland and England. Haidyn was also chosen to be a student ambassador for Sister Cities International on a trip to Japan this year but it was canceled because of COVID-19.
Perhaps Haidyn comes by her pageantry talents naturally. Her mother competed in the first-ever Miss Teen Texas Pageant and became Miss Burleson twice. She was also a top 10 finalist for Miss Texas. Haidyn was a Miss Texas Lone Star Princess for several years.
"She loves the community service aspect of the Miss Texas' Outstanding Teen program," Hill said. "Even before pageants, she has loved volunteering. In the last three years, she has accumulated over 150 hours of community service."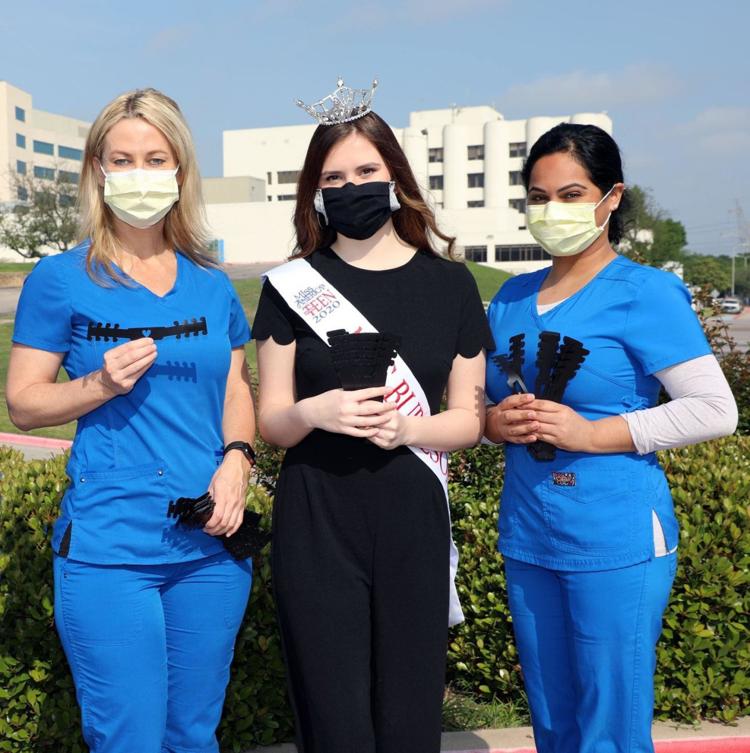 Haidyn received the Burleson High School award for the Most Logged Community Service Hours.
"My year has been 'different' so far but I have loved every minute of it," Haidyn said. "I am certain that my favorite part is yet to come, though!"
The Miss Texas Organization promotes a mentorship program called Lone Star Princesses for girls age 5 to 12. The girls are mentored by contestants and get to attend the Miss Texas and Miss Texas Outstanding Teen pageants. They will perform in the production numbers and onstage with their titleholder during the evening gown portion of competition. 
"I am so excited that I have two of the cutest Lone Star Princesses," Haidyn said. "I cannot wait to be able to spend time with them and make them feel like real princesses! I am already planning a swimming party later this summer for them. I do not want to put them at risk and want to be cautious but I am really looking forward to hanging out with them. I love children so spending time with them will be my favorite part of the year."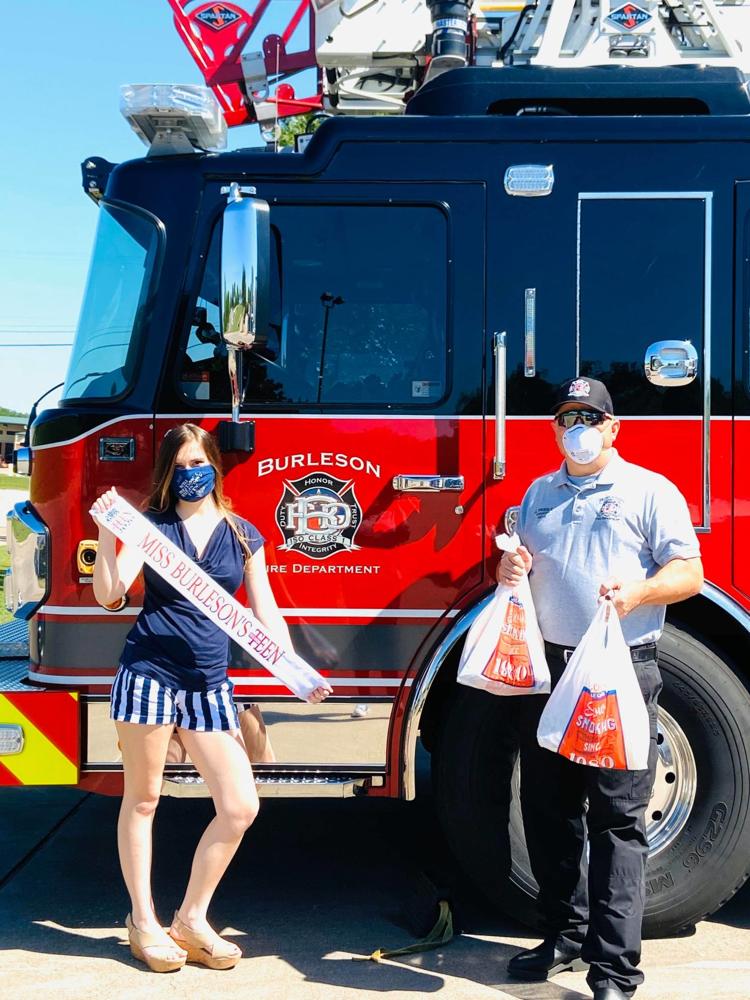 Haidyn's protégés are Addyson Tebay of Burleson and Kinsley Galbreath of Alvarado.
Haidyn said she couldn't have done everything she's done with help.
"My friends and family have been a huge support," she said. "They are all following my journey on social media and given any help or financial support that they could. My heart is hurting so badly for the businesses in Johnson County. I just did not feel that it was appropriate to ask for financial support from businesses."
Because of the economic impact of COVID-19 in Burleson, Haidyn has limited her fundraisers to Facebook.
"I had to be creative," she said. "Typically, I would have had asked local businesses for support, held a garage sale or a restaurant fundraiser. That just could not happen.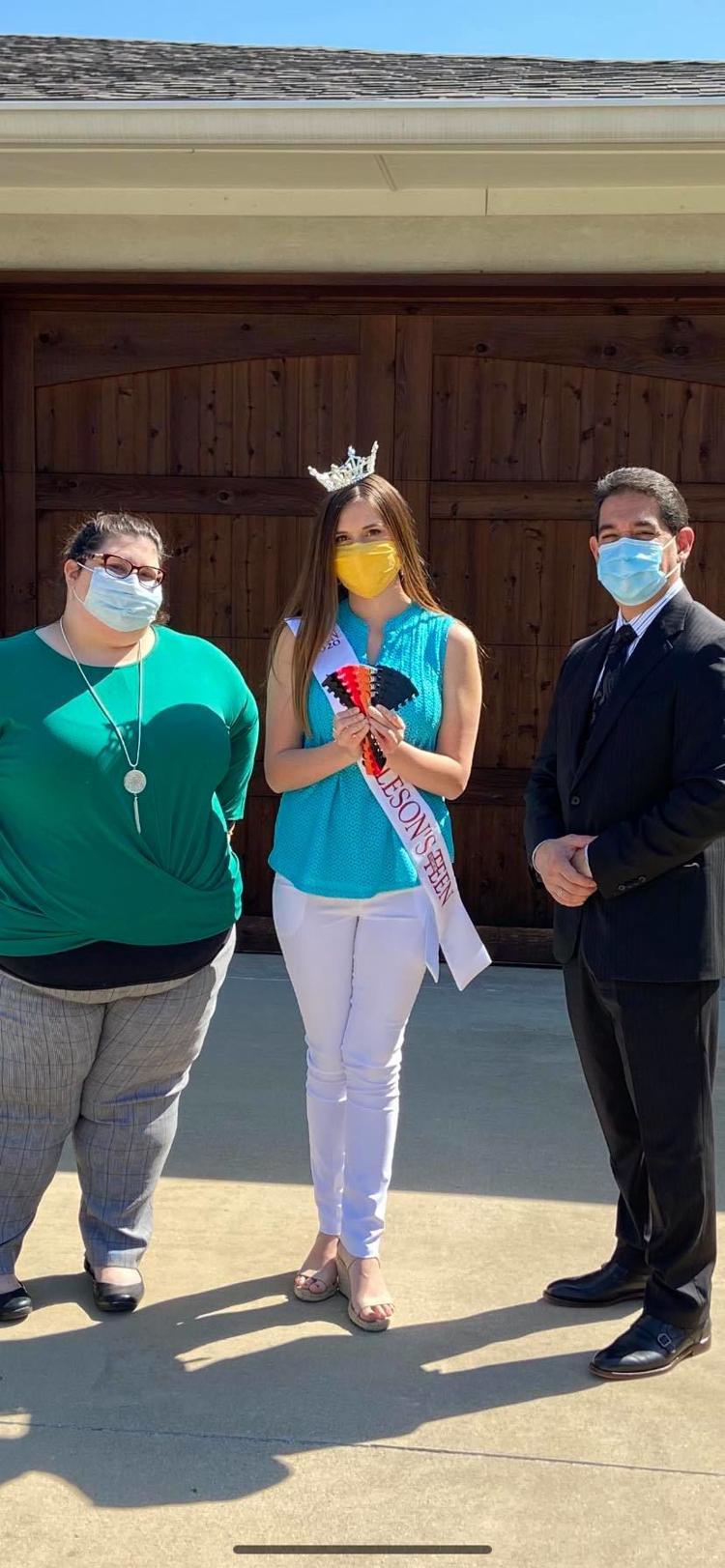 "I decided that I would raise funds but also try to help other people who might be hurting financially or just need a few extra dollars. We did three 'split the pot' raffles on Facebook with family and friends. I was able to raise over $1,000 but also give over $1,000 to help other people."
Helping others, as well as meeting community members, remains Haidyn's No. 1 goal at Miss Burleson's Outstanding Teen.
"I love to meet new people and believe that in a world of technology, talking to people face to face still has value," Haidyn said. "I want to meet sponsors and children in the community. I also want to reach out to other potential contestants. 
"I am not the typical pageant girl. Hopefully, others would see that and want to compete as well."
For information about the pageants, visit misstexas.org.