Four hundred and two Cleburne High School graduates crossed home plate at Globe Life Field on Sunday morning to receive their diplomas.
When the pandemic forced the cancellation of original commencement plans, Cleburne ISD administrators had to find another date and venue.
Representatives with the Texas Rangers contacted CISD officials to offer the facility for the ceremony. Seating capacity in the ballpark accommodated the graduates and audience in attendance, while complying with safety and social distancing guidelines.
"Our seniors have faced so many disappointments, with the closing of school and the canceling of sporting events, competitions and end of the year banquets and recognitions, all due to circumstances beyond anyone's control," Superintendent Kyle Health said. "They have stayed the course in finishing out their academic year as distance learners, and shown a lot of resilience and optimism. Their reactions to the adversities of recent months have shown they are ready for what lies ahead in beginning a new chapter in their lives. They are remarkable and deserve a remarkable graduation. We are very proud of these Jackets." 
Senior class President Samantha Denis Moreno lead the Pledge of Allegiance to kick off the ceremony. Golden Pride Band member Mason Matthew Hill, who was an all-state trumpet player, played the National Anthem.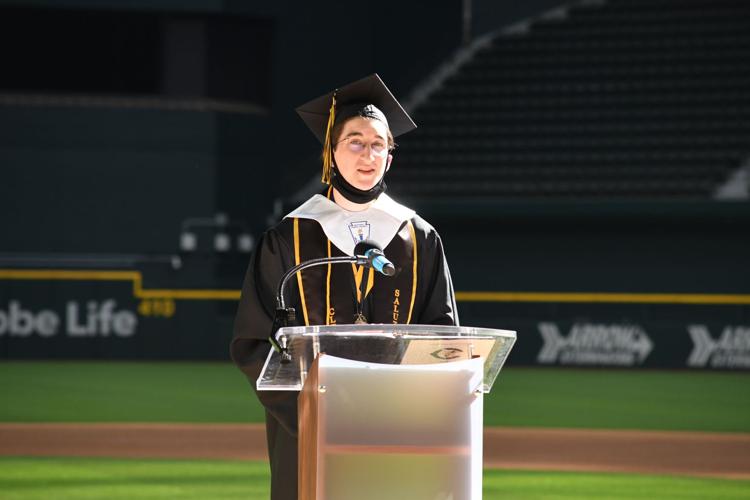 "Over this quarantine, my interest has been sparked by the world of stocks, real estate, bonds and every other method of investing money," Salutatorian London Walker said. "Yes, I know that sounds extremely boring, but I've learned a lot more than just how to invest my money. I've realized that time is not cheap. In fact, many would say it holds a much higher value than the pieces of paper we all desire. 
"More importantly, I have learned that the most important investment anyone can make is in themselves. You are your most precious asset, and it is crucial that you work everyday to make yourself a better person than you were the day before. Everyone just accepts the fact that life is hard, but it doesn't have to be.
"Don't sit back and wait for life to throw the next curveball. Step up to the plate and show everybody what you got. As Babe Ruth once said, 'Never let the fear of striking out keep you from playing the game.' Be strong. Be fearless. Be yourself. Your future is in your hands, so what will you do with it? Play it safe and go for the field goal, or throw the Hail Mary and play for the win. Class of 2020, we made it."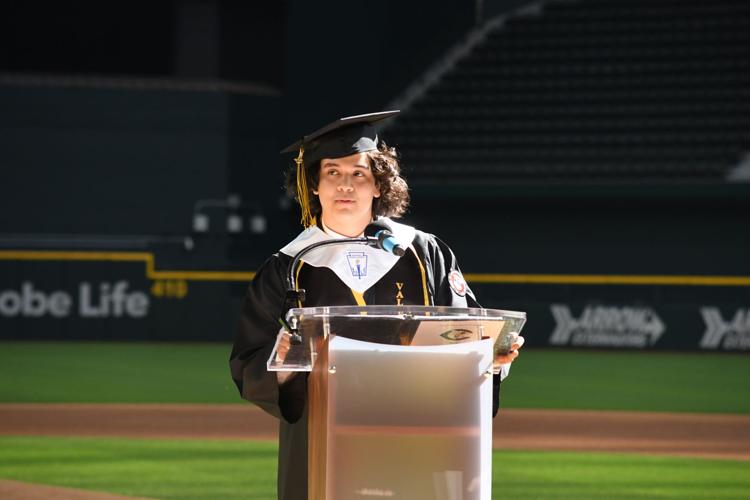 Valedictorian Uriel Salgado kept his comments brief but provided an important message for graduates.
"I went to class every day and did my work whenever it was due," he said. I did my best and always strived for good grades. If I can give you one piece of advice for college and life, show up and do your best everyday. Success can be that simple. Thank you and congratulations."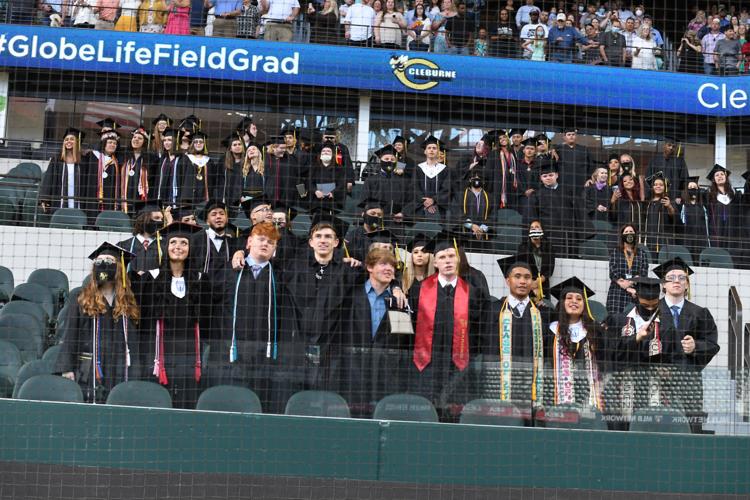 Heath and CISD board President John Finnell presented the class of 2020 while CHS Principal Ben Renner presented the diplomas. 
To close out the ceremony, Salgado lead the transfer of tassels and Student Body President Rylea Elizabeth Green said the benediction.
The Golden Pride band played the CHS Alma mater and the graduates tossed their caps as the final moment of their high school career.