After more than a week off, high school student-athletes returned to work Monday with summer strength and conditioning workouts as well as sport-specific instruction.
Before the Fourth of July weekend, the UIL recommended schools take a week off from workouts the week of July 6-10 because of the potential of increased COVID-19 cases after social interactions celebrating Independence Day.
Cleburne student-athletes — boys and girls — were among the schools that returned to action Monday morning. Lady Jacket workouts had been suspended since June 30 after a member of the women's coaching staff received a positive COVID-19 test.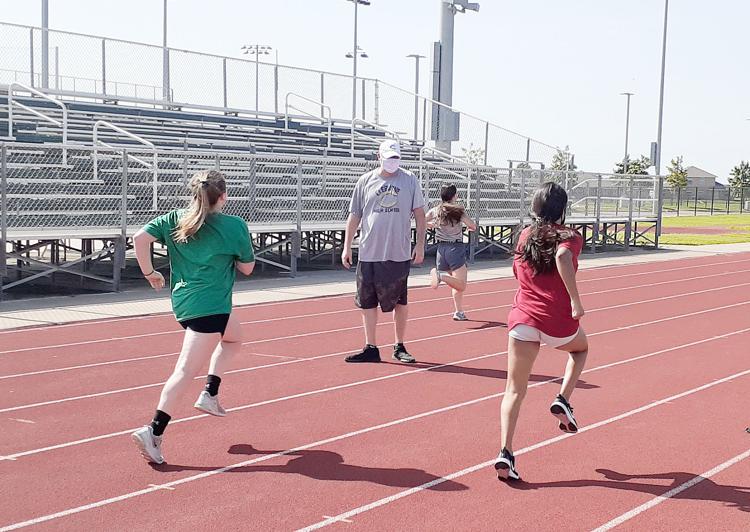 Cleburne Head Football Coach Casey Walraven said Monday's workout went about as expected after a week off.
"Turnout wasn't bad, it could still be better," Walraven said. "I know people are still leery about what's going on. It went pretty smooth considering we've been off a week. Things are a little rusty mentally; it's just that time of year where you take off a week and it shows. All in all, we're progressing like we should and staying safe.
Last week, the UIL released updated guidelines for workouts, including following Gov. Greg Abbott's mandate on July 2 that requires all Texans to wear a face covering over the nose and mouth in public spaces in counties with 20 or more positive COVID-19 cases, with few exceptions to help limit the spread of COVID-19.
Cleburne coaches wore masks at all times while the student-athletes wore masks while not working out and even during the majority of the drills.
"I thought all the kids adjusted well," Walraven said. "Everybody had a mask. We were disciplined about wearing those. We've got a new check-in process, checking for symptoms and things like that, and that went well."
Also included in the UIL's updated guidelines from last week was the ability to hold offense vs. defense drills during sport-specific instruction. Cleburne football closed out its sport-specific workout with one-on-one drills between receivers and defensive backs.
"It was really good to see," Walraven said. "Kids are out here because they want to compete. It's been since February, first of March since they've been able to compete at all against each other. They've been begging for it but we haven't allowed them to do it because we can't. But this week the UIL started letting us have one-on-one stuff with the masks and things like that. We let them do a little bit today and we'll do a little more as we go along. At the end of the day, that's what they're all out here for so we want to make sure we're giving them a taste of that. They deserve it. They've gone a long time without it."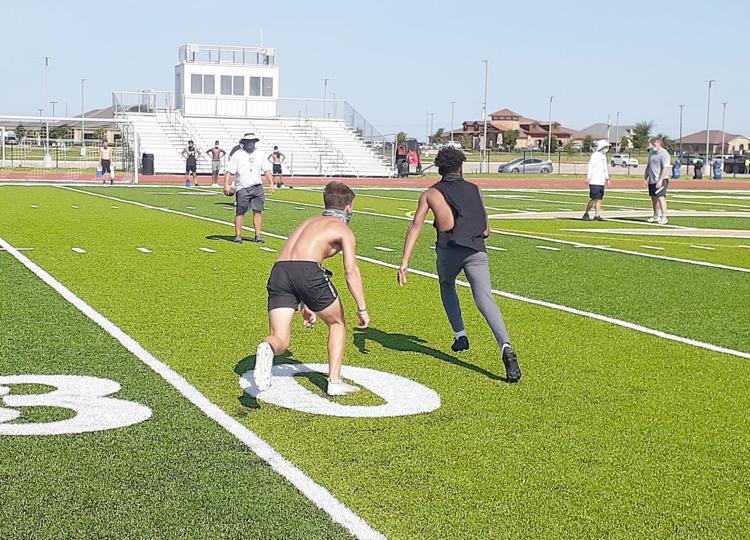 Cleburne Defensive Coordinator Jason Payne said it was good to see some of the competitive juices flowing Monday.
"It was great," Payne said. "Those kids have put in a lot of hard work. Not doing spring ball and then not being able to see some of the changes that we're doing or being able to apply them, now we're finally able to apply them. It's a sense of relief we can see some of it working. Yeah, we're going to see some kids struggle but their intensity and their attitude was great. Everybody's doing what we're expected to do with our masks and our social distancing and keeping our hands clean. But seeing them get to play was really cool. We're really excited about this season."
Last week, the UIL sent an email to coaches saying it still plans to begin fall competition seasons as scheduled on the UIL calendar, adding that the league will continually work with state officials and monitor CDC and other federal guidance to determine any modifications to summer workouts or fall sports.
The tentative first day for official volleyball and football workouts for the 2020 season is Aug. 3.