"Nothing is so beautiful as Spring," exulted Gerard Manley Hopkins, a big fan of the season. He has plenty of company. The season of rebirth somehow manages to surprise and delight poets and just folks every year when it arrives.
Now, it appears to be doing so earlier and lingering for longer than it once did.
Scientists led by the University of New Hampshire have found that the "vernal window," natural events that mark the transition from winter to the growing season, appears to be opening earlier and unfolding over a longer time frame.
The new study, published in the journal Global Change Biology, shows that warmer winters with less snow have resulted in a longer lag time between spring events, and thus a more protracted vernal window.
"Historically, the transition into spring is comparatively shorter than other seasons," said Alexandra Contosta, a research assistant professor at the University of New Hampshire's Earth Systems Research Center. "Something striking happens after a very cold winter or when there's been a lot of snow. Things seem to wake up all together, which is why spring seems to happen so quickly and can feel so dramatic."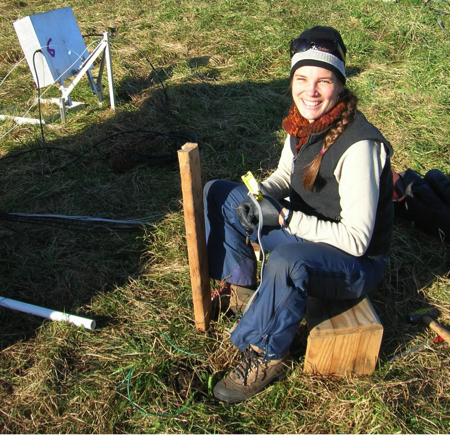 Investigating a slower rollout of spring: researcher Alexandra Contosta. Image: UNH
In the Northern Hemisphere, the extent of annual snow cover has declined significantly in the past 30 years. To see if the dwindling snow cover has influenced the vernal window, Contosta and a team of scientists collected data for three years from a network of soil and water sensors across the state of New Hampshire installed by EPSCoR. They monitored snow levels and the forest canopy for three years.
A team of more than 100 volunteers across the state contributed data on precipitation and streams. The team examined dates when certain events marking the seasonal transition occurred, such as the melting of snow and the emergence of leaves in trees, and determined the time period between these events.
They found that winter air temperatures and snowpack characteristics at the time of melt have a direct impact on lags in in the rollout of spring. Snow acts as a heat buffer; when it is present, the study found, there is more synchronicity in the many transitions that take place in soil, streams and canopy – meaning, spring erupts suddenly. When there is no snow, there are long lags between these transitions, and spring shuffles forth at a slower pace.
Contosta and her team will study the potential ecological, social, and economic consequences of a changing timetable for spring. For example, a longer spring in the Northeast could mean a shift in the duration of the sugar maple season. Earlier lake thaw might have implications for migratory birds that do not arrive at the time of ice melt, causing a delay, or lengthening, in springtime ecological events.
The researchers plan to test their conclusions with data from a larger geographic area and over longer periods.
© Content That Works